And, finally part 3… today we're headed to Cozumel! Like, I said… I'm convinced it's the best family cruise out there. If you didn't get a chance to read the previous posts of our family vacation, click here: The Best Family Cruise, Part 1 and The Best Family Cruise, Part 2.

The Best Family Cruise, Part 3
So, after a fun filled day in Belize, a little rest, and a lot of food, we were ready to take on Cozumel! Like our Belize excursion, we booked this one with Shore Trips, recommended by our travel agent, Get Away Today (free to use and awesome!) This was a day long tour with multiple activities, a dune buggy tour of the island, lunch, time at the beach, and snorkeling.
The day started off with the dune buggies. We each got to pick our ride… well, everyone except me. As all the other drivers were male, it was basically required that I take the pink buggy! 😉 Oh, and it actually proved to be a mistake… mine was the only car that broke down on the side of the highway. But, it was all still really fun.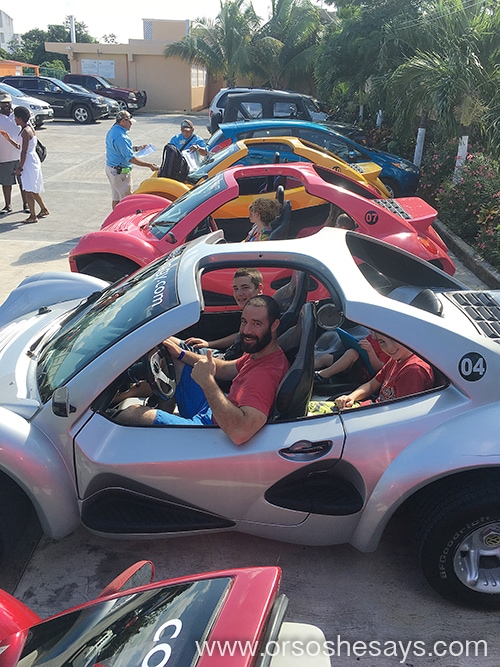 If you end up choosing this excursion too, I suggest eating beforehand… there are a lot of activities that happen before lunch time. And, make sure you know how to drive a stick shift, or someone in your party does.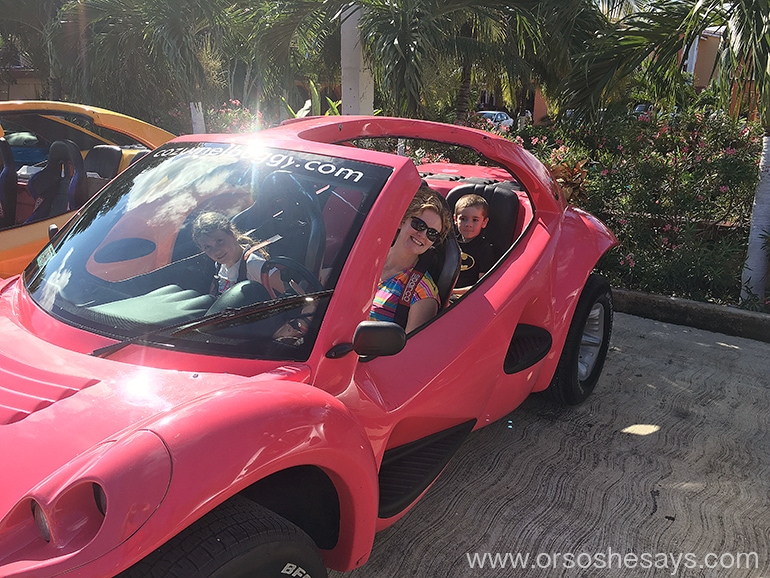 It was quite a site to see all the different colored buggies caravanning around the island! Once we got out of the main part of town and were driving along the coastline, it was so pretty and the kids LOVED the ride.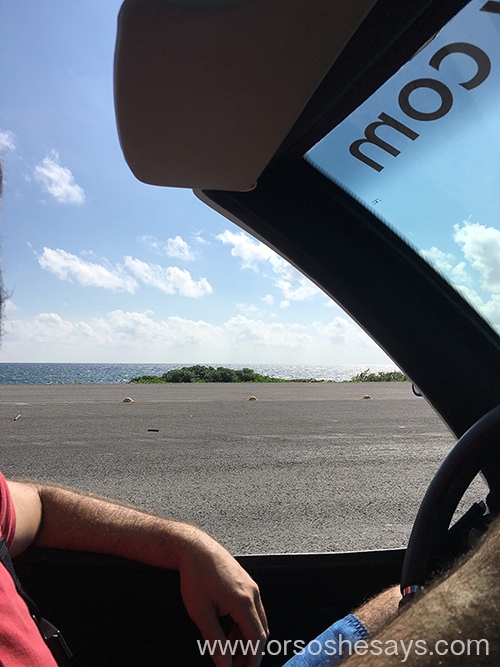 The first stop was a beach. The tour guides, Ronnie and Omar, pulled out some pop for the kids and everyone went and played in the water for a little bit.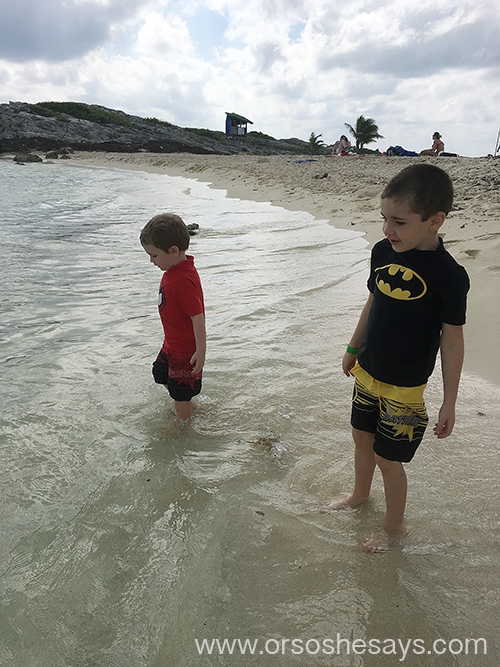 Dan and the big kids were trying so hard to find a good wave to jump into!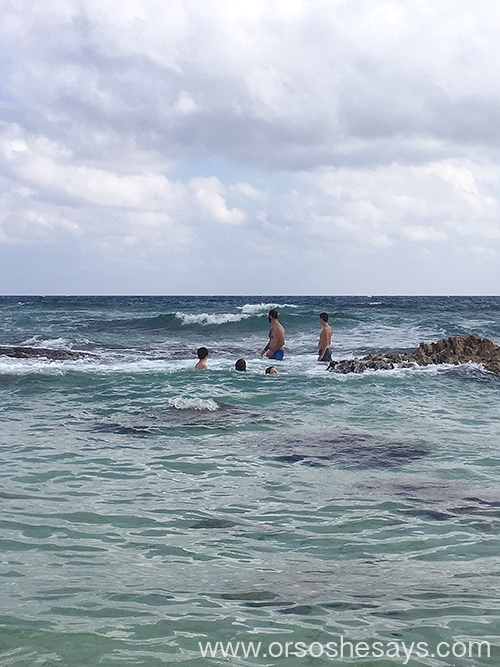 After the beach, we drove the buggies to a Mayan village. We checked out their little shops, church, and visited a lady who made us all Mayan snack.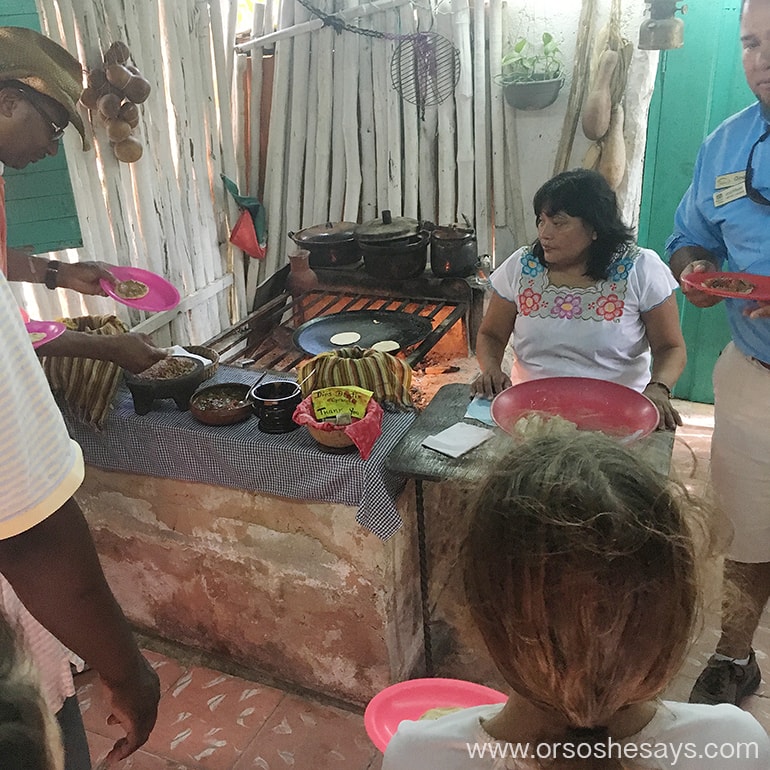 Family picture!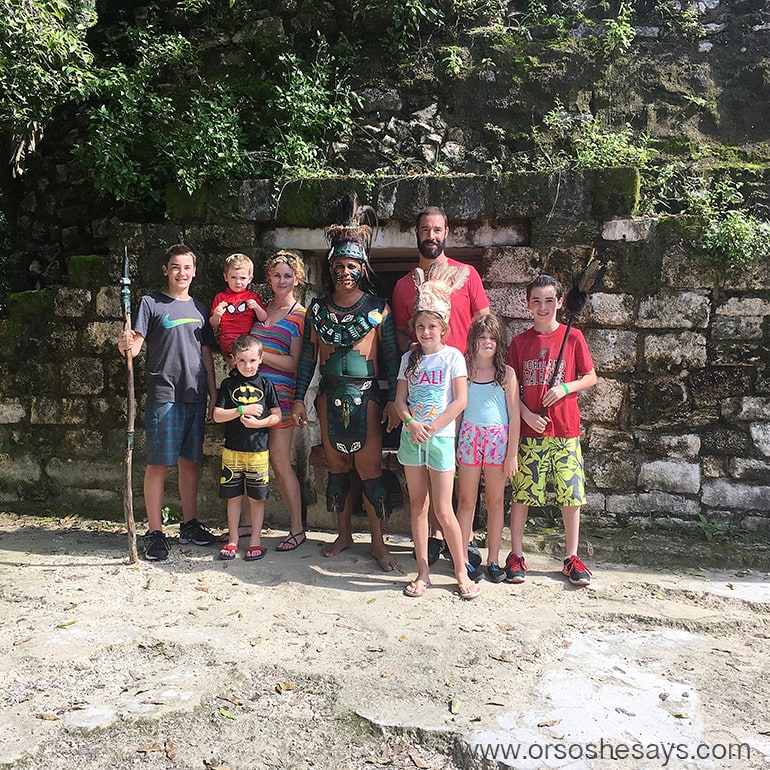 Afterwards, half of the family went snorkeling and I took the younger kids to a hotel pool to play. The hotel was kind of the home-base for the excursion and also where lunch is served. The lunch was REALLY good! We got all the homemade chicken and steak tacos that we wanted. It was a long day but everyone had great time and this is definitely an excursion I would recommend!
Back on the ship, it was time to wrap up our vacation. I don't think any of us were quite ready to come back. We created some awesome memories and had a great time together as a family.
After the ship arrived in Texas, we spent one more night at a hotel and then headed back to Salt Lake.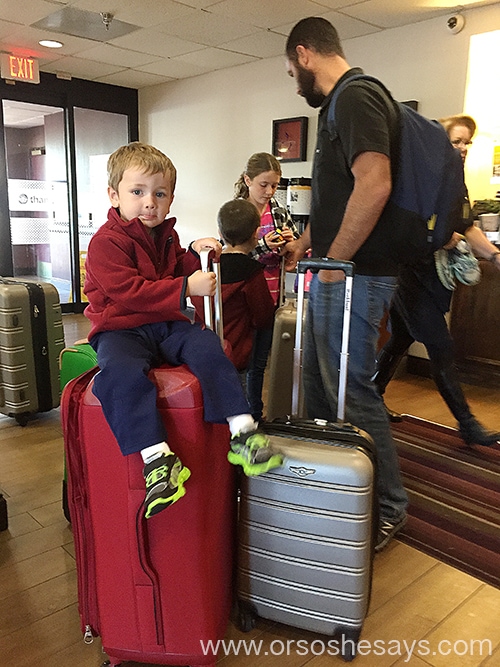 King Benny, always being wheeled or carried around.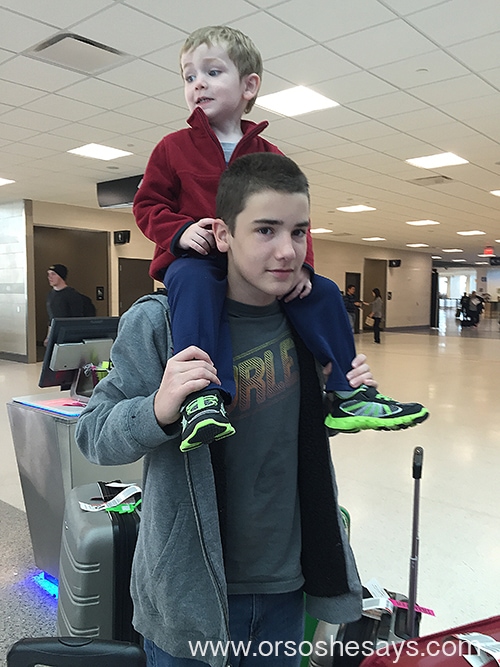 So, final thoughts??
I get asked all the time which is the best family cruise. Which ship is the best, which one has the most activities for kids, where are the best ports… this is what I think:
Disney cruises are EXPENSIVE, but the entertainment on them is a million times better than any other ship I've been on. It's clean and great quality. The kid clubs on the Disney ships are amazing. Their activities are super fun and the kids love going and knowing that they can have their parents called at any time to pick them up. On Disney cruises, people EXPECT you to have kids and seem to be more patient and friendly. But, that could definitely just depend on the bunch you end up with! Anyway, I think Disney cruises are awesome!
Royal Caribbean is probably the next best when it comes to being kid-friendly and much more affordable. Their newer boats are still often cheaper than Disney and have really neat activities on them, which my kids enjoyed (The Flow Rider, large pool area, arcade, ice skating rink, rock climbing wall, etc.) But, we also enjoyed them as couples on our 'couples cruise.' All the men would get together and enter every sport competition their was. It was fun to watch them and even participate sometimes. The night-time entertainment (shows) is pretty… um, I think it would help if you were drunk. I don't drink, so the lack of quality is really apparent… but, probably ESPECIALLY because I've been spoiled by Disney. Not only was their a lack of quality but a lot of the comedy was trashier than most I've heard. We didn't bother going to any of the shows this time, as we had the kids, and from our cruise last year, knew what to expect. But, really it made the pools that much more available and we were all over that! Overall, we found our fellow passengers to be pleasant and sweet to our kids, which was cool.
We've also cruise with Princess and Carnival, but I would still say that Disney and Royal are our top.
As far as ports, I would have to say that the Caribbean ports that we visited on this cruise were our favorites: Roatan (to see the monkeys), Belize (to cave tube), and Cozumel (to ride the dune buggies!) We also loved cruising in Alaska and our excursions, but we did that as a couple.
If money was no object, and I had to recommend one cruise to your family, I would say the best family cruise would be on one of the newer Disney ships, at least 7 days, balcony room, to the ports we visited this time (Roatan, Belize, and Cozumel), with the excursions we did. But, any variation of that would be amazing too. You can just call Get Away Today, tell them your budget, time frame, where you're wanting to go, and they'll help you find something that is perfect for your situation. They have several cruise specials going on right now and they will put together the coolest family vacation for you! Remember, they're totally FREE to use, so you might as well! They make planning so, so, so much easier. I'm hooked. I hope my reviews have helped give you some ideas of what you may want to do on your future family vacation!
Don't miss some of my other cruise reviews!
The Best Family Cruise, Part 1 (The first part of our cruise.)
The Best Family Cruise, Part 2
Our Disney Cruise (I love the experience on Disney ships! Although, I loved the ports best on the cruise in this post.)
Our Royal Caribbean Cruise Review (this is the 'couples cruise' I mentioned several times, to the same ports.)
Our Alaskan Cruise (this was a cruise I did just with the hubby.)
Disney Everything! Page (this is a link where I share all vacation posts on the blog… it's not just Disney vacations, either. But, there's tons of tips for those! This is a great one to pin for future reference. Well, they all are.)