Hello OSSS readers, this is Zainab from Blahnik Baker stopping in with another recipe today! I hope you all had a great summer. I can't believe we are saying that already meaning summer is winding down. I'm sure most of you already have kids that are back in school and the new school year schedule is just starting to kick in. Or they are about to start next week after Labor Day weekend. Unbelievable how this particular summer flew by. I hope you got to do everything on your summer bucket list!!
I'm trying to get used to the new rhythm of school too as I start my last year of graduate school. It's called fast-paced life and now more than ever I am in dire need of quick, nutritious and energy boosting breakfasts to keep up with my demanding days. I am sure most of you can relate to this. That's why I always love reaching for smoothies. They are one of my favorite ways to get more fruits in my diet but with so many add-in possibilities, I can increase the nutritious value beyond just fresh fruits.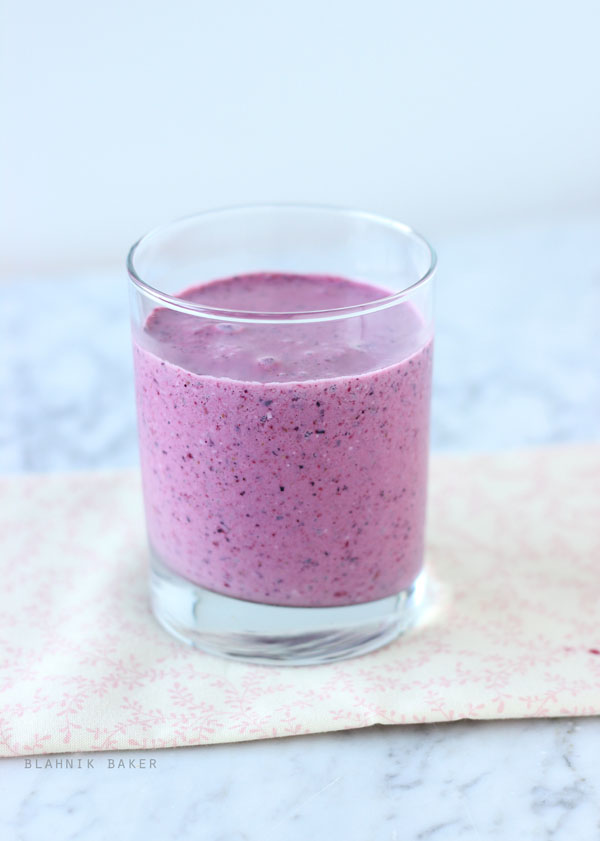 This black raspberry smoothie has a secret ingredient high in protein but low in fat. Can you guess what it is?? It's cottage cheese. I heard about adding cottage cheese to smoothies a while ago but I was a bit skeptical until I tried it. Boy was it a great addition! Not only does it make the smoothies creamy and thick, it's also a great source of added protein and boost. You have to try this secret ingredient the next time you make a smoothie. With some coconut milk, chia seeds and fresh berries, you can make these black raspberry smoothies for a quick breakfast or an after-school snack.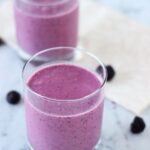 Black Raspberry Smoothie
Ingredients
1/2

of a frozen banana

1/2

cup

black raspberries

1/4

cup

blueberries

1/4

cup

cottage cheese

1/2

cup

almond milk

1-2

tablespoon

honey

agave nectar or maple syrup

Ice cubes
Instructions
Combine all the ingredients in a blender or smoothie mixer. Blend until smooth. Serve and enjoy!
I hope you enjoy the last few days of the summer, friends! Savor the sunshine, warmth and the long days! Soon it will be crisp fall weather with golden leaves. Till then, make a glass of this smoothie and enjoy it on the porch.
Here are a few summer recipes I've shared over on my blog Blahnik Baker that I think you will enjoy. I hope you can stop by sometime to say hello and check out what I share!