Like I talked about on
Fresh Living
, and in a previous post…my 9 year old son, Caden, is
working on a cookbook
. Why??? Because, he's
insanely
picky and this project has really been pushing him to try new things. Anyway, the producers of Fresh Living have invited him to come on the show with me in a few weeks and share one of his recipes. So, he's been kicking it into high-gear and cooking, cooking, cooking…trying to find just the one to share on tv.
Tonight, he made one of his very favorites, Hamburger Gravy. He has told me that the only down side to homeschooling is that he misses the school lunch. According to him, it was "the best restaurant in the world." Wow, things must have changed a lot since I was in school. Or, maybe I'm totally delusional, thinking I can cook just fine.
So, in an effort to compete with the local lunch ladies, I asked him his most favorite meal he had at public school. Hamburger Gravy & Potatoes. Alright, I'm on it. Together, we have been messing around and finally came up with a recipe that he says is "as good as the school's"…and, the rest of us, we LOVE it.
So, here it is…Caden's Hamburger Gravy.
You need 4 cans of beef broth, 1 lb ground beef, beef bouillon granules,cornstarch, potatoes, and Montreal Steak Seasoning (not pictured.)
So, first he got the water boiling in a large stock pot while we peeled and diced the potatoes. We then added them to the boiling water, until softened. Basically, make yourself some mashed potatoes.
Brown your ground beef, then set aside.
To make the gravy, dump 4 cans of beef broth in a pot with 5 tsp. beef bouillon and 2 tsp Montreal Steak Seasoning. Make sure you like the taste, if you don't, just adjust it. But, that's what we liked. Anyway, after you like the flavor, scoop out 1/2 cup of the broth into a small bowl. We added a couple ice cubes to the small bowl to cool off the liquid. Meanwhile, cranking up the heat on the broth in the pot. To the small bowl, add 5 TBS. of cornstarch and mix. Slowly stir it into the pot of boiling broth, while whisking. It should be thickening and you will have your gravy.
Dump the gravy into the pan of ground beef. Heat and stir. Done with that…now, finish the potatoes.
We usually do about 10 potatoes for our family, mix them with about a stick of butter, some pours of milk, and sprinkles of salt. Ya know, mashed potatoes.
Pour the gravy on the potatoes, and you're done!
No picky eater can refuse this.
And, it's so easy!
Stay tuned for more of Caden's recipes 🙂
Caden's Hamburger Gravy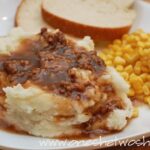 Caden's Hamburger Gravy & Mashed Potatoes
Ingredients
1

lb.

ground beef

4

cans beef broth

5

tsp.

beef bouillon granules

2

tsp.

Montreal Steak seasoning

5

TBS

cornstarch

Mashed Potatoes
Instructions
Make some mashed potatoes, keep warm.

Meanwhile, brown your hamburger, set aside.

In a pot, dump the beef broth and stir in bouillon granules and seasoning.

Scoop out 1/2 cup and set aside. Add a couple ice cubes to the 1/2 cup broth to cool it off. Then stir in 5 TBS. of cornstarch to the small bowl.

Bring the broth in the pot to a boil. Slowly whisk that mixture into the boiling broth. It should thicken into a nice gravy.

Combine the gravy with the hamburger meat, heat together.

Scoop gravy over top of mashed potatoes.