You already know of my love for Southern food, so when I saw Rachael Ray's recipe for Chicken and Dumplings that got fan-tas-tic reviews, I knew I had to have it in my belly. And so it went, into my mouth, down my esophagus, right to my belly. It felt good. Warm and comforting, just like Southern food should be.
Let's see…to make the Chicken and Dumplings, you will need: 1 1/2 lbs. cooked chicken pieces, olive oil, butter, whatever veggies you want (potato, carrots, celery, peas, corn, onion), 1 bay leaf, poultry seasoning, flour, 32 oz. chicken broth, 1 small bag/box biscuit mix, and parsley.
I didn't particularly like the directions on the actual Food Network recipe, the method seemed a little dysfunctional. So, my directions are a bit different, more simple (if you were wondering.) Dice and cook your chicken. Oh, check this out. See that plate that my chicken in on? So, it totally looks like a paper plate, right? Ah-ha! It's not. It's a melamine plate (dishwasher safe) made to look exactly like a paper plate, and it SO does. I love them! I just have to remember not to throw them out. 🙂 They come in a 4-pack on Amazon for $20 bucks, I got a bunch of them.
Chop up any veggies you want in your meal. The original recipe calls for 1 rib celery, 2 carrots, 1 onion, and a potato. My family isn't big on most of those, so I opted for a potato, a cup of corn, and peas (with some shakes of inconspicuous dried onion.) Anyway, using a big pot, add a swirl of olive oil inside and heat it up. Add your fattest veggies first (carrots, potatoes), to let them cook a little longer, then add the rest until they are all cooked through.
Cook your chicken, in the meantime.
Oh, yeah…add a bay leaf to your veggies (pull it out before dumping the broth in.) When the veggies are nice and ready, give them some seasoning. Add a teaspoon of chicken (poultry) seasoning, and some salt and pepper, to taste. Add about 2 TBS of flour and let it cook in the veggies, stirring, for a couple minutes. Pour in 32 oz. of chicken broth, stir, and bring to a boil. The cooked flour will help thicken the broth.
Now for the dumplings…dump a small bag or box of biscuit mix in a bowl and stir in 1/2 cup of warm water. If you feel so inclined, add a bit of parsley to the dough…it makes it pretty. But, I wasn't in the mood for pretty, I was hungry. Drop the biscuit dough into the top of the soup, in little clumps. Turn the heat down to medium low and put a lid on the pot. Let the dumplings steam for 8 to 10 minutes.
Remove the lid and stir the Chicken and Dumplings. Serve with some yummy Buttermilk Cornbread. All in all, it was delicious and really simple! I must admit, I think I still like my mama's Chicken and Dumplings best (I'll have to convince her to let me share the recipe), but this recipe is still a winner.
Chicken and Dumplings
Adapted from Rachael Ray's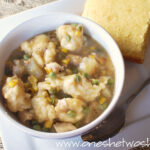 Chicken and Dumplings
Ingredients
1 1/2

lbs.

chicken breast

diced

Olive oil

2

TBS.

butter

Veggies...you choose!

1 potato, 1 rib celery, 2 carrots, 1 onion, 1 cup corn, 1 cup peas

1

bay leaf

Salt and pepper

1

tsp.

poultry seasoning

2

TBS

flour

32

oz.

chicken broth

1

small box/bag of biscuit mix

1/2

cup

warm water

Parsley

fresh or dried
Instructions
Chop all veggies.

Heat up a large pot, swirl some olive oil in the bottom, and cook veggies with a bay leaf (start with the ones that need to cook longest, first...such as potatoes and carrots. Add the other veggies after several minutes.)

Dice the chicken and cook in a separate pan.

When the veggies are done, season with poultry seasoning and salt/pepper, to taste. Remove the bay leaf.

Add the flour to the veggies mixture, stir and let cook for a couple minutes.

Pour in the broth, stir, and bring to a bowl.

In the meantime, stir the biscuit mix with the water and parsley.

When the soup is boiling, drop little clumps of the biscuit dough in the top of the soup. Turn the heat to medium low and cover with a lid. Let the dumplings steam for about 8 to 10 minutes.

Remove lid, carefully stir. Serve!
Recipe Notes
(Great with a side of cornbread!)