This chocolate coconut pound cake is rich, tender and moist, making it the perfect decadent chocolate-y dessert with a subtle coconut flavor.
Hi everyone! This is Zainab from Blahnik Baker. I am so happy to be sharing another fun recipe with you today. How's your April been? I hope you are having a great start of spring as we welcome the warm weather finally. It's been a little busy with the end of the school year for me but I am very excited for summer to come!
Today, I am bringing you a new favorite spring-inspired, yet classic cake. Coconut is my all time favorite flavor but if we are being honest here, I am a fan of all things tropical; mango, coconut, pineapple, kiwi you name it. So whenever spring rolls around and the weather starts warming up, I start craving these flavors, especially coconut. If you look at my recipe index over at Blahnik Baker, you will see this slight obsession 🙂 But I can't help it. I blame coconut for being a perfect match for so many things. Like this chocolate coconut pound cake that highlights the wonderful combination of creamy coconut with the decadence of chocolate.
I'm not sure if you guys are used to making pound cakes but this was my first homemade attempt. I love ordering a slice at a bakery or restaurant and always marvel at how dense yet moist and fluffy they are. This chocolate coconut pound cake is exactly like that; slightly dense but moist and fluffy. Of course the cake is quite chocolate-y making it a decadent treat and the subtle coconut flavor in the cake gives room for the chocolate to be the main star. However, the sweet coconut glaze on top is the perfect finish for a coconut lover who wants a little bit more of the tropics.
So the next time you are looking for an easy, delicious and beautiful dessert for a get-together, I hope you will make this chocolate coconut pound cake (hint hint: for mom!). It will always be a hit with chocolate-lovers, coconut-lovers and cake-lovers in your family!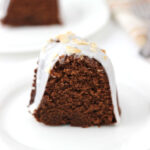 Chocolate Coconut Pound Cake
This chocolate coconut pound cake is rich, tender and moist making it the perfect decadent chocolate-y dessert with a subtle coconut flavor.
Ingredients
1 ½

all-purpose flour

½

cup

unsweented cocoa powder

1

teaspoon

salt

¾

teaspoon

baking powder

½

cup

coconut oil

room temperature

¼

cup

unsalted butter

1 ½

cups

plus 1 tablespoon sugar

3

large eggs

1

teaspoon

vanilla extract

2/3

cup

buttermilk

¼

cup

unsweetened coconut flakes
Glaze
1

cup

confectioner's sugar

2-3

tablespoon

heavy cream

1/2

teaspoon

coconut extract

Toasted coconut flakes

for topping, optional
Instructions
Preheat oven to 325 degrees F. Grease an 8 x 4" loaf pan or a 6-cup bundt pan.

In a medium bowl, whisk together the flour, cocoa powder, salt and baking powder.

In the bowl of an electric mixer, beat the coconut oil, butter and 1 cup sugar on medium-high speed until pale and fluffy, about 5-7 minutes. Beat in the eggs, one at a time, mixing in between additions until combined. Continue beating the mixture until light and doubled in volume, about 5-8 minutes. Beat in vanilla extract.

Reduce speed to low and add in the dry ingredients, in 3 additions. Mix until just combined. Do not overmix. Scrape batter into prepared pan. Sprinkle with coconut flakes and 1 tablespoon sugar.

Bake cake until a tester inserted in the center comes out clean, 60-70 minutes. Transfer pan to a wire rack and let cool for 20 minutes. Turn out cake and cool completely.

To make glaze: Whisk together all the ingredients for the glaze until thick but spreadable. Pour glaze onto cooled cake. Top with toasted coconut flakes.
Recipe Notes
Adapted from Bon Appetit
Thank you very much for having me again! I hope you can stop by sometime over at Blahnik Baker. Here are a few of my Spring (coconut!!) recipes! Happy Mother's Day in advance 🙂
Dark Chocolate Coconut Pudding