There is no way to put into words how unique and amazing my mom is, and I'm sure almost everyone feels the same about their own mom! I'm continually discovering aspects of my personality that I can trace back to my mom – which I love. As I ponder some of the things that make me happy (reading and chocolate, to name a few), I've come to realize that I love them BECAUSE my mom loved them.
My sister, my mom with my oldest and me.
Whenever I think back on my childhood, I picture my mom reading. Whenever she had down time (which wasn't often with seven kids), she was reading. On long drives, she would read. When we went on vacations, she would read. When she locked herself in the bathroom, she would read – haha. And now I do the same thing!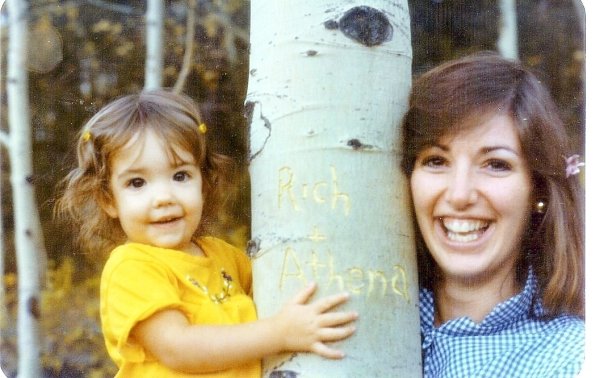 My mom and me on a camping trip.
As for chocolate, I totally blame my mom for that obsession. She turns her nose up at any sugary "kid" candy, but good chocolate she appreciates. She especially loves dark chocolate, but only if it's good quality chocolate that melts in your mouth … like DOVE®.
I was inspired to create a fun Mother's Day gift package that incorporated BOTH of her passions. I wish I could deliver it myself, but it has to travel thousands of miles to get to my mom (boo hoo). So, I made sure the package was immediately fun when she opened it up. I couldn't decide which of the DOVE® Dark Chocolate varieties to use, so I included them all: Silky Smooth Dark Chocolate, Silky Smooth Almond Dark Chocolate, Silky Smooth Mint & Dark Chocolate Swirl and Silky Smooth Dark Chocolate Sea Salt Caramel (my personal favorite)!
I also threw in some fun reading accessories like a book light and unique bookmarks. It's a fun combination that would work for a lot of women in my life. Come to think of it … it would be the perfect Mother's Day gift for me (hint, hint). If you'd like to use the cute note, you can print it here (full size) or two to a page here.
However you choose to honor your mom on Mother's Day, I hope it gives you a chance to recognize and appreciate the qualities, interests, love and passions that you've developed because of your mom! Thanks Mom!!
Compensation was provided by DOVE® Dark Chocolate via MomTrends. The opinions expressed herein are those of the author and are not indicative of the opinions of Dove or Momtrends.