Think Spring, think delicate sweets, think Chocolate Drizzled Orange Oatmeal Lace Cookies.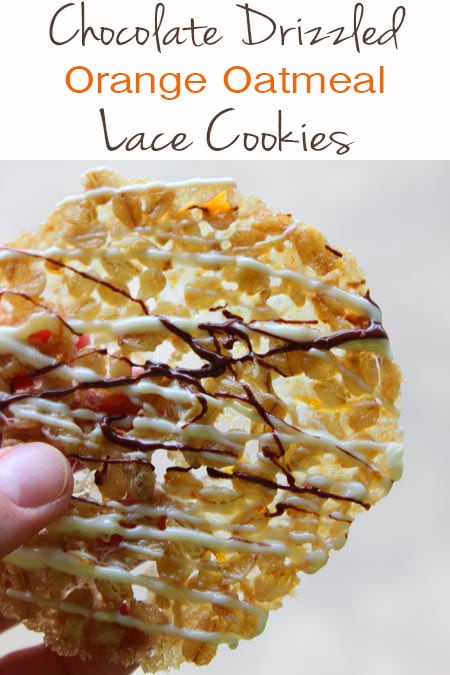 Christina from FoodApparel here checking in! I hope you are all having a fabulous day and "thinking Spring" with me. It's started to warm up around here, but last weekend was feeling glum when the household got sick and there was a cold front that passed through that almost froze all of the blossoms that wanted to start peeking their heads out. But when I went outside the other day and spotted a little cluster of mini daffodils that had just come up, I couldn't help but smile. We're getting there!
What makes you think Spring? I think grass, flowers, bunnies, Easter, rain, Chocolate Cadbury mini eggs (my Springtime chocolate obsession!), skirts, lace.
Maybe that's why these Oatmeal Lace Cookies just seem so fitting for Spring in my book. They're dainty, delicate, fancy, and did I mention, yummy?
Whipping the dough together is quite simple. Baking them and eating them, well, you do have to be a little patient. You can't bake too many on one tray, or you will have one giant monster oatmeal lace catastrophe. A delicious catastrophe, but a catastrophe, nonetheless. They do have to sit on the baking tray and cool before you can grab or, well, you can't grab them, because they will fall apart. When you cook these babies, basically you are caramelizing brown sugar around the oats (just telling you this has made me start drooling again, by the way), and you have to wait for the sugar to harden to hold everything together.
After you remove the cookies from the tray once they set, it helps to let them cool a bit and you'll want to handle as little as possible at first. And don't fret. No matter what, you will still have some that will break a little. They still look beautiful. Take those broken parts and put them on ice cream later, or just eat it with that innocent face of "I had to, because it broke so I can't serve it to anyone else." Just a quick note though – I noticed that the next day, after everything had a chance to settle, the cookies seem to stay together much better. So these are a great "make in advance" type treat.
I'm going to play around with these again sometime and add a little extra flour to help see if that can't help with the immediate cookie craving so that they don't break as easily. But these cookies are not just oatmeal cookies. They are oatmeal lace and for me, preserving the lacey daintiness is essential with this recipe.
Lastly, you can keep these simple, or go ahead and dress them up with some orange zest (or extract) and chocolate drizzles. This is the ultimate excuse to make a mess in the kitchen for the sake of "art". Serve these at your next brunch, tea party, or whenever you just want to feel fancy!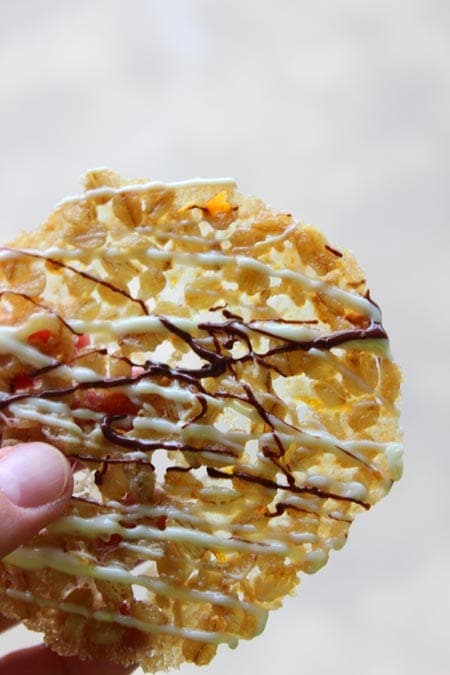 What's your favorite cookie? Let us know in the comments below!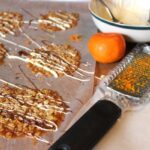 Chocolate Drizzled Orange Oatmeal Lace Cookies
Ingredients
1/2

cup

1 stick unsalted butter, room temperature

1/2

cup

brown sugar

packed

1

teaspoon

vanilla extract

zest from one medium orange

about 1 teaspoon; or about 4 drops orange extract

1

cup

rolled oats

1/2

teaspoon

salt

2

tablespoons

unbleached all-purpose flour

2

tablespoons

milk

1/4

cup

white chocolate chips

1/4

cup

dark or milk chocolate chips

1

teaspoon

neutral oil

such as canola or vegetable, divided
Instructions
Preheat oven to 350 degrees.

In a mixing bowl, combine butter, sugar, vanilla, and orange zest/extract and cream on high with a hand mixer for about 2 minutes.

Add the salt and flour and mix with a spoon until combined.

Add milk and mix with a spoon until combined.

Stir in the oatmeal. Let mixture rest for a couple of minutes before scooping. It will be creamy and a little sticky.

Line your cookie sheets with a silicone mat or parchment paper. (Alternatively, I used a non-stick baking sheet with a spray of oil and that worked fine.)

Drop dough by the teaspoonful (yes, you heard me, TEASPOON - very small) onto prepared cookie sheets. If you are going this size you can fit about 8 per sheet. If going a little bigger, go 6 per sheet so they won't combine.

Bake for 7 to 8 minutes, watching closely (they can overcook quickly if you're not paying attention). They will start to turn dark brown around the edges. Rotate halfway through, if desired, to promote even baking.

Let cookies cool about 4 minutes before you try to remove them from the cookie sheet as they need to harden to stay together well.

Carefully remove cookies and place on waxed paper.

Get two microwave-safe bowls or small saucepans.

Heat the white and dark/milk chocolate in the respective bowls. Add 1/2 teaspoon neutral oil to each for easier decorating. If microwaving, follow instructions on bag (usually 15-30 second increments at 50% power). If stove top, warm over low heat.

Dip a fork in chocolate and then lightly streak chocolate over cookies.

(If you'd like you can sprinkle/grate additional orange zest over cookies).

Let stand until chocolate is set.

Enjoy!
Want more cookies to satisfy your cravings? Check these out:
Malted Milk Chocolate Chip Cookies
Chewy Browned Butter Chocolate Chip Cookies
Find more cookies recipes on OSSS:
Mom's Cookie Cutter Sugar Cookies
Homemade Girl Scout Samoa Cookies