I have definitely been on a strawberry kick this last month. I just can't seem to get enough of them! Anything and everything strawberry is just calling my name! What I've really been craving is some chocolate dipped strawberries! Valentine's Day is coming up…I'll have to start dropping some "very subtle" hints.:)
Last month I posted the
Strawberry Yogurt Bundt Cake
, and I've kind of kept with that theme for this month!
I love to have something sweet & pretty for Valentine's Day, and this trifle is PERFECT!!
I demonstrated how to make this trifle to some ladies at church a few nights ago…I forgot to bring the sugar for the cream section….and I have no idea what I said or if it made any sense whatsoever, but I had fun! Although I'd really rather just cook in my own kitchen, I really like licking spoons & popping a few strawberries in my mouth, etc. and I'm guessing no one would have appreciated that!:)
Trifles are so easy & fun to put together. Your sweetheart and/or family will know you love them when they see this masterpiece! OR…set out all the ingredient and let your family make their own individual trifles in parfait cups, wine goblets, canning jars, or even plastic cups. I even found cute little mini trifle bowls at Walmart for pretty cheap if you want to do that!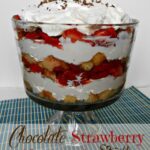 Chocolate Strawberry Cheesecake Trifle
Ingredients
2

pints

fresh strawberries

sliced

1

cup

sugar

divided

2

packages

8 oz. each cream cheese, softened

3

tablespoons

orange juice

3

cups

heavy whipping cream

whipped

1

loaf

about 12-14 oz. pound cake, cut into 1/2 inch cubes

2

ounces

semisweet chocolate

grated

extra strawberries & chocolate for garnish
Instructions
In a large bowl toss the strawberries with 1/2 cup of sugar, set aside.

In a bowl, beat the cream cheese, orange juice and remaining sugar until smooth. Fold in the whipped cream; set aside.

Drain the strawberries, reserving juice, set the berries aside. Gently toss cake cubes with reserved juice.

Place half of the cake cubes into the bottom of your trifle bowl. Top with 1/3 of the cream cheese mixture, half of the strawberries and half of the grated chocolate. Repeat layers.

Top with reamining cream cheese mixture.

Garnish with strawberries and grated chocolate.

Cover and refrigerate at least 4 hours. (I think it's even better the next day!)

Yield: 14-16 servings
And, as a bonus (aren't you lucky!:))…here's some links to my favorite Valentine's treats!