Hi, I'm Angela from Angela's Adventures! Last month when I wrote my first post as the new "Kid Craft and Food" contributor, I shared one of my favorite kid-friendly recipes, Homemade Fruit Leather. If you haven't had a chance to check it out, please do! I know your whole family will love it!
In our home, we're about to embark on a new and exciting adventure. Our sweet boy and oldest child will be starting preschool next week! As a young mommy, experiencing these milestones for the first time is both exciting and slightly heart wrenching. His big first day is quickly approaching so, I've been busy thinking of easy and healthy breakfast ideas that I know he's sure to eat. Today I'm sharing an easy pancake recipe with you that is fast, delicious and sure to be eaten without a fuss. School mornings can be hectic and stressful so, feel free to make these pancakes a head of time and then microwave to re-heat.
Cinnamon Raisin Pancakes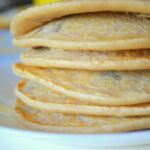 Cinnamon Raisin Pancakes
Ingredients
1

cup

flour

1

cup

milk

1

egg

1

teaspoon

cinnamon

1/2

cup

packed with raisins

2

tablespoons

vegetable oil
Instructions
Beat eggs, oil and milk together.

Add to flour, cinnamon and raisins, stirring just until combined.

Heat griddle until drops of water sprinkled on it evaporate noisily.

Grease griddle and pour 1/8 to 1/4 cup batter onto the griddle.

Turn over with a metal spatula when bubbles begin to form on top.

Cook second side to a golden brown color.
My children are 1 and 3 years old, and we also have another one on the way! One thing I've learned is that young children love eating different shapes. When the pancakes come off of the griddle, use a cookie cutter to cut out different shapes. Say "I love you" with heart shaped pancakes served before school or use other shapes to create pancakes that you know they'll quickly gobble up.
Have fun and enjoy!