I have a little girl who loves to craft. This same little girl loves to mess up her room. I admire her creativity, but despise her destruction…they seem to go hand in hand. She can make literally anything out of a few broken pencils, shredded pieces of paper, hair bows, and strands of Barbie hair. It's amazing what she comes up with, and exhausting just to LOOK at the aftermath.
So, I can call her a slob, spank her little bum, and ground her for life…or, I suppose I could motivate her. I suppose. Actually, I love coming up with motivational ideas. Remember these posts? Motivating Kids to Eat Their Meals, Getting Kids to Stay on Their Beds, Motivating Picky Eaters, Motivating Picky Eaters II, Encouraging Kids to Take Charge of Their Happiness….to name a few.
Anyway, I decided that since she loves crafting, why not motivate her with crafts?? I took a trip to Wal-Mart's arts/crafts section, and picked up a bunch of supplies that could be grouped together to make different crafts. I then made up a quick, dinky-little Excel chart to hang on her closet door, called "Amazing Audrey." There are maybe 10 little squares on it. Every time she keeps her room clean, she gets to put a sticker on the chart. Every time the chart is full…she gets to choose a Mystery Craft Bag….oooh, sounds fun, right?
What's in the bags?? I'll show you…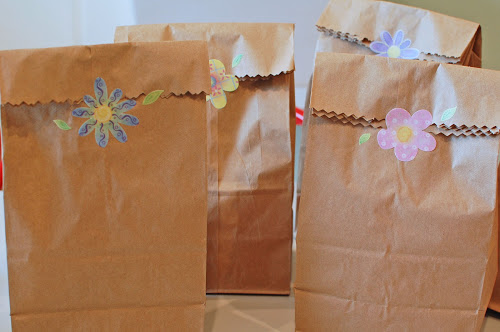 I found these picture frames for a buck. I threw in a little tub of paint, a couple paint markers, and some foam stickers.
Audrey loves to cook, too! So, I know she'll be excited to decorate her own apron. These blank aprons were just a few dollars. Plus, I found some fabric markers and a cool iron on design.
Have you seen those button flowers?? They're super easy to make. Just string a few different sized buttons on a piece of floral wire, to the middle of the wire. Fold the wire over and back down into a different button hole. Keeping the buttons at the top, twist the two pieces (that are actually the same piece) of floral wire together, all the way to the bottom. Anyway, this isn't really a tutorial on making them, but just thought I would throw that out there. All you need for it are buttons and wire. Cheap!
Wal-Mart had these sun catchers for maybe 6 or 7 bucks, and it's an instant craft kit! It comes with the plastic shapes, the paint to paint them, a paint brush, and window suctions. Dropped one of these boxes in a bag, done.
Door hangers, with sticky shapes and letters.
I found these supplies already hanging around my craft room. They're perfect for making her own hair bows! A few flowers, some bobby pins, clips, and hot glue.
There's so many creative things to be done with felt. Another easy kit.
I still need to buy the elastic string for these beads, but Wal-Mart had these bead kits that I know she will love.
Pipe cleaners are fun for making crowns, rings, and forming any sort of shapes. They're cheap, easy, and really bring out the creativity.
That's all for now. These craft bags will last me for months! Her room isn't perfect every day, so she can't always get a sticker. But, I have seen significant effort to step-up her game, which is awesome. She even loves that the craft is always a surprise!