Hello all! I'm so excited about this post! Halloween is my absolute favorite holiday. Here are a few unique toddler Halloween costume ideas, and ways to have a whole theme for family costumes.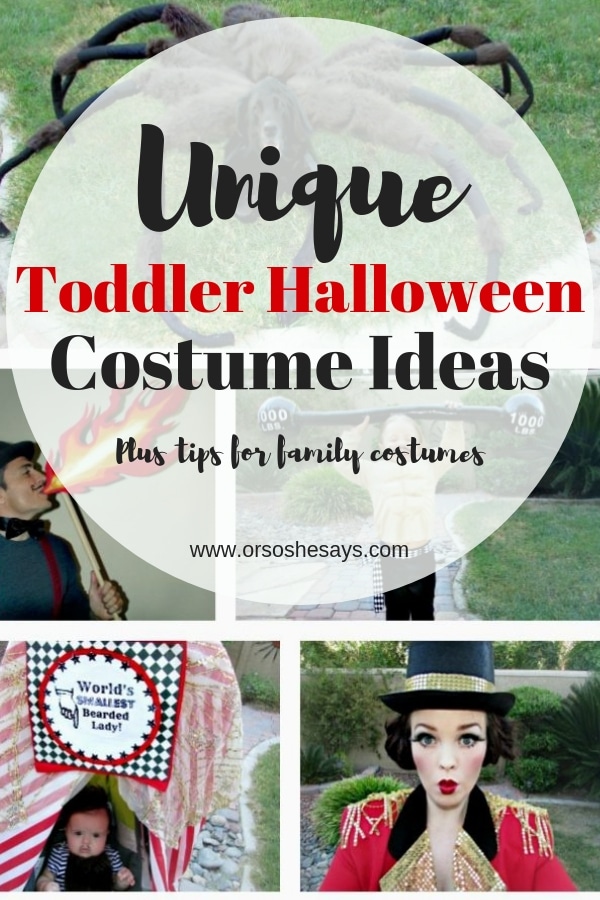 Some people are so amazing at sewing intricate, unique Halloween costumes to bring to life their kids' imaginative ideas. To an extent, I like to be creative… but I don't like to be overwhelmed! So while I do LOVE a good themed family costume, I try to make it as easy for myself as possible. Of course, as the kids get older they often have more opinions, so that's why this post is all about TODDLER Halloween costumes… babies and non-vocal toddlers can't argue with the family theme 😉
DIY Unique Toddler Halloween Costume Ideas: #1
Baby Elvis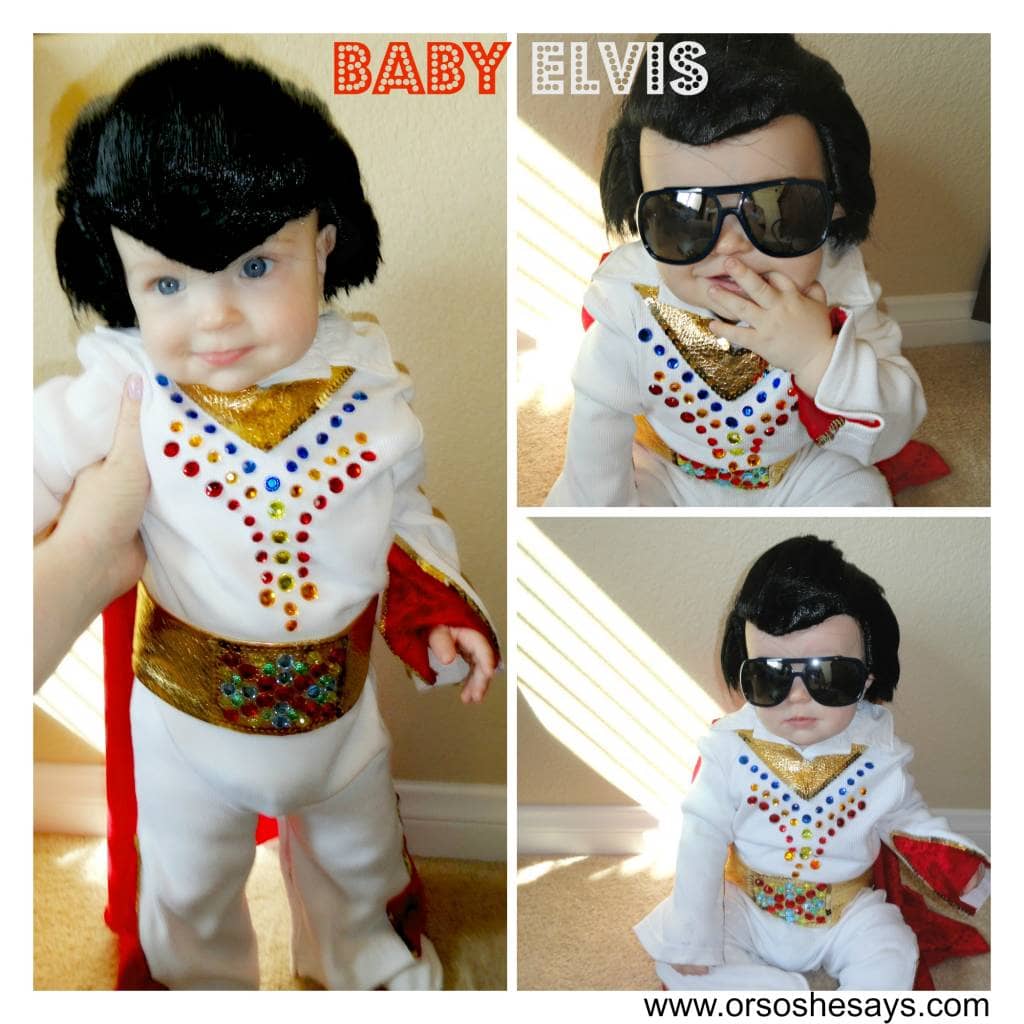 When making/finding toddlers costumes, remember the three Cs:
Comfy: This Elvis costume was made out of an all white baby sleeper that you can jazz up with an inexpensive bedazzler tool (seriously, less than $15!)
Cozy: The baby wig is lined with soft felt, doubling as a hat to keep warm
Creative: It's always more fun to think outside the box!
This is seriously that simple! A white onesie, jewels, and a removable fabric belt. Not much is necessary to get the point across that this baby is ready to rock. How cute would it be with a little felt guitar cut out and sewn or pinned to the front of the onesie? Don't forget that inexpensive, simple accessories can really add the finishing touch. Cheap sunglasses are used in this costume idea, plus the next one (with the lenses removed!).
Unique Toddler Halloween Costume Ideas: #2
All you Office fans will love this super easy DIY costume! Remember to THRIFT for toddler costumes! Why spend so much money, when you can find a mustard dress shirt for a dollar, and create something funny and original? Don't forget to get a short-sleeved shirt for your little Dwight, because die-hard Office fans know how much he hates long sleeves.
And when possible get the whole family involved! Halloween is the best time for collaboration! Here's a ready-made three-hole-punch shirt for the Jim in your life. For Pam, you just need some khakis, a button-up, a cardigan, and you're done!
Unique Toddler Halloween Costume Ideas: #3
Einstein
This super cute costume is really all about the hair! So if your little guy has locks to spare, consider showing them off as the great Einstein himself! The easiest way to color baby's hair is probably this hair WAX. Trying to spray a baby's hair sounds like a nightmare ;). Also, E=MC2 t-shirts really added to the idea, and brought us together nicely. I made my own, but you definitely don't have to.
Unique Toddler Halloween Costume Ideas: #4
Little Red Riding Hood
Classics are always a good call! If you're at a stand still for ideas, just think back to your favorite childhood stories for inspiration. If your baby has been driving you crazy lately (terrible twos, anyone?) dress him/her up as the Big Bad Wolf ;). If your little one has been sweet and lovely, go for a Little Red Riding Hood costume. And here's a fun tip, try a Costume Swap! Organize a church or neighborhood swap, where people can come trade their kids costumes. It's a great way to up-cycle as well as a fun excuse to socialize.
Unique Toddler Halloween Costume Ideas: #5
Baby Bearded Lady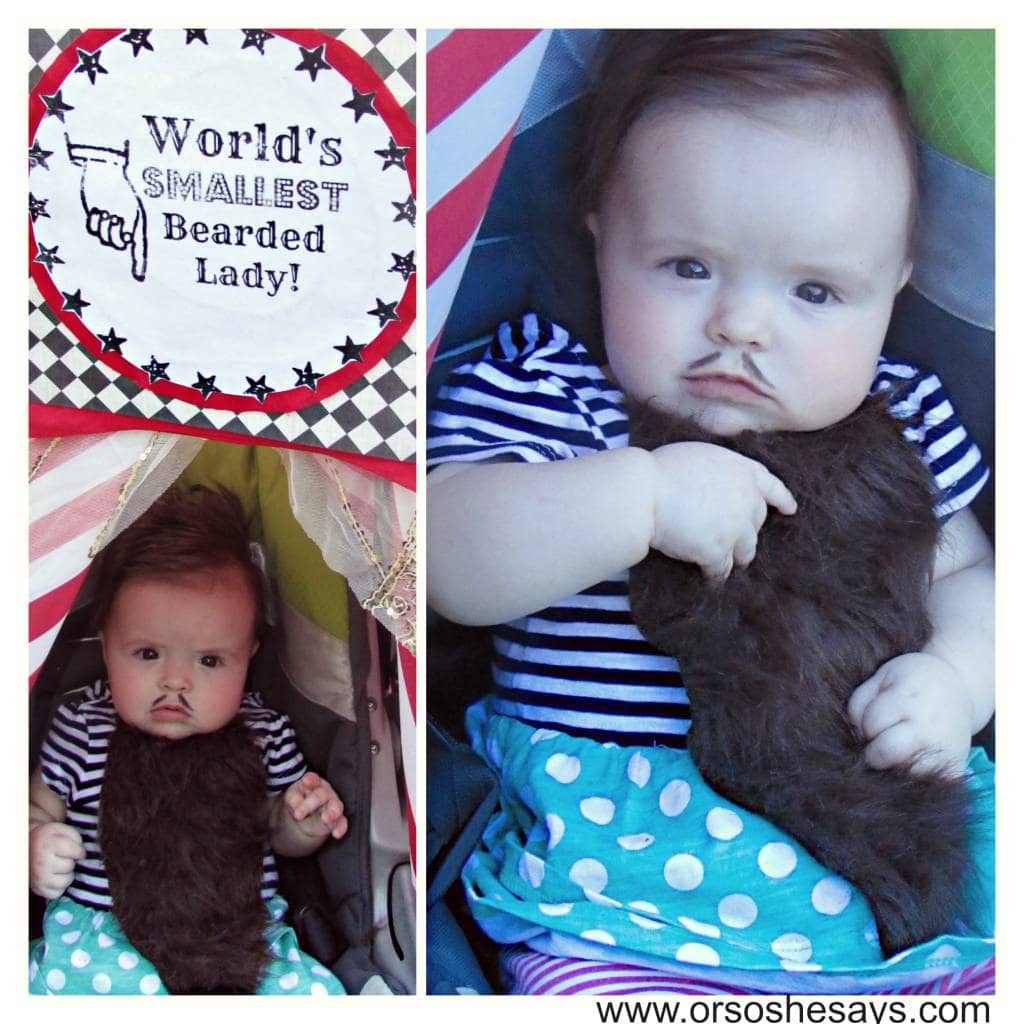 This silly baby costume is so simple to make, and gets lots of laughs! It's just a patch of furry fabric cut into a beard shape, and then sewn directly onto the baby's clothes. Perfect for a little girl to be in the center ring as the bearded lady for a circus-theme. If you have a little boy, just label him as the youngest boy ever with the most amazing beard in the land. And why not bring your favorite furry family member into the fun? This giant spider costume was a big hit, and our dog loved being the center of attention! I think circus theme is probably going to be a popular toddler Halloween costume idea in 2018 because of The Greatest Showman.
No matter what costumes you decide on this Halloween, remember to have fun, and let the older kids make their own choices when it comes to costumes. Children love to be involved in the process, so let Halloween be a time of fun family traditions and collaboration. Use their younger years as the time to be in charge of what they wear ;).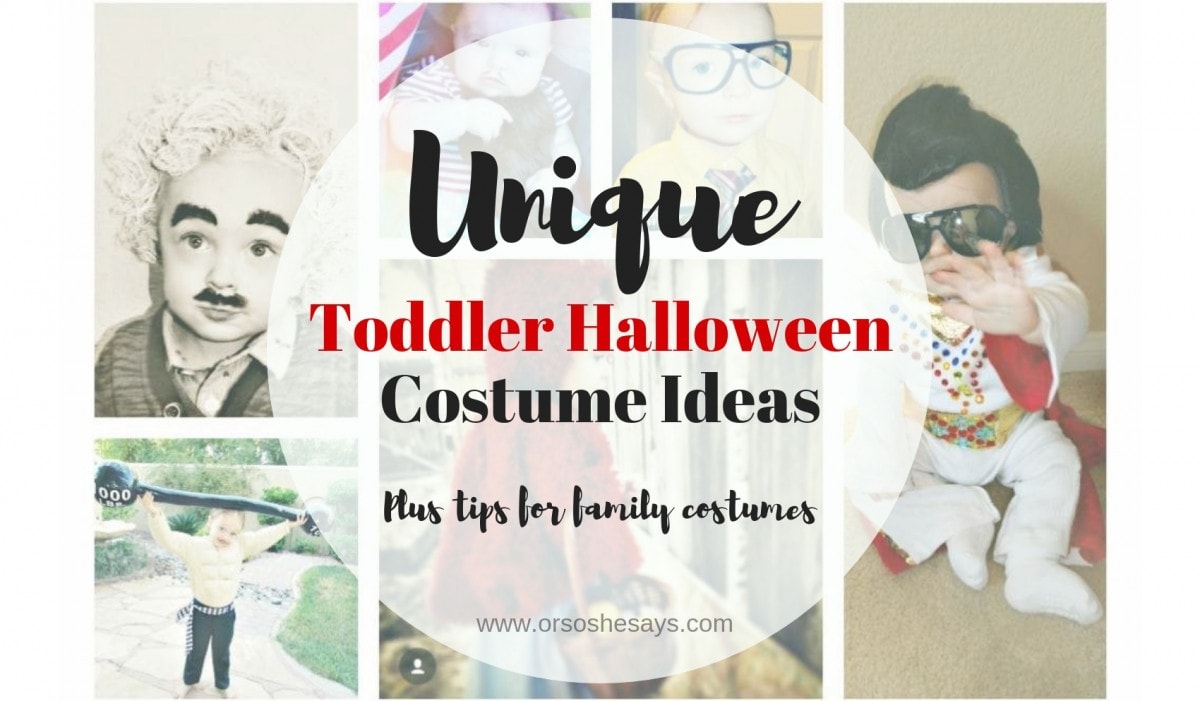 If you liked this post! Please check out my post about Adult Halloween Costumes at my blog, Paper Wings.
Lots of love!
-Kari
For more Halloween posts, check these out: