I've mentioned before that I live in a BEAUTIFUL mountain valley. We're not going anywhere any time soon, or possibly ever (we're currently building a home here). I love the peace and quiet, the landscape, the small-town feel, but our shopping options are on the less-than-desirable side. I really shouldn't complain, that's one of the reasons our valley is so quiet. We have a handful of grocery stores, a Walmart, and a Dollar Tree.
I've always been a Dollar Tree fan, but now that it's one of my three choices when it comes to shopping local, I've become somewhat of an expert! Such an "expert" in fact, that just last week the cute cashier told me it was going to be her last day, and we wouldn't see each other anymore!! I was a little taken back by her comment. I didn't realize we were so close! Apparently I frequent the dollar store more than I should/realize!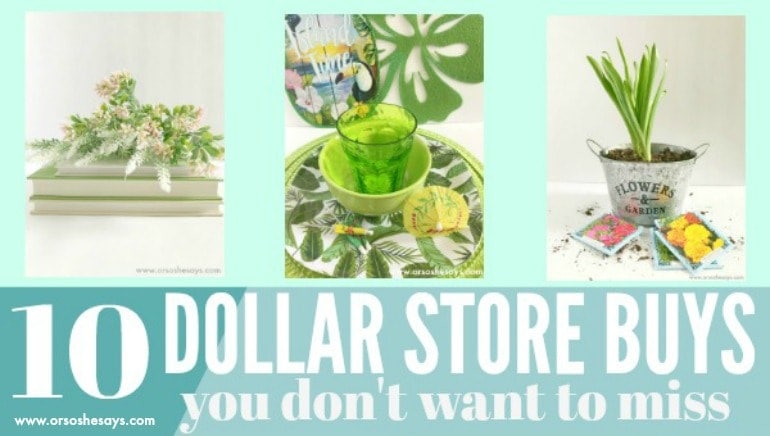 My tops picks for today's post are in no particular order, and cover a range of categories. Are they fun?? Well, to me… any time I find a good deal, it's fun. In my opinion, these are the things to buy at the Dollar Store that are definitely worth it. Some items I've been buying for a long time, and others are new finds.
10 Fun Things to Buy at the Dollar Store
Dental Flossers & Kids' Toothbrushes
I've loved flossing ever since I can remember. Weird, maybe? When I got married, my husband had never flossed! I couldn't believe it!! As we started a family and our kids got older, I was determined to make them all flossers, like me! Well, I quickly discovered that pulling all of the floss out of the little square box was much more entertaining than the actually flossing. Then, the dental flossers came out, and we decided to give them try. My kids love them, and don't mind flossing any more! It wasn't until about a year ago I discovered Dollar Tree sold them! There are a few choices of dental flossers available at Dollar Tree, but these are our family's favorite. You get 60 for a dollar!!!! A penny a piece! I've tried the double thread ones, and didn't like them at all! You get fewer in a pack, and they are SO hard to get between your teeth! These are mint, slide right between your teeth, and again the price is amazing! Since it's a disposable item, I feel like this is a really great thing to buy at the Dollar Store.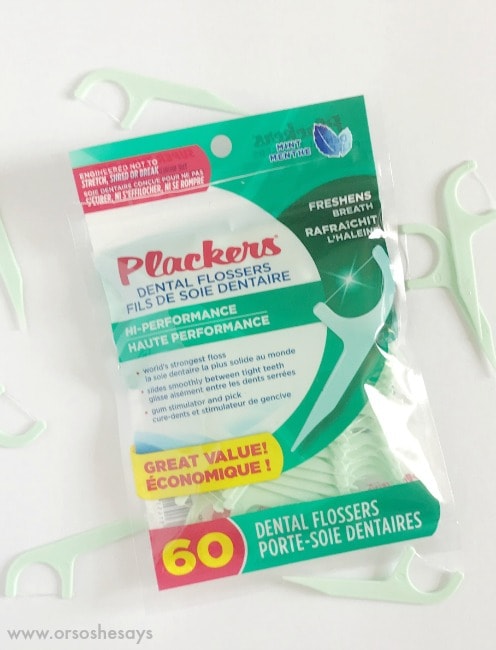 I have two kids under the age of three, and I don't know about you, but we cannot keep a toothbrush for more than a week or two with them! I don't know where they end up, but at our house there must be a mysterious hiding place with socks and kid toothbrushes! That's why I love buying these 3/$1 character toothbrushes at Dollar Tree. They're such a great deal, and the characters are a win/win because both of my youngest kids LOVE to brush because of who's on their toothbrush. We've had Spiderman, Batman, Elmo, Hello Kitty, Strawberry Shortcake, Captain America and many more. You can choose the 3/$1 or they do have travel character travel toothbrushes that come in a little plastic bag with toothpaste, and a little cap to go on top of the toothbrush. My Dollar Tree was out of them, so I couldn't get one to photograph, but keep your eye out for them.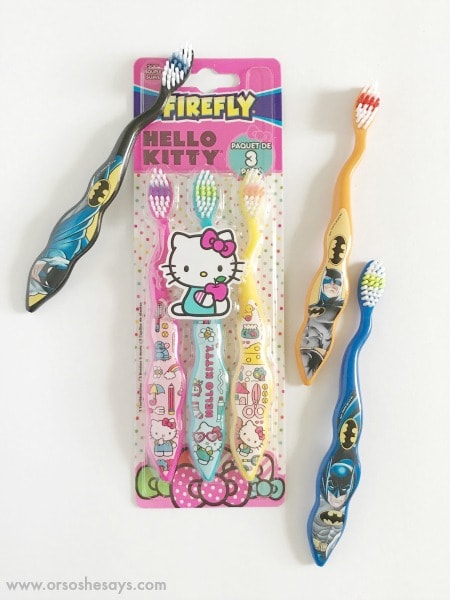 Snack Size Baggies
Baggies are one of those things you almost can't live without, but if you're like me you hate spending money on them! I actually buy my sandwich size baggies at the dollar store as well (45 for a dollar) but these snack size baggies are a game-changer!! I have fairly young kids, and unless I'm packing up a whole sandwich, I always feel like I waste so much space with the small amount of food I put in regular size sandwich bags. Snack baggies to the rescue!!! And at 50 for a buck, you can't go wrong! I find myself reaching of these more than my regular size baggies, and I have to say the quality is great! My only complaint is that they can be a bit tricky to get opened, but that is ok by me because it means you'll have a tight seal when you close them!
Snyder's Individual Pretzel Bags & Jif Peanut Butter Cups
I don't buy a ton of food at the dollar store. Candy and snack items mostly. I have been buying these Snyder's individual pretzel bags for a few years now. I love items that come individually wrapped! While my snack size baggies are great, it's one less step if the item is already wrapped for you! Snyder's is a brand I know and dare buy (I'm always cautious about that at the dollar store) and you get eight bags for one dollar! Perfect to throw in lunches (with the peanut butter cups below), your purse, or to leave in your car for emergency snacks.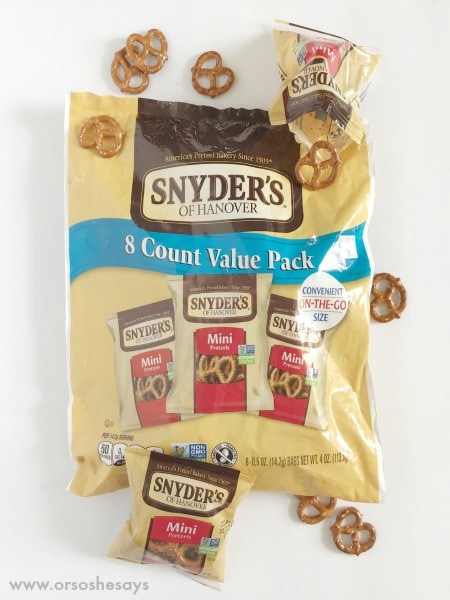 The individual Jif peanut butter cups are another great buy from a trusted brand. You get three individual cups of peanut butter for a dollar. My boys aren't sandwich eaters, but they love pretzels dipped in peanut butter. I send these two in lunches all the time! My husband will even take them to work once in awhile for a quick snack. There's also a chocolate version of these as well. We've tried them, and they're good, but we always end up back at the peanut butter ones. I do buy jars of peanut butter at the store, and we use that more often than not, but if we're in need of quick, simple, convenient, and yummy we go with these! It's definitely one of my favorite things to buy at the Dollar Store.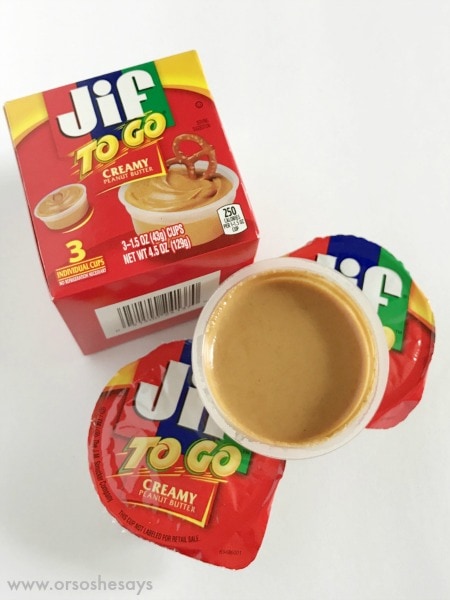 Seasonal Items/Decor & Table Top
You know it wouldn't be a post from me without a bit of seasonal/holiday talk! I'm sure you all frequent the dollar store for seasonal items or fun holiday decor; it's one of those things you can buy at the dollar store to spice up even the most mundane of holidays (if there is such a thing 😉 ). I like it because you don't have to break the bank to feel festive, and if you're not loving it when the next season rolls around, you don't feel too bad about not using it. With Easter over, the dollar store shelves are starting to pile up with all kinds of bright summer decor. These are just a few of the items that jumped out at me. I'm loving greenery lately, and this cute plate caught my eye. I love the pattern and the shape! They're hard plastic, so not a paper plate, but nothing that will break. I know these aren't top quality, but I picture using them outdoors a lot where you don't want to be using your best china, and once again, for my entire family I spent a whopping $7 on a set. If they make it until next summer, great! If not, no bad feelings whatsoever! This is probably my most favorite thing to buy at the Dollar Store!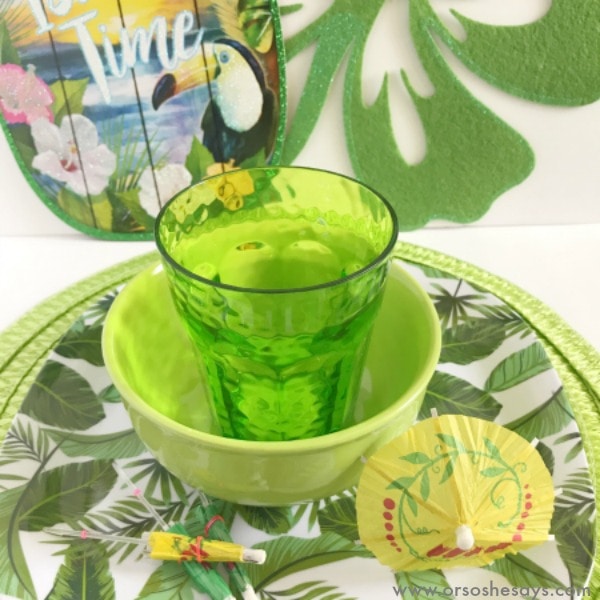 There are really fun colored cups right now, place mats, bowls, pretty much anything you'd need to make a fun, inexpensive summer tablescape to use all season.
Socks/Sock Liners
I always exercise at home (except for a couple of the summer months when it's light enough to go running at 6:00 a.m.). I love not having to add time to my workout with driving, and I love that I don't have to spend a fortune on my workout clothes because I'm worried what I look like at the gym. That's just me though. And actually, these sock liners are never seen when you're wearing shoes, so really even if I was at the gym, no one would see them. I've spent a bit of time and money trying to find my favorite pair of no show socks that work well with my running shoes. I had found a few pairs here and there, but wasn't extremely impressed with them, especially with the price I paid.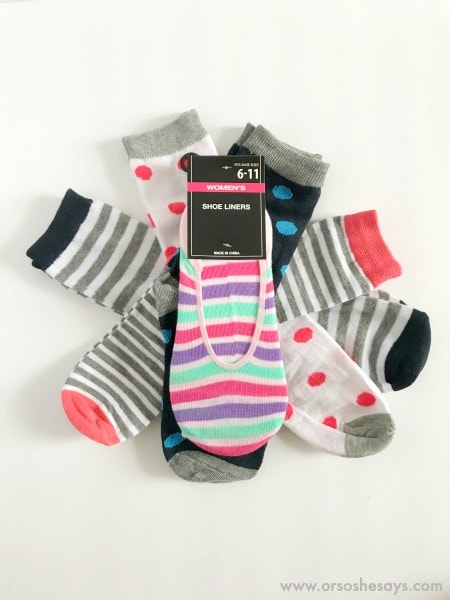 I ran across these socks one day while I was wandering the Dollar Tree isles, and just like anything there I thought, "hey, for a buck they can be a total waste and I won't care!" Well, it's been two or three months since I bought my first pair of these, and I have to say I still love them! The price is amazing, and THEY STAY IN PLACE!! The patterns aren't too bad either. The top pair in the photo are the sock liners, the others aren't. They are really cute though, and you get two pairs for a buck!
Books for Decor
I have been known to buy books at Dollar Tree. There are some cute little board books for kids, we got Tom Sawyer and The Secret Garden there once, and once in awhile you can find a really great deal!! I once found Everything I Need to Know About Love I Learned From a Little Golden Book (world's longest title possibly?!?). But usually you can find me in the book isle taking off the jackets of the hardbound books looking for great colors and textures on the book itself. I should maybe attempt to read some of the books I buy, but they end up on my shelves for the simple purpose of styling. You can face your books spine-out, but most of the time I like to turn mine spin-in so the pages are showing on the shelf. Some of the titles are less-than-ideal with the dollar store books, so turning the spine toward the back solves your problem!! I do love to buy books at thrift stores to use for styling as well, but when you can't get to the thrift store, the dollar store works, and you really pay around a dollar a book at the thrift sore anyway. The dollar store books will look newer, crisper, and clearer. I actually like that look a lot these days. I still love the weathered look of an old book, but sometimes I'm going for a fresher look. (The faux flowers on top are from Michaels, not the dollar store.)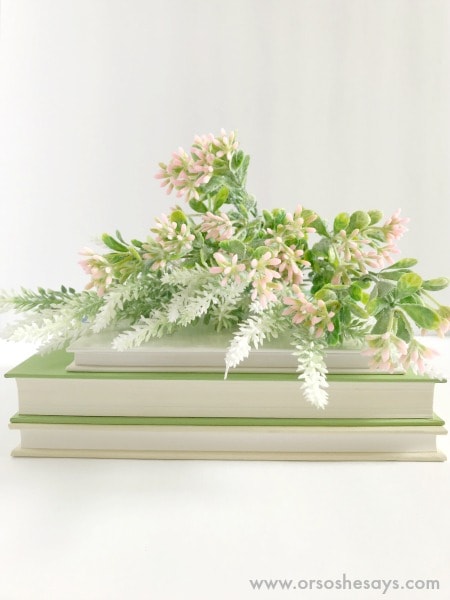 Bubbles/Outdoor Toys
This is another area where I don't want to have to spend a fortune to provide fun seasonal activities for the summer months ahead, so dollar tree is a great place to go to for outdoor toys. We buy bubbles (we are LOVING the Grab-A-Bubble toy below), hula hoops, (which aren't always the best for hula hooping, but are perfect for my Builders & Bulldozers Game) mini bats, balls in all shapes, colors, types, and sizes, pool noodles, (and I'm sure you know they aren't just for the pool anymore!!) squirt guns, bug nets, kites, sidewalk chalk, and on and on. Again, toys that are probably a bit more on the disposable side once the end of summer rolls around, and you might have to be a bit picky to find the best stuff they have, but can provide endless opportunities for the warm months spent outdoors.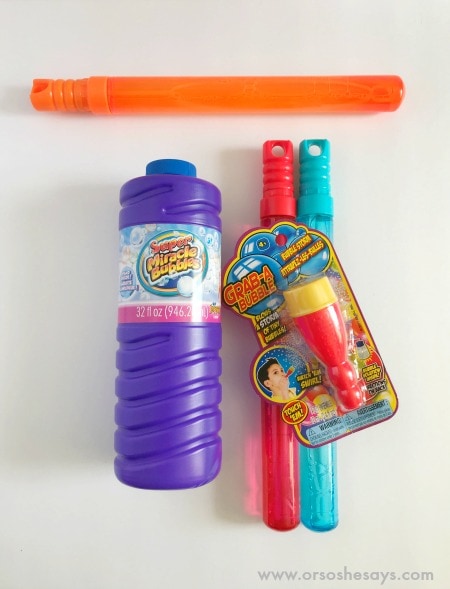 Planting/Gardening Supplies
I put this category in my top 10 list with a bit of hesitation because this is the first year I've really bought anything garden-related from the dollar store, but I have to say I'm quite impressed with several of the items I bought. I've been trying my hand at starting seeds indoors this year. I'd bought some seeds at Walmart awhile back, and then saw seeds for a fraction of the cost at Dollar Tree. The seed packets are 4/$1! They were $1.50 at Walmart, which is not expensive by any means, but a quarter certainly beats that price. I'm sure there are garden experts that will say seed quality is important, but I do think it's hard to ruin a seed. The planting and planter may be the reason for poor results, but I have great faith in all seeds! I got some herb and flower seed packets, some seedling soil (they also have regular potting soil), and these cute galvanized buckets at the dollar store! There are so many other options for containers, and not all of them are great, but I have to say I found myself doing a double take on several of them. I'll let you know how our seeds do (we only planted them on Saturday) but I can't wait to see what we get to harvest this year! The greenery in the pot is from a hyacinth bulb I planted a few weeks ago (not from the dollar store). The blooms are done, but I don't mind the green as a stand alone.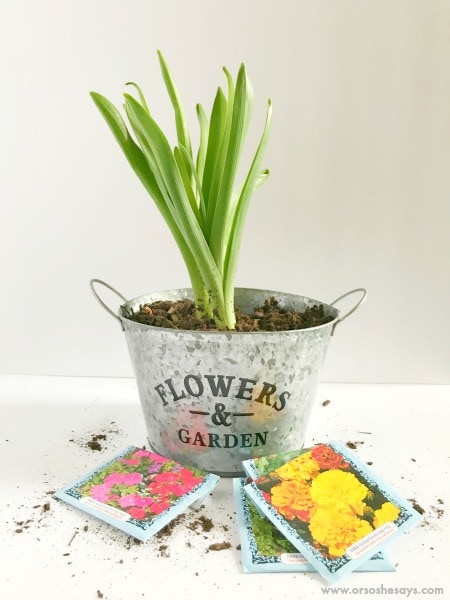 Gift Bags
I have been really impressed with Dollar Tree's gift bag selection lately! It's the perfect place for character bags, which can be a bit pricey at other stores. I've bought McQueen, Spiderman, Ninja Turtles, Batman, you know all the boy favorites. Now with a little girl in the family, I'm loving branching out and finding some more feminine ones. I always take a quick stroll through the gift bag aisle when I'm at the dollar store just to see what they have. They get new bags frequently and I like to grab good ones when I can so I'm stocked up and ready for any occasion!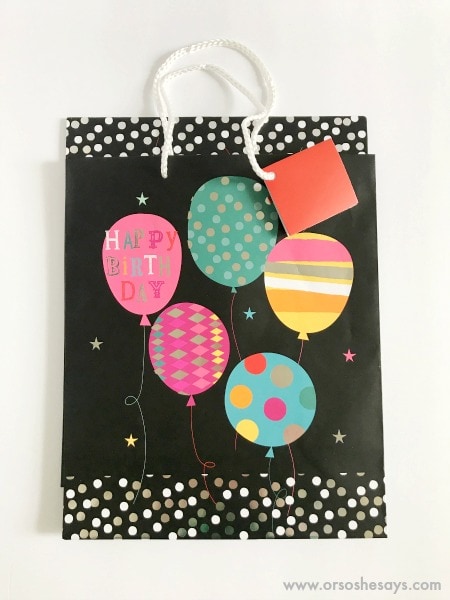 I hope I've inspired a dollar store run in everyone! I know it's always one of my favorite stops because of price, but it's also the thrill of the hunt and what you can score for a single dollar! Plus, I can keep my two toddlers happy because they usually get to pick ANYTHING in the store for a reward. That doesn't ever happen at any other store. What are your current favorite things to buy at the Dollar Store?
Come over and visit me at Blissful Roots soon!
Pin These Image to Save Fun Dollar Store Finds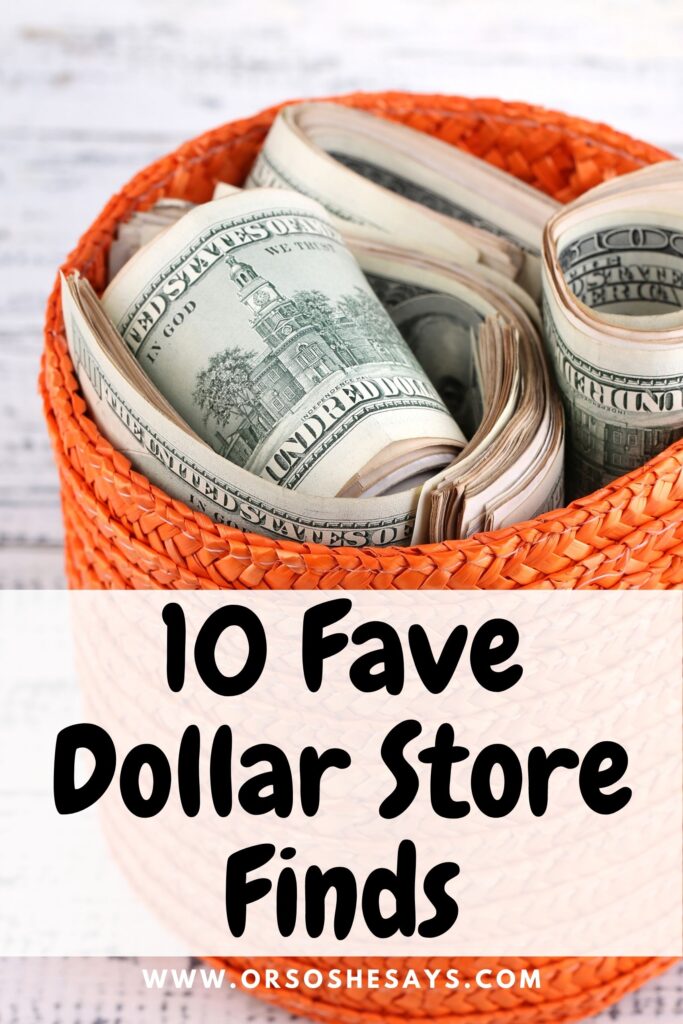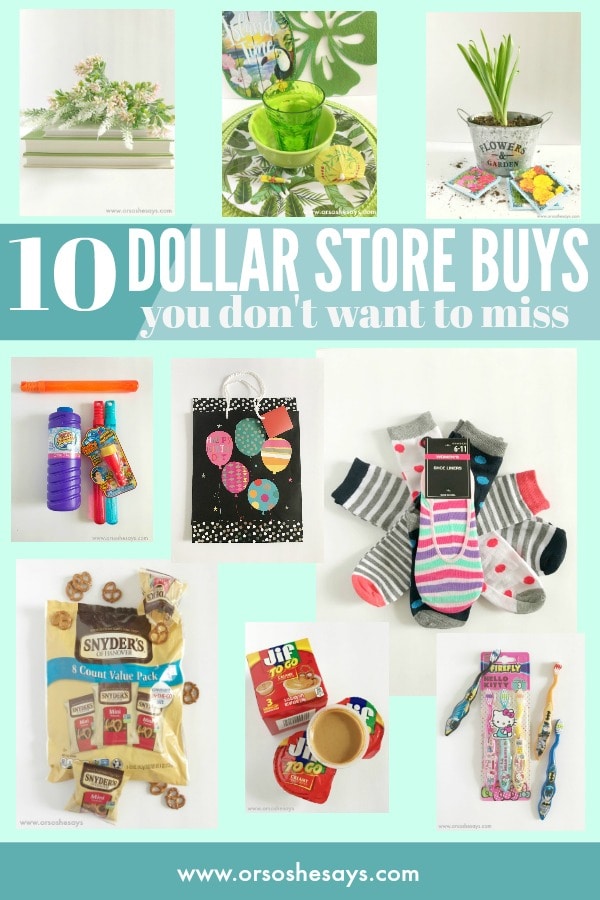 If You Liked These Dollar Tree Ideas, Check Out: