Hey Everyone, it's Kimberly from Packed with Fun, the official blog for Get Away Today. If you've read my posts before, you know that we LOVE Disneyland. And if you haven't heard, this is a big year for the Disneyland Resort. It's Disneyland's 60th Anniversary and it's going to be amazing! I was lucky enough to be invited to a special sneak peak a couple of weeks ago and wanted to share a little bit of what's coming with you.
First of all, the event will kick-off May 22, 2015 and it's going to be huge. For starters, since it's Disneyland's Diamond Celebration, Sleeping Beauty's Castle and the Carthay Circle Theatre are getting diamond makeovers. When I was there, the castle was being worked on around-the-clock and although it was a little sad to see sheets and scaffolding, the final result will be well worth it.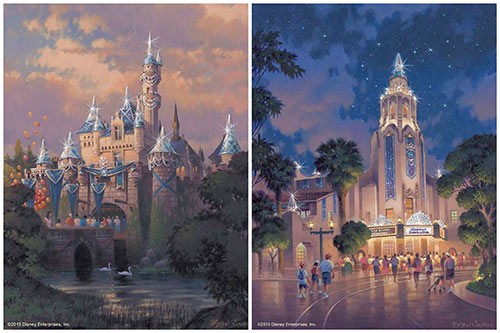 Image credit: Disney Artist Rendering
The major announcement is that there will be three new nighttime shows coming to the resort: World of Color Celebrate!, Paint the Night and Disneyland Forever.
World of Color – Celebrate! The Wonderful World or Walt Disney is an all-new show that will replace the current World of Color. It will use the same fountains, lights and special effects, but with an all new story, music and some extra surprises. They're still working out some of the details before opening night, but the director of the show promised that "you will cry."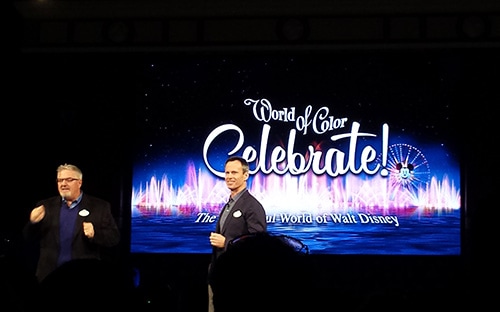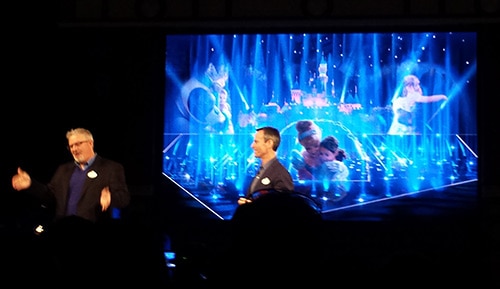 Also, I'm not totally sure, but it looked like they were using real guest images on the water screens. How cool would that be? I love World of Color, so I am incredibly excited about an all new version of it.
Paint the Night is the new nighttime parade and it was made for fans of the classic Electric Light Parade. Like many, this is one of my favorite memories of Disneyland as a kid and this version is supposed to be like the original but pumped up like 100 times.
The floats and costumes are all going to be completely lit up and the entire parade features more than 1.5 million LED lights. In fact, Disney said that they've had to tone the parade down a little bit because it was too bright. I can only imagine! Another fun thing about this parade is it will feature many of the newer Disney stories like Monsters, Inc., Cars and Frozen. In my mind Beauty and the Beast, the Little Mermaid and Toy Story are new, even though they came out 20-26 years ago (whaaat?!?), and they're going to be featured too. I can't wait!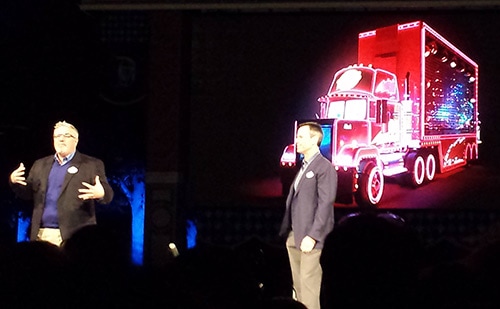 The grand finale of the evening was a preview of Disneyland Forever, the new fireworks spectacular, and it will be spectacular. The entire show will be 12-14 minutes of music, storytelling, fireworks and all-new effects that can be experienced throughout the park. Giant projections will be happening around you that bring you right into the show and are planned to be displayed on "it's a small world," the Matternhorn, Main Street U.S.A. and the Rivers of America. The idea is that you'll be completely immersed in the show and it will feel like a different show depending on where you view it. I'm thinking you'll want to plan a couple of nights of your Disneyland vacation just to watch the fireworks – I know I will.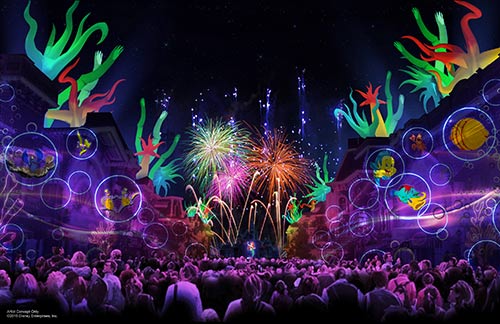 Image credit: Disney Artist Rendering
If you're thinking of going to Disneyland this year, you'll definitely want to book early. Now that the official start date for the Diamond Celebration has been announced, families are booking their vacations and the best deals are selling out. If you want personalized assistance, call Get Away Today at 855-GET-AWAY, or visit www.getawaytoday.com and use promocode: OSSS10 to save an extra $10 on any 2-night or longer Disneyland package. We hope to see you there!