Hello again! It's Amy from The Connection We Share. Thanks for letting me join you for another month on OSSS.
Like many of you, I have thousands of photos sitting on my phone and my computer.
I'm a firm believer we need to surround ourselves with photos of the people we love.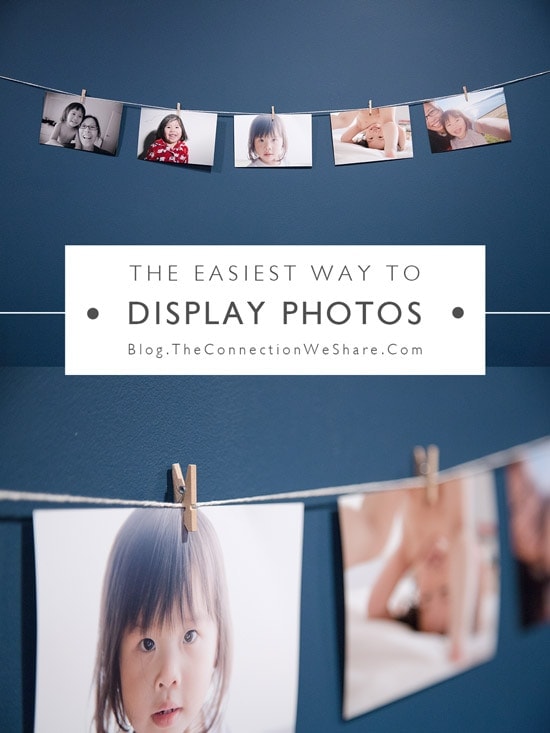 In our home, we have large collections of photos of our family together and I also make Blurb photo books with pictures of the kids. It warms my heart to see happy pictures of my kids and helps me remember what is most important =)
Being a busy mother, it takes a lot of time and energy to put together a collection of photos to display in my home. From deciding which photos to print and in what size, to framing and hanging, the whole process takes me a good week! Yes, this can be a daunting endeavor even just thinking about it and I do this for a living as a professional photographer!
And so, I'm here to share with you the easiest way to display photos, and it's cheap, too! This is so easy, my 3 year old did this herself with a bit of guidance!
Here's what you'll need:
String or yarn
Some sort of 'anchor point' for your string to hang off of. It could be a couple screws, nails, thumbtacks and even tape.
4×6 of your favorite photos. How many depends on whether your photos are vertical or horizontal and how much space you leave in between. I'd say a good rule of thumb is 6-8 photos per 3'.
Some small clothes pins
How to Display 4×6 Photos
Pick a wall where you want to display the photos.
With a pencil, very lightly mark where you want the string to start and end.
Place your anchor points on the wall
Attach the string to your anchor points
Hang your photos!
Tada! Easy, right?
I really love this method because photos can be updated easily and cheaply. I print out new 4×6's about once every 6 months and the ones I take down go in a photo album.
If you want to take great photos of your kids, myself and other professional photographers offers a lot of photography tips to help you improve your photography skills. Feel free to stop by anytime to get ideas!