Just the other day, I was thinking that sugar cookies may just be one of my biggest weaknesses. I consider myself a pretty strong-willed person, who will accomplish goals, be responsible, and not give into temptation. But, put a plate of sugar cookies in front of me, and all my mental strength goes out the window. Not that I don't allow myself cookies, I do. But, at this point in my life, cookies and I… well, we've started to see other people. I see a trainer and rice cakes. Cookies see everyone else in my house. It's been hard. Ya know, those jealous feelings. But, we have occasional rendezvous that give me a little rush. Sugar rush. With that being said, some sugar cookies are icky, which is actually super helpful. I don't like the lemony sugar cookies, or the Crisco-y sugar cookies. They have to be JUST so.
Anyhow, you may remember my chewy, soft, heavenly goodness sugar cookies, that I've share before. Mmmmm! My friends call them 'crack cookies' because they're soooo addicting and naughty, naughty, naughty. But, sometimes I need a cookie cutter (or cutout) sugar cookie, which my others are not. And, THIS is my go-to recipe. This recipe comes from my hot mama who has made these ever since I was little. They're easy to make, fun to decorate, and I love them.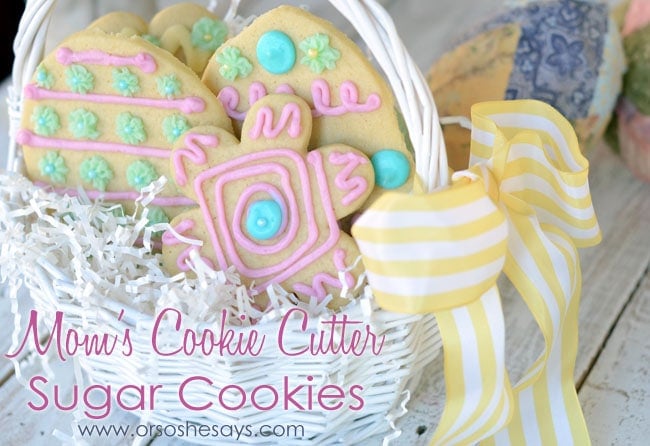 Mom's Cookie Cutter Sugar Cookies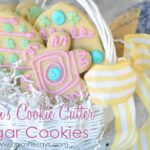 Mom's Cookie Cutter Sugar Cookies
Ingredients
2

cups

butter

2

cups

sugar

4

eggs

4

tsp.

vanilla

6

cups

flour

2

tsp.

baking powder

1

tsp.

salt

Frosting:

1/2

cup

butter

4

cups

powdered sugar

1

tsp.

vanilla

1 - 2

TBS.

milk

to desired consistency
Instructions
Cream butter and sugar in mixer.

Add eggs and vanilla, mix.

In a seperate bowl, combine dry ingredients.

Add dry ingredients to mixer.

Chill dough for a few hours, until chilled through.

Roll out dough and cut out with cookie cutters.

Bake at 350 for 10 - 15 minutes.

For frosting, cream all ingredients with hand mixer. Add food coloring, if desired.