Buttery croissants and a homemade, 5-minute caramel sauce come together in this simple yet decadent Caramel Croissant Bread Pudding.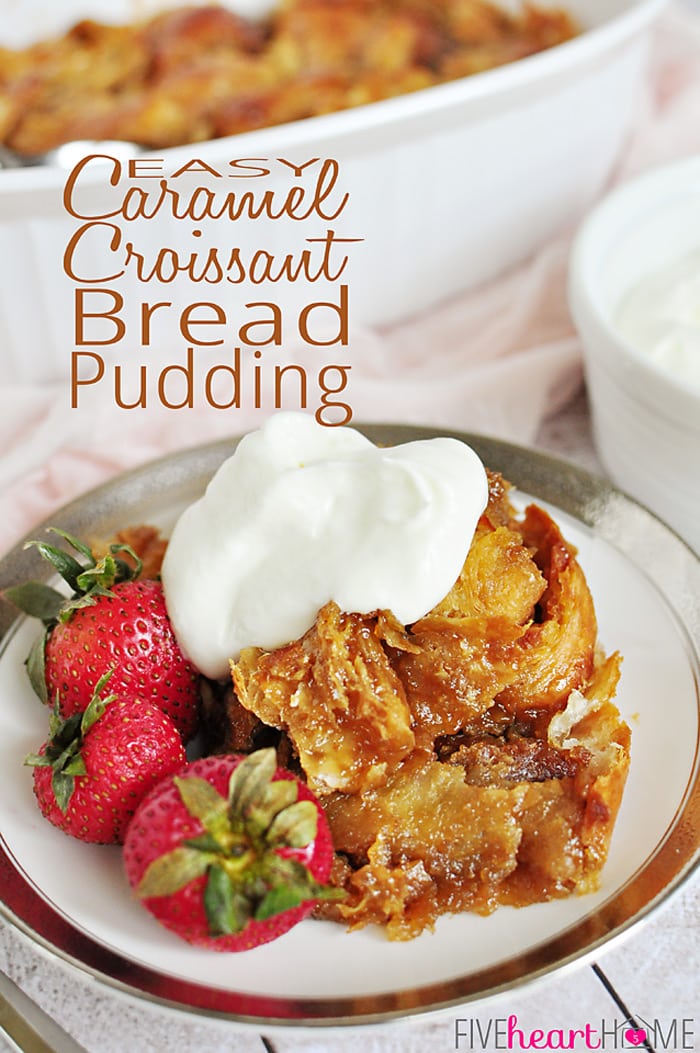 Hi there, Or So She Says readers! It's Samantha from Five Heart Home, and I'm excited to be back today sharing a doozy of a dessert!
Croissants, meet caramel. That's right, folks…as if flaky, buttery croissants weren't already decadent enough, today's recipe drowns them in a custard of homemade caramel sauce and bakes the whole concoction into luscious bread pudding goodness.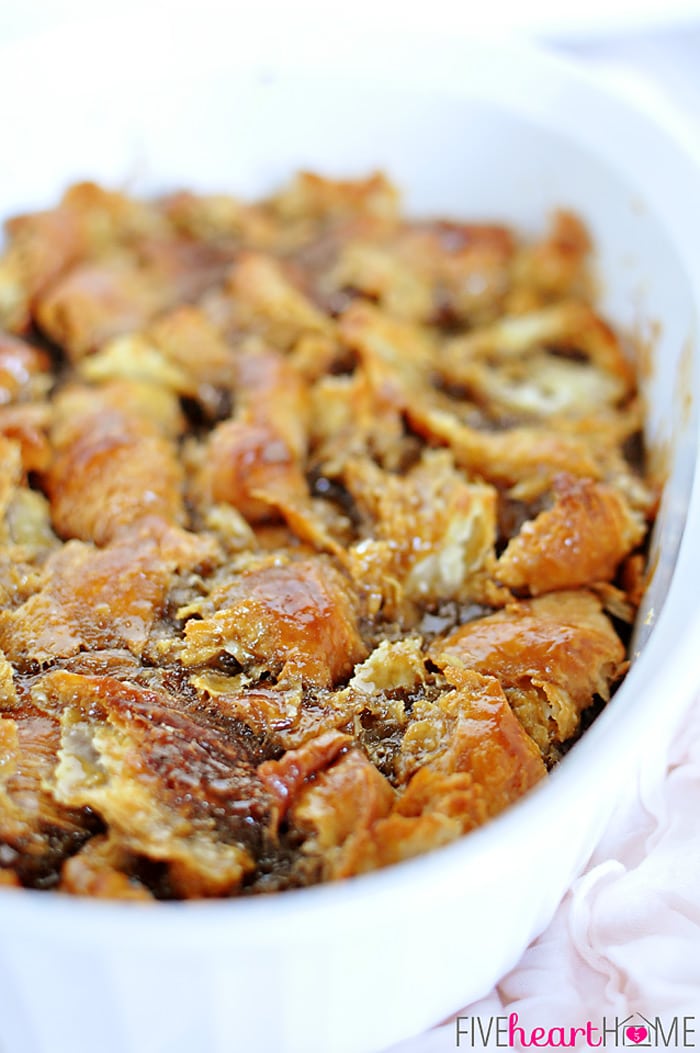 As an added bonus, the caramel sauce is homemade yet takes less than five minutes to whip up! Sound too good to be true? It's not…the recipe is actually deceptively easy to make. But nobody will ever guess that when they taste it.
This particular method is my favorite way to make caramel because there's nary a candy thermometer in sight! I love keeping a jar of homemade caramel sauce in the refrigerator at pretty much all times, since you never know when ice cream or brownies or apple pie are going to demand it. And I just so happened to have half a jar of this sauce on hand at the same time that I found myself with a few leftover, stale croissants. Coincidence? I think not.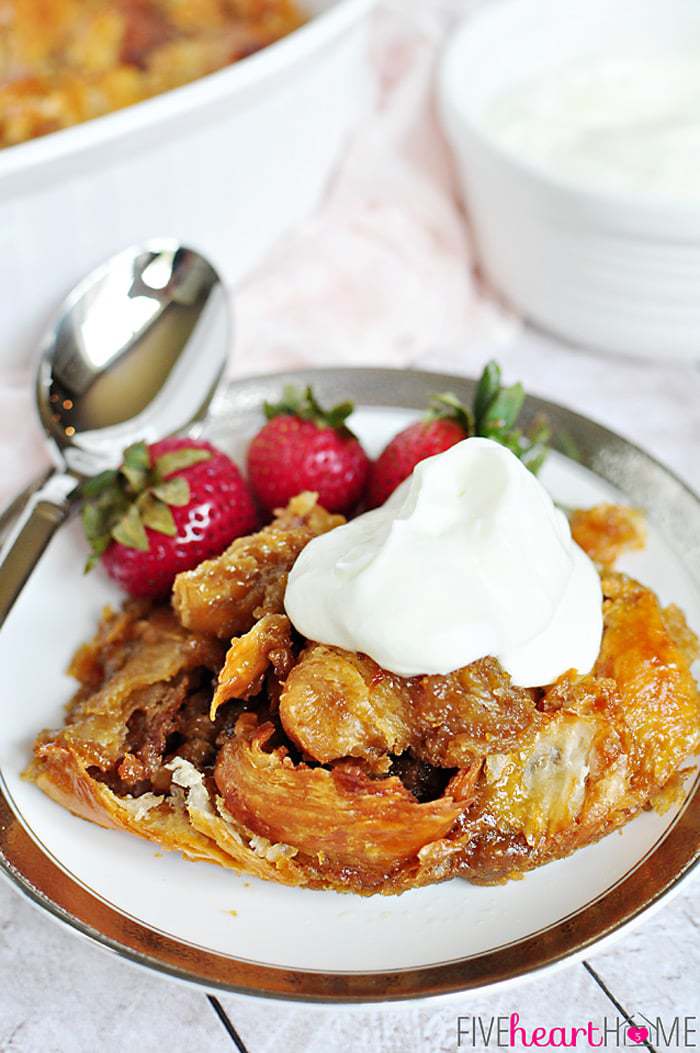 To create this amazing bread pudding, all I did was tear about four stale croissants into rough pieces and place them in a buttered baking dish. Then I scrambled up a couple of eggs, stirred in a cup of caramel sauce, and poured the mixture all over the waiting croissants. After allowing the croissants to soak in their caramel bath for about 10 minutes, I popped the dish in the oven and baked until puffy and golden.
The magical result? Warm bread pudding with a texture that's simultaneously tender, flaky, chewy, and gooey…and an unadulterated caramel flavor that is mouthwateringly amazing!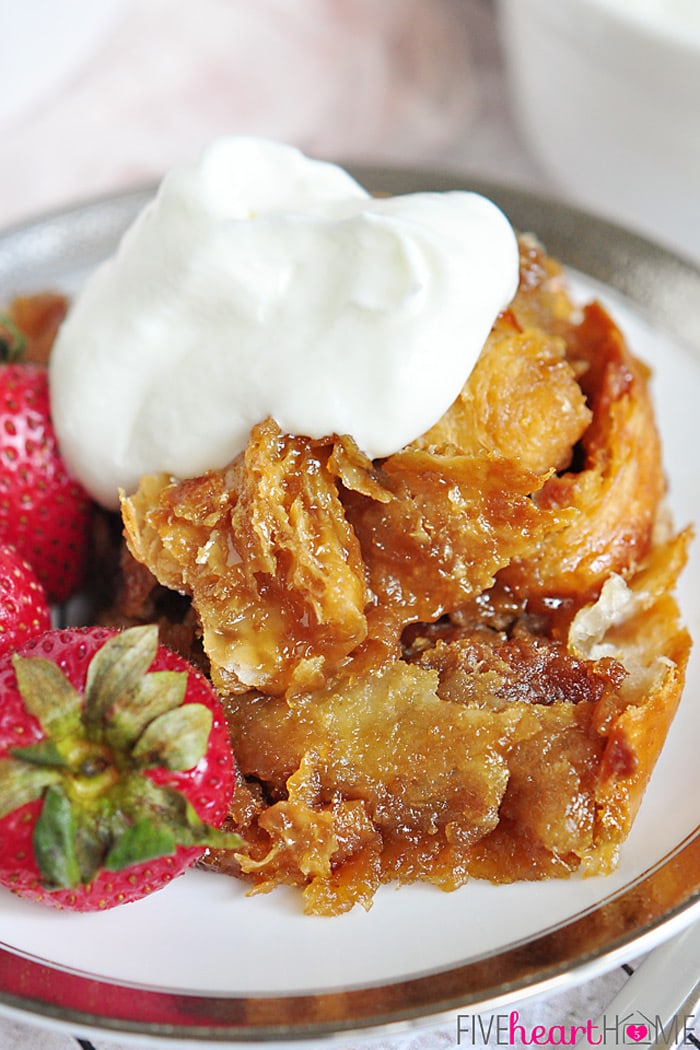 I decided to go the purist route with this recipe in order to let the caramel-ness really shine. However, I can also think of some pretty darn good ways to take this recipe up a notch, should you so desire. For example, it would be a cinch to toss a cup of chocolate chips and a cup of toasted pecans on top of the torn croissants to give this bread pudding a turtle spin.
Stick with the recipe as-is or use your imagination to embellish it…either way, I promise that you won't be disappointed!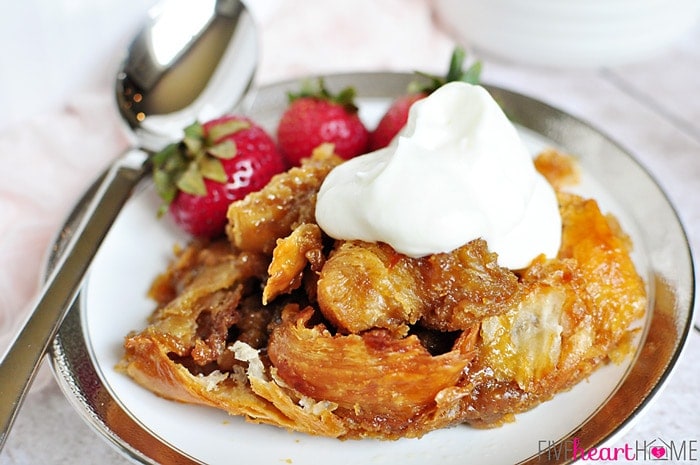 So the next time you find yourself in possession of leftover croissants, I highly suggest hiding them away until you have a chance to make this Easy Caramel Croissant Bread Pudding! It comes together in no time and it will disappear like that.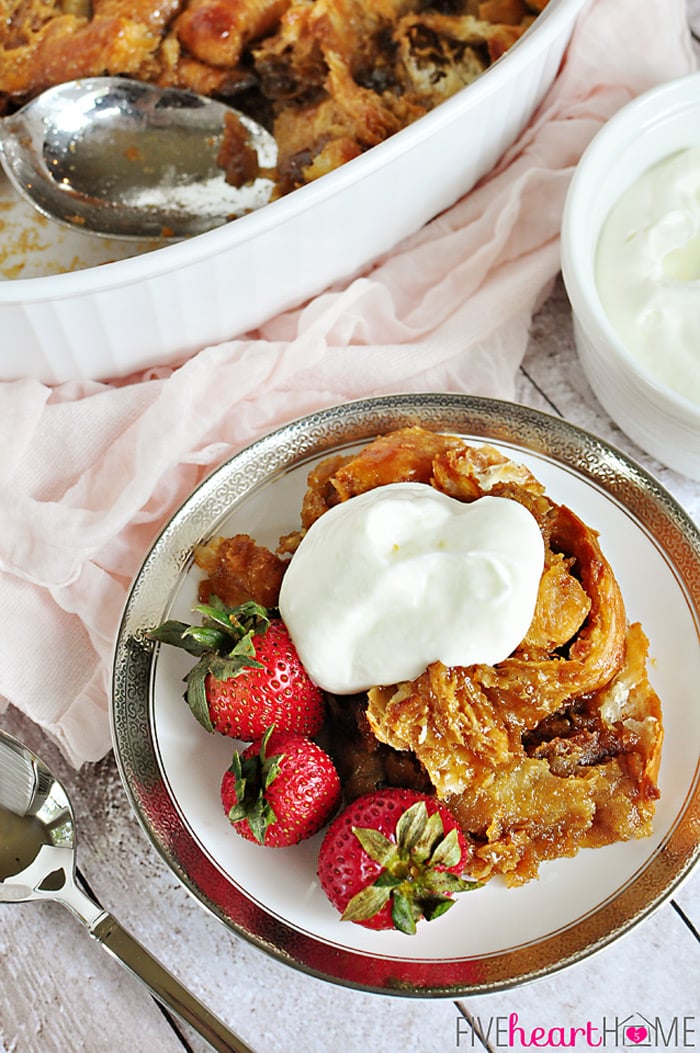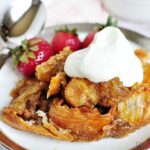 Easy Caramel Croissant Bread Pudding
Buttery croissants and a homemade, 5-minute caramel sauce come together in this simple yet decadent Caramel Croissant Bread Pudding.
Ingredients
5

cups

torn all-butter croissants

about 2 jumbo or 4 small croissants

4

tablespoons

1/2 stick butter

1/2

cup

brown sugar

1/3

cup

heavy cream

1/2

teaspoon

pure vanilla extract

Pinch

of salt

2

eggs
Instructions
Grease a shallow 1-quart baking dish. Place the torn croissant pieces in the bottom of the dish in an even layer.

Prepare the caramel sauce by placing a medium saucepan over medium-low to medium heat. Add butter and allow to melt. Mix in brown sugar and stir for 2 minutes. Mix in heavy cream and stir for 2 more minutes. Remove pan from heat and stir in vanilla and salt until well incorporated. Allow to cool for 5 minutes.

Preheat oven to 350°F. In a medium bowl, whisk eggs. Very slowly and gradually, pour in the slightly cooled caramel sauce, rapidly whisking the whole time. (If the caramel sauce is too hot, or if you pour it in all at once, or if you're whisking too slowly, the eggs may scramble, which is not what you're going for!)

Pour caramel sauce mixture over croissant pieces. Press down on croissants so that all of them are submerged in caramel sauce and allow to rest for 10 minutes. Bake for 20 minutes; remove to a rack and cool for 10 minutes. Serve warm.
I'd love to have you swing by Five Heart Home sometime for more quick and easy, family-friendly, real food recipes like the ones below!
Pineapple Pulled Pork Pizza with Bacon, Jalapeños, & Cilantro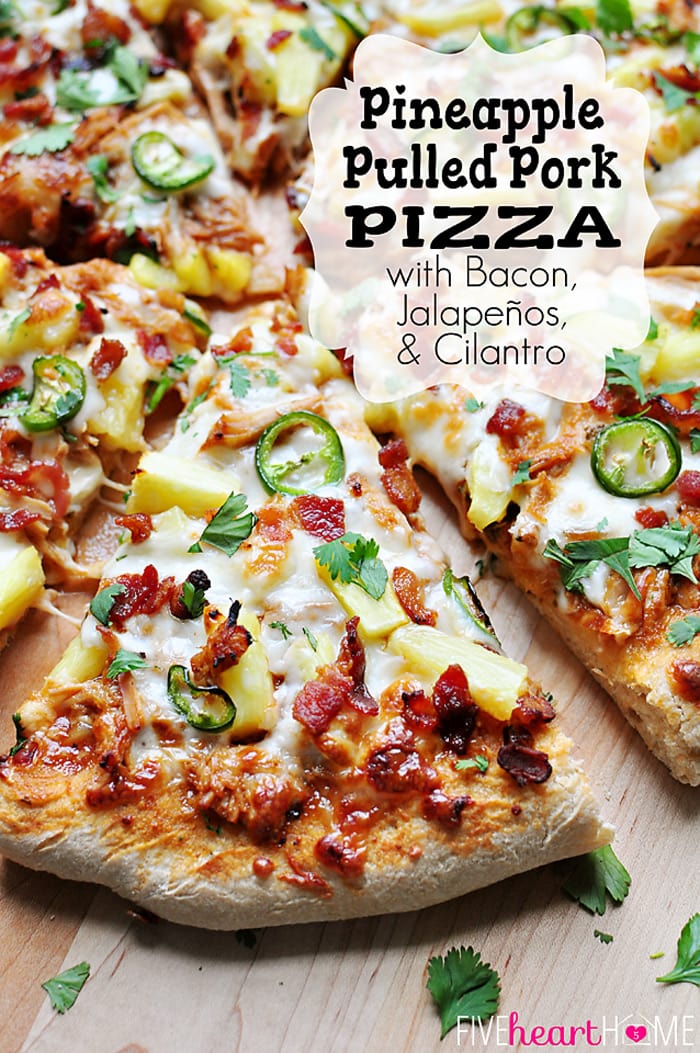 Tangy Cucumber Salad with Dill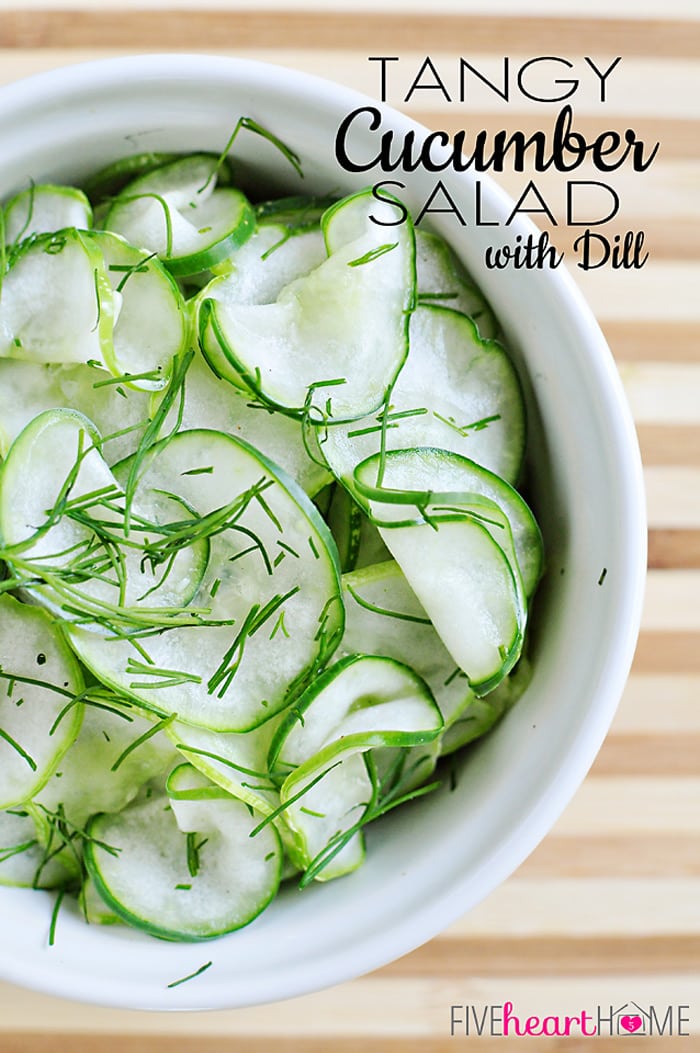 And if you like what you see, feel free to connect with me via these social media links: 🙂
BLOG | FACEBOOK | PINTEREST | INSTAGRAM | GOOGLE+ | BLOGLOVIN' | TWITTER