Hey, it's Kristina from Mother's Niche. If you're anything like me, a ride in the car can either give you a little break, or it can make you want to pull your hair out…and it all depends on the behavior of the little rascals in the backseat. Sometimes there really is nothing better than a long drive when it means all of your children are strapped down and unable to tear the house apart. I especially appreciate long drives immediately after a thorough house cleaning.
However, there's nothing that ruins a car ride faster than squabbling, whining and poking! Here are some fun family games that you can play in the car. Whip them out in desperate moments when you need to distract your children from hunger, bullying, boredom, or even from picking their nose: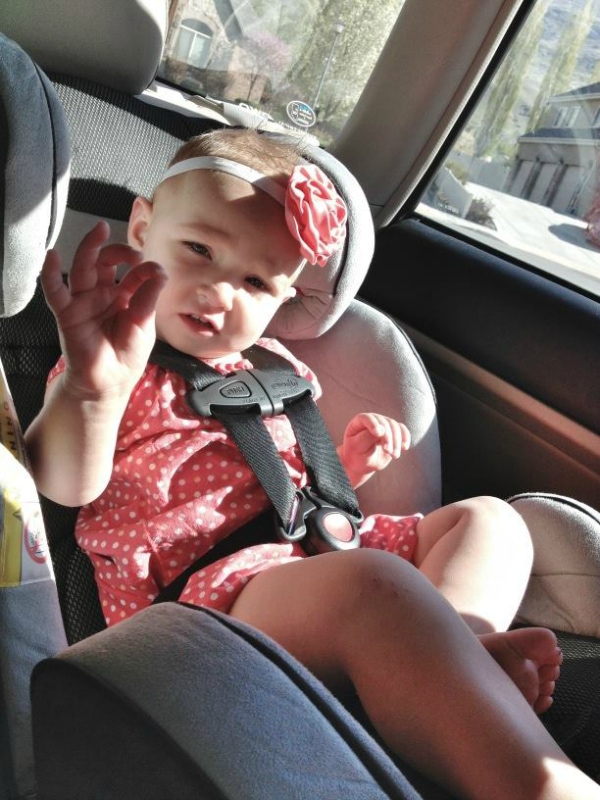 (Yes, that's my darling toddler showing off her booger. Motherhood rocks.)
And if you're thinking, "I don't have kids yet," I guarantee these will save you one day. I remember being stuck in the back of the van with some nieces back when I was in college…and well…you know the rest.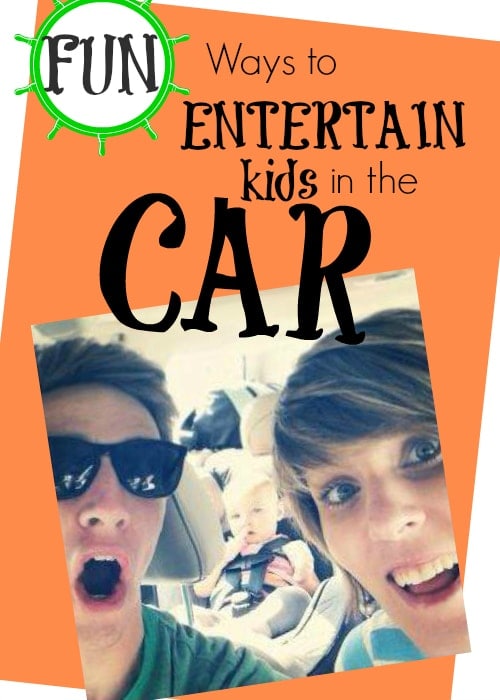 (Adapt as needed for age level)
Entertaining Kids in the Car:
Would You Rather?
My husband and I actually played this one during this weekend's travel, so it's definitely a game for all ages. Depending on the ages of the kids in your car, the questions can be as simple as, "would you rather be a cat or a dog?" or as complex as, "Would you rather live without legs or without your sense of taste?"
Down By The Bay
This one has a special place in my heart because I totally played this one with my own mother and siblings. It's a rhyming song that we would sing in the car, on hikes, etc. If your children are old enough to know what a rhyme is, they are old enough to play this one! Here are the words:
"Down by the bay, where the watermelons grow,
back to my home, I dare not go.
For if I do, my mother will say:
"Have you ever seen a Fox, wearing crazy socks?!" (or anything else that rhymes).
And then it just continues… "Down by the bay..." If you don't know what the melody sounds like, watch this YouTube video.
Count Them
This one is fun for longer car rides when you need to distract your kids with what's outside the window. Just ask them to start counting anything: cows, buildings, red cars, etc.
10 Things
This is a fun one to encourage creative thinking. You can ask all the questions, or you can take turns with your kids. Ask questions like, "What are 10 things they are talking about in the car right next to us?" or, "what are the professions of the 10 people behind us?" For younger children, you could ask questions like, "Let's name 10 animals!"
Who Am I?
I actually witnessed my neighbor playing this one with her toddler in the car the other day and it was so cute to watch their interaction with each other. One person will say "What am I?" and the other person will ask for clues, like: "Is it an animal? Does it live on the farm?" If you have younger children, you could do the same ones over and over (I know, repetition gets old…but even more so if it's screaming from the back seat….just do it).
What's Your Favorite
This is a fun one if you have a wide array of ages in your car. Basically, each person takes a turn asking, "What is your favorite…" and then everyone answers. It's fun to hear the creative and unique questions that everyone comes up with.
I Spy
You can play this one the old-fashioned way, or you can use the free I Spy Printable over at my blog. Basically, One person "spies" something and the other tries to guess what it is. My nieces could play this game forever. You can make a rule that it has to be something in the car or out of the car, or you can choose from either.
That's all for now! What are some ways that you distract/entertain your kids while riding in the car?
* For more travel activities for kids, check out these past posts:
Travel and Quiet Time Activities for Kids20 Travel Games and Activities for Kids
Tips for Traveling with Kids
Avoid the Gimmies while Vacationing with Kids
More Tips for Traveling with Kids