Hello ladies! My name is Teresa and I am a former 'Or So She Says…' Contributor, happy to be back for a guest appearance! For my day job I teach music to grades k-6 in Utah. I received a master's degree in music education several years ago and am in my 9th year teaching. This job pretty much consumes my life this time of year but it can have some fun moments. As I have been making lesson plans, I thought about all of you! Many are moms, aunts, grandmas, maybe even sister's to younger siblings. No matter what, most of us have young children somewhere in our lives so I thought I would share some of my musical knowledge with you! I love to try out my songs on my little nieces and nephews to see what they think first!
.
As we all know Halloween is quickly approaching! While I am not a fan of putting on a costume and pretending to be somebody or something that I'm not, there are many things I do love about this season and holiday including the music. Music can really make a story come alive. They say listening to classical music is good for kids, right? But how many of us actually like listening to it ourselves? I can tell you I am not always a big fan, even being a musician myself. If I have a connection to it, know the story behind it, or just really love the music then I can handle it, but it's not always my top choice. I love it when my students get excited about the classical music I play for them though. I always play something for them when they walk into my class and then when I am finished they tell me how it made them feel or what it made them think of. This is great for kids because sometimes it helps them to express emotion and it also gets their imaginations working! Afterward I tell them a little about the piece.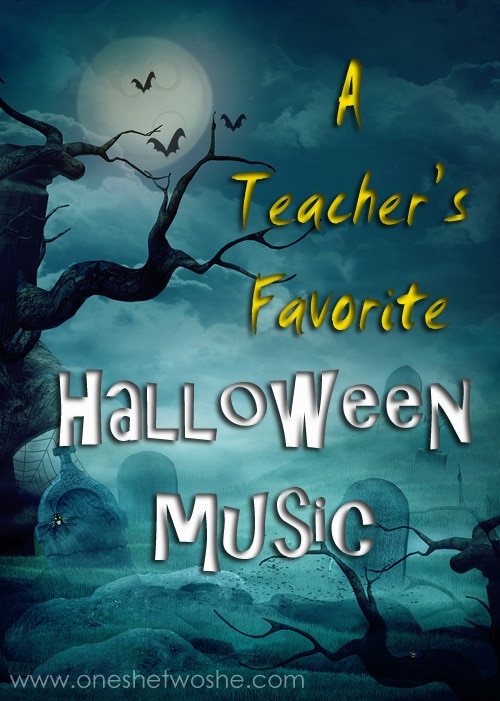 So, are you ready for my favorite music for Halloween??
.
First off is Saint Seans' "Danse Macabre." I LOVE this piece. I played it in college and have loved it ever since. It is the story of death coming to the graveyard at midnight on Halloween, tuning up his violin and then calling up all of the dead to dance in the graveyard until dawn when they have to go back to their graves for another year. You can have your kids listen for the skeleton bones as they dance (the wood blocks). You may also want to make up a skeleton dance to go with it or watch Disney's Silly Symphony Skeleton Dance on Youtube. As I am also teaching Art this year, another activity with this song is to draw a skeleton with chalk on black construction paper. Lots of fun with skeletons!
.
.
Next on the list, Mussorgsky's "A Night on Bald Mountain." Mussorgsky had a lot of friends who were painters and he based this piece off of a painting called, "The Witch's Sabbath." Last time I went into the Halloween Store I heard it playing. It's not too scary but it has a very fun melody. It is a good practice for young children to identify low and high sounds so maybe have them listen for when it is really low and when it is really high. See if they know any of the instruments they hear. Sometimes it is fun for kids just to draw or paint a picture while they are listening to a song to see what they come up with.
.
I also really enjoy playing Bach's "Toccata and Fuge in d Minor" for my students. It wasn't written with a Halloween themed intent but it is definitely ominous sounding! See what your kids know about the organ and how it works! Bach was a great organist as well as composer. See if they can make up their own story about what the song is about. Writing stories with your kids can be so fun! In an after school writing class last year I had the youngest kids just tell me their stories and I wrote them down for them. It was so fun to see what they came up with and it can be really fun to keep in their memory books for when they are older! Some musical theater songs I like to play for them are of course "The Phantom of the Opera" (a great way to expose children to opera music without making them giggle too much!) and the theme from the movie "Pyscho."
.
Of course no Halloween in music class is complete without Michael Jackson's "Thriller" and "The Monster Mash." Kids LOVE to dance! It is so good for them to express themselves that way and to get their blood moving through their bodies! There are many "Thriller" tutorials on YouTube as well as a skeleton dance to the song. It's super cute! There are also several examples of monster mashing. I have a little routine I do with the kids that gives them opportunity for freestyle as well as some structure. The structured part is great because they have to be able to keep a beat which is a great skill for them to practice.
.
.
Lastly, there are tons of songs I love to sing with my students. With the younger kids I try to keep them fun like, "5 Little Pumpkins," (this is actually a poem done in their speaking voice). As a side note, it's also great for preschool age and early grade school age children to differentiate between speaking, singing, whisper, and shouting voice. Let me know if you have any questions or don't know the poem to that song and I will get it to you. There are all sorts of crafts you can do with this.
.
The older kids love songs that are a little more scary like,
"Skin and Bones,"
(which there is also a picture book for) and
"The Ghost of John"
(I'm leaving the link to it on YouTube because I like this video the best, although it can be a little scary, and I can't find it when I try to post through here… sorry.
.
One more song to dance to is called, "Halloween is a Very Unusual Night." There is a picture book to this too or just this fun video. On the chorus they move like a ghost, creep like a goblin, rattle their bones like a skeleton, march like Frankenstein, and fly away like a witch. It is such a cute song and the young kids want to do it over and over again!
.
.
I could go on and on but I hope you are exposing your kids to great music and that you have a fun Halloween season with them in all of its many forms! Let me know if you would like any more information about any of these songs!