Adelle is back with another wonderful Family Night lesson for you! The lesson, activity and even the treat are mapped our for you so it couldn't be easier.

I have four active kids. We are at the point in our lives where things are starting to get busy. Each week we coordinate dance and tumbling classes, soccer practices and games, math club, activity days, school events, dance competitions, church programs and callings, homework projects and more. I look into the future and only see things getting more complicated and scheduled. I have a feeling most of you can relate!
In a world that pulls families in so many different directions, it is important to find ways to stay tied together. When children have a solid anchor at home, they are more likely to stay out of trouble and be a positive part of the community. I wanted to think of a family night lesson and activity that would demonstrate this act of "being bound together" in a visual way. I hope you enjoy this lesson and activity and that it can help your kids feel loved, safe, and protected in this crazy busy world that we live in.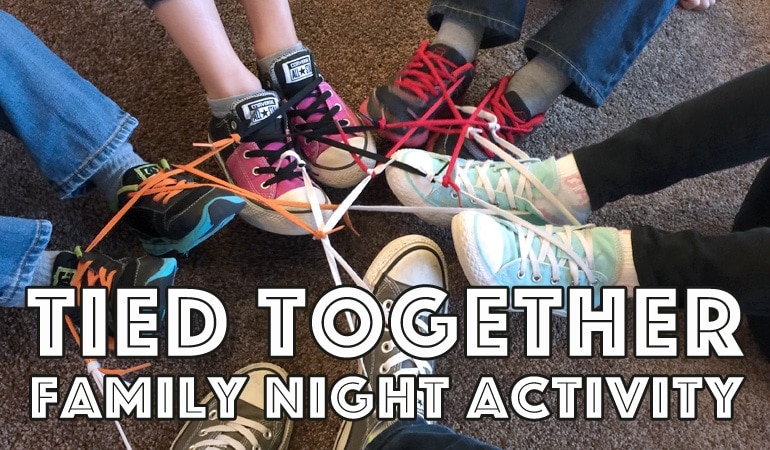 Lesson:
It is my belief that families are not just bound together on earth as a temporary group, but that (when promises are made and kept) families are part of an eternal unit that is sealed together forever. We are in fact "tied together" for eternity.
Read the Scripture Moses 3:18 "And I, the Lord God, said unto mine Only Begotten, that it was not good that the man should be alone; wherefore, I will make an help meet for him."
God did not want us to be alone on Earth. He designed a way for us to have families. In the Book of Jacob we learn that, "Behold, their husbands love their wives, and their wives love their husbands; and their husbands and their wives love their children;" In a family, there is love. Love is the key attribute that binds us together. It is the glue that holds us tight!
If we want to have a tight family, we need to find ways to cultivate this "love" in our homes. Two ways to do this are through serving each other and having wholesome recreation time as a family.
Activity:
Have everyone put on a pair of shoes that have laces. Keep them untied. Sit in a circle with your feet placed in the center with toes touching. You are going to tie yourself together with the shoe laces!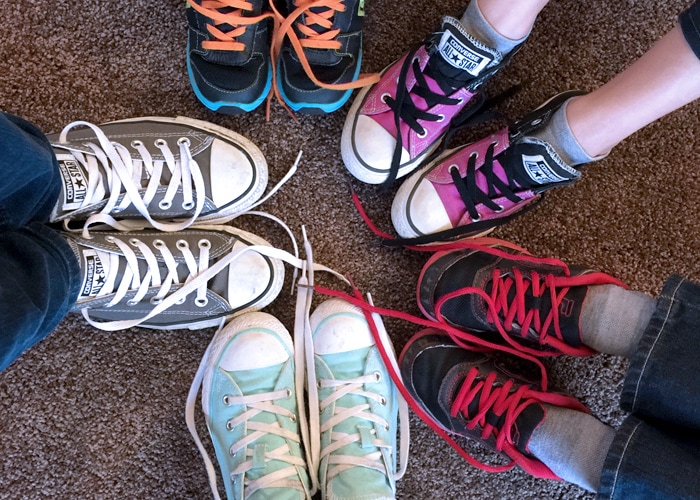 Let each member of your family suggest a way to show or cultivate love for their siblings or parents. You could also suggest group activities that could increase the love in your home.
Some ideas for what could be suggested:
Pack my sister's lunch for her in the morning.
Help my brother practice his soccer drills.
Read a book with my little brother.
Clear the table after dinner for mom.
Attend my sister's dance recital.
Vacuum dad's car.
Tell mom she looks pretty.
Ride bikes around the neighborhood together.
Plan a family vacation.
Have a movie night and snuggle together on the couch.
Go on a scavenger hunt.
With each suggestion of service or time spent together tie a piece of your shoelace to another family member's laces.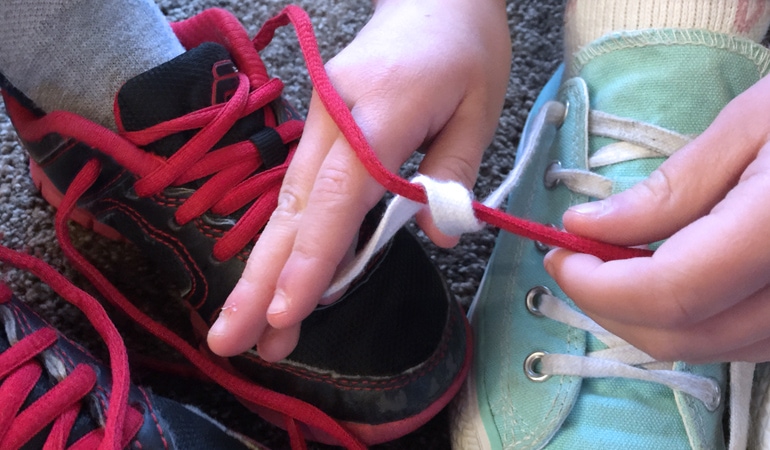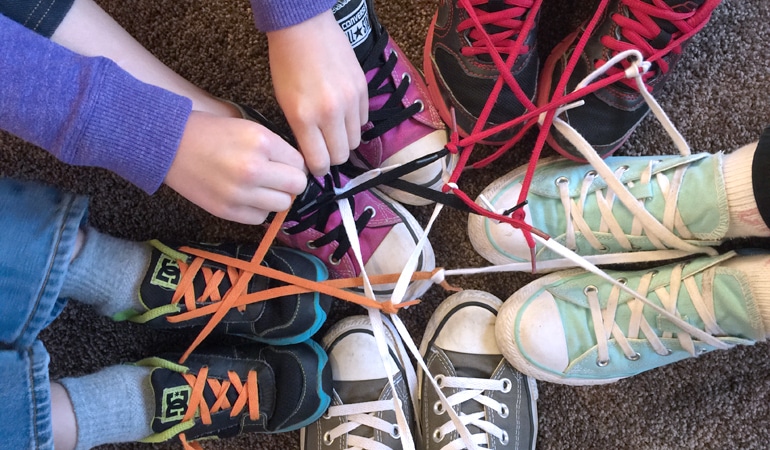 Next, give some role play suggestions to your children that will help them to realize that when a family is tied together with love and service that it is a protection to them from the dangers of the world.
For example:
"Brother is tempted to skip school and go skateboarding with his friends at the skate park." Tell brother to get up and leave the circle. He will soon discover that it is really hard to leave when he is tied so well to his siblings and parents.
"Sister decides to hide her homework assignment from her parents because she is too tired to finish it." Tell Sister to sneak into her bedroom to hide her homework under her bed. Alas! She can't leave the group because she is stuck to her loving family instead.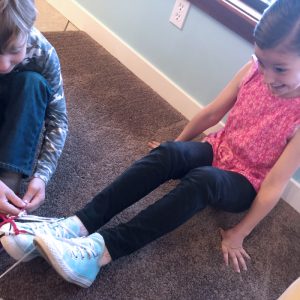 You can keep going until all of the kids get a chance to experience the feeling of being tied to his or her family.
Take this time to tell your kids how much you love them. Explain how being part of a family keeps them safe. It gives them the chance to serve and be served as well. When we are tied together it provides an anchor that keeps us safe from bad decisions and temptations that might be dangerous or harmful.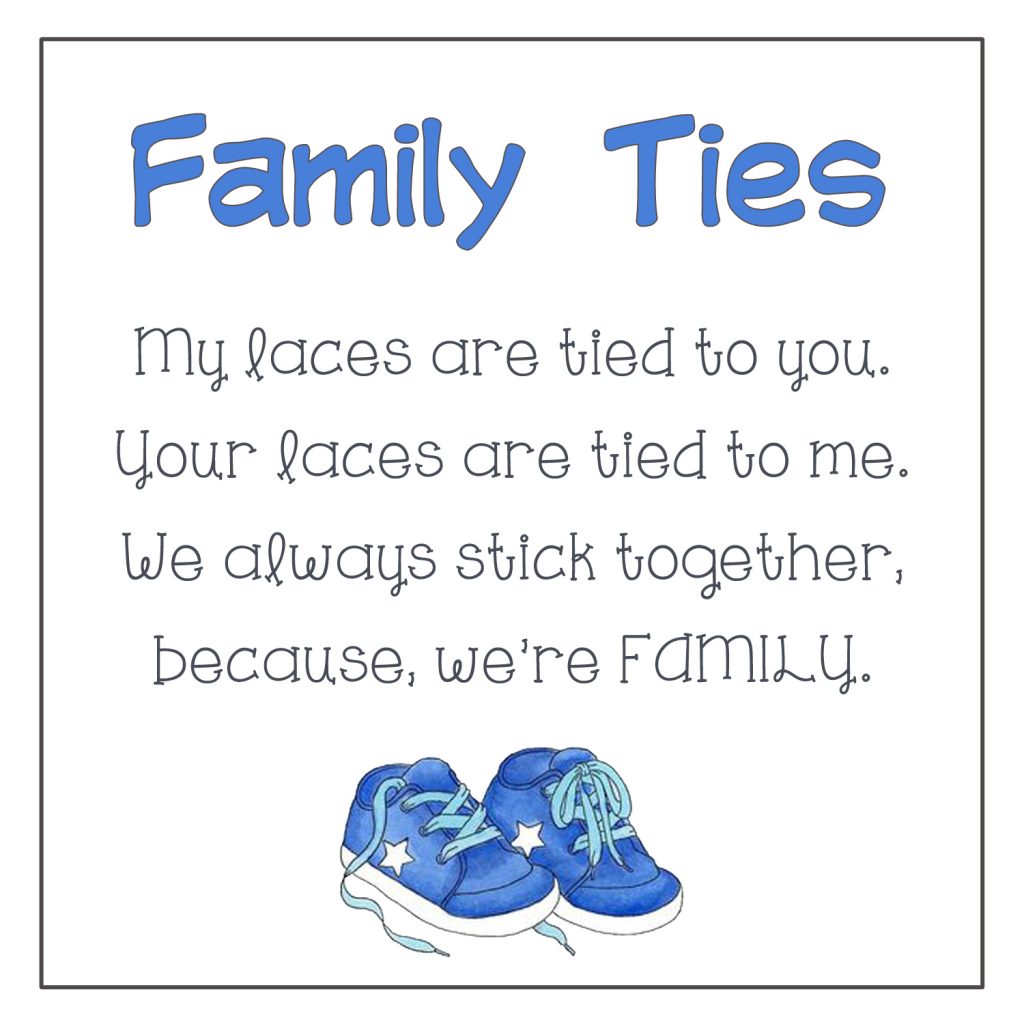 Download the free printable HERE.
You can print this little Family Ties quote to display in your home this week to help remind your family to create loving ties to each other. It also serves as a reminder that they are tied to a family who will stick with them no matter what!
Treat:
Pick up a package of the Twizzlers Pull-n-Peel licorice from the grocery store. You could practice tying knots in the candy before you eat it.
Conclusion:
Families have a special bond that secures them together. The more we spend time serving each other, playing together, and supporting each other, the tighter those ties will be. These relationships keep us safe from the temptations of the world and also make life fun.

For more Family Night lessons, check out these posts:
Finding Peace in a Troubled World – Family Night Lesson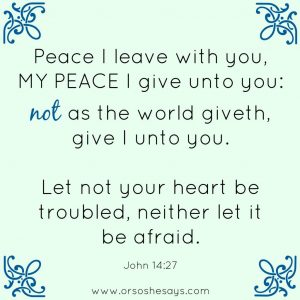 Heavenly Treasure Hunt – Family Night Idea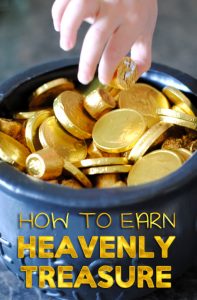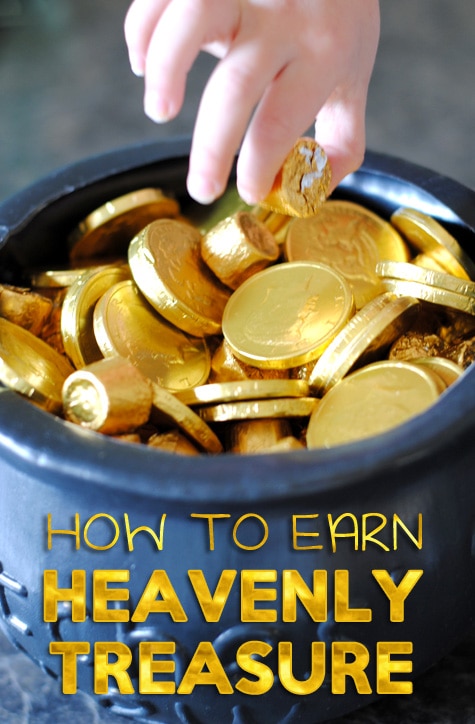 Family Night Lesson – Secret Service Mission