Family Night is a family activity that can be held once a week. Set aside one night when your family can all be together. Teach your children important values and how to be better family members, people, citizens, friends, and neighbors. The dedicated time together is the most important thing. Once a month, I will share a Family Night lesson on the blog to help get your creativity rolling and to inspire us all to try a little harder to be a little better.
This Family Night lesson is about being part of a Family Team. My son just stared playing soccer. He is only five years old and all the boys on the team are new at playing the sport. Luckily, my husband is the coach and he is a patient and good teacher. The boys all look to him for guidance and encouragement. But, on game day they typically just run around the field chasing the soccer ball in one tight little pack. It is so fun to watch. The little soccer players tend to run faster and play harder when family and friends cheer from the sidelines. When my son scores a goal, he immediately looks at his dad and then to me for recognition. We make sure to celebrate his success with loud cheers and high fives. When he makes a mistake, there is always someone on the team who hollers out to, "Keep trying!" or yells out, "That's ok!" Playing on a team makes my little boy feel special and important. Life is good on game days.
How can we make being part of our Family Team a positive and uplifting experience like this?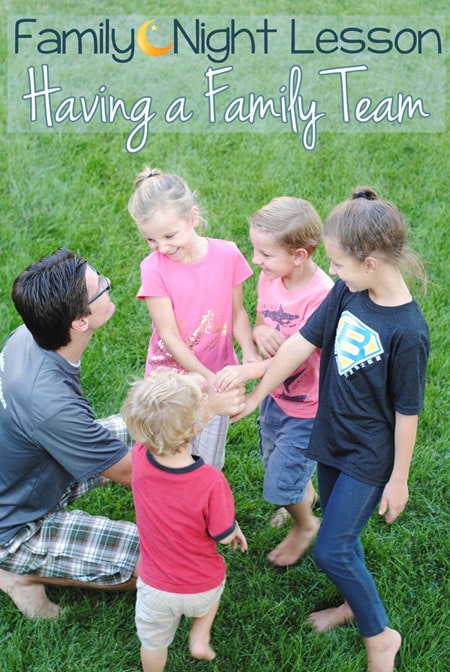 Lesson: Being Part of a Family Team
It is in our nature to compete. It is important to be the best, or the smartest, or the fastest. For most, being "Number One" is a good place to be. Striving for excellence isn't a bad thing. We are taught by Jesus Christ that the purpose of this life is to grow and become like Him. And He was a perfect example. On our journey through life, we are expected to pursue excellence. So, how do we strive to be the best we can be, without competing with the ones who are on our own team? Our family.
When we were born to this Earth, our loving Heavenly Father had a plan in place for us, his children. He wanted us to be successful during our time of separation from His care, so we were born into families. We were given a father and a mother to love and care for us. A parent's role is to teach, guide, support, love, and raise their children up in righteousness. Parents are our Coaches. They know our strengths and weaknesses. They want us to win. They cheer us on and are our biggest fans. When a child succeeds, the parents do as well.
Ask the Question: When have you felt the love and support of your parents during a time in your life? How did it make you feel to know that they were there to help?
In addition to Coaches, we have family members who are players on our team. Our brothers and sisters are an important part of our Family Team. When one person in the family accomplishes a goal we can all celebrate together. Because, the entire family is blessed as a whole. We do not compete with each other, we compliment each other.
Ask the Questions: Have you ever quarreled with your siblings about who gets to climb into the car first? Or, fought about who gets to play with a certain toy? Do you argue about cleaning your rooms or doing your homework because someone else isn't working as hard as you are?
It is so easy to compete and compare your life with those of your brothers and sisters. They are always around! It is so important to remember that they are on your same team. And, you are part of theirs. When we work together with a good attitude, our home can be a happy place.
Ask the Questions: How does fighting with your siblings make you feel? How do you feel when you help your brother or sister with their jobs or with their homework?
When we work together, we all win!
Have you ever felt jealous when it was time for a family member to be in the spotlight? We are not always the person scoring goals. Sometimes, our part on the team is to sit on the sidelines, or to pass the ball to another player. There are times in a family when one person gets to be the star. Maybe your sister is performing in a dance concert and all of the attention is on her. Or, your brother is getting an award at school, so everyone is giving him hugs and congratulations. Sometimes, your mom or dad give the baby hugs and kisses because he or she learned how to crawl or said a funny word. Does it ever make you feel sad when your siblings are getting attention and love?
Picture in your mind a delicious pizza. What kind of yummy toppings are sizzling on top of the melted cheese? Are there pepperoni's and pineapple? Perhaps there are a few black olives or maybe even a handful of sliced mushrooms. It is hot and ready and it smells tasty. Would you like a slice?
Often times, we think about happiness, love, and success like we think of pizza. There it is sitting on the table. There is a certain amount on the pan and there are only eight slices available. Once a slice is eaten, it is gone. If somebody else gets a slice of the happiness or love, then that is one less slice available for you to enjoy. We think that the happiness is limited, so we get angry or upset when someone else gets some. It makes us feel like we won't have enough.
Luckily, this is not true. There is no limit to goodness. Happiness is not like pizza. (Although, eating pizza makes me happy!) Happiness is like light. Everyone can enjoy it at the same time.
Turn off all the lights in the room.
Ask the Question: Does anyone have more darkness than someone else? Is Mom taking more than her fair share of the darkness? Does Dad feel sad that he doesn't have as much darkness as brother?
Turn on the lights. Everyone gets the same amount of light, at the same time! No one got the light first. It is available to everyone in the room equally. It is like a pizza buffet. No matter how many slices of pizza the other customers consume, there is always another slice waiting for you when you need it.
On a soccer team, everyone has their strengths and weaknesses. Some players are fast, others have quick footwork or are good defenders. Each player contributes to the team in their own way. It is the same in our family units. Each member of the family has talents. No one is the same. But, each person contributes to the family in their own special way. Take a minute to talk about each person's talents in your own family. Let family members tell about what they think they are good at. Add to the list with your own thoughts. Find things about each person that are unique. We all have gifts from our Heavenly Father.
Being part of a family is a blessing. It is like having a built-in cheer squad. Take time throughout the week to cheer for and encourage each other. Give high fives after brushing teeth at night. Huddle up in the morning before everyone goes to work and school to make a game plan for the day. Leave with a team cheer and hugs. Make sure every member feels loved and important. Your family team is the most important team you will ever be on.
Activity
Play games together as a family. Have a footrace in the backyard. Play some Minute to Win it Games. Pull out a board game or play cards. Put together a backyard soccer game! During the game of your choice, make sure to cheer each other on. Give compliments and encourage each other.
Make a Family Cheer that you can use throughout the week and beyond. Sometimes, when I do something silly my kids roll their eyes or act like they don't think I am cool. But, deep down, they love it! So, don't be afraid to make them huddle up and do a cheer. It is fun to be silly together. Be creative. Here are a few ideas to get you started:
A-W-E-S-O-M-E. Awesome Awesome Awesome are we!
or…
We are the Belnaps (insert your last name), we are the best, and we will conquer. We are the Belnaps, we are the best, and don't you forget it!
or…
Our fam is what? Dynamite! Our Fam is what? Dynamite! Our Fam is Tick, Tick, Tick, Tick, Tick, Tick, Tick, Tick, BOOM! Dynamite.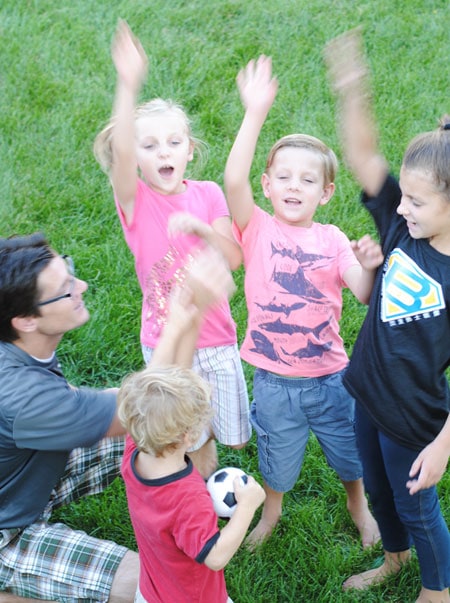 Craft
When my little boy gets dressed up in his team jersey for soccer games, his little brother wants to wear a team shirt too. My little two year old feels so special when he gets to wear a team shirt to the games…even though it is just a t-shirt with a number on the back! It makes him feel like part of the group.
It would be fun to make Family Team shirts together. There are so many ways to make matching shirts. Here are just a few suggestions to get your creativity flowing.
Download images from the internet and make iron on transfers. Stick a number on the back of the shirt and iron on images to the front. You can find the shirts and the iron paper at most craft stores.
Tie Die shirts together. We did this a few weeks ago, and I was surprised at how easy it is to tie die. We had a great time. The best part about tie die is opening the shirts after the process is complete to see the designs. They are are unique and cool!
Pick up some fabric markers from the craft store and decorate shirts with them. Fabric markers are clean and easy for even the smallest family members to use. Write names, draw designs, and decorate with colors. Make sure to put a piece of paper or cardboard in between the layers of fabric so the marker doesn't bleed through.
Make it simple! Buy matching shirts from the store and hand them out during your lesson. Make sure that you explain that the shirts are a team shirt. They symbolize unity and acceptance. Being part of a family team means that you always have a support group who loves you.
Treat
Order pizza! When you are all getting ready to take a slice, talk about how happiness, love, and success are not limited like the slices of the pie. They are unlimited. Then, enjoy your tasty dinner.
Conclusion
Our Heavenly Father gave us a wonderful gift when he organized the family unit. We have parents to coach us through life. They love us. They guide and teach us. We have siblings to help and support us. There is nothing we cannot accomplish when we work together as a family team!
Here are some more family night posts you're sure to love:
Sunday FUN day: A Family Night Lesson
52 Family Night Lessons for Every Week of the Year!