Kimberly is sharing Fastpass strategies today so you can make the most of yours on your visit to Disney. Check out her tips today!
Hey Everyone, it's Kimberly with Packed with Fun, the official blog for Get Away Today. One of my very favorite places to talk about is the Disneyland Resort. The past couple of years have been pretty busy for Disneyland with so many new and exciting changes and the Diamond Celebration going on. With more people visiting Disneyland year round and fewer slower times of year to visit, having Fastpass strategies is more important than ever.
If you're not familiar with how the Fastpass system works, every Disneyland ticket includes the service. Most of the popular attractions have a Fastpass option, which means that there are two lines; a stand-by line and a Fastpass line. The stand-by line is the regular line, then the Fastpass line requires a Fastpass ticket and is a much shorter line. Outside the entrance of a Fastpass attraction, you'll see a Fastpass Distribution area. You'll insert your Disneyland ticket, and then you'll receive a Fastpass ticket which includes a return time for that specific attraction. Now, instead of waiting in the stand-by line, you'll go ride another attraction, grab a bite to eat, watch a show, or anything else! Then, come back at your assigned time, give the cast member your Fastpass ticket, and enjoy the ride! There are only so many Fastpasses for each attraction each day which helps keep the Fastpass lines short.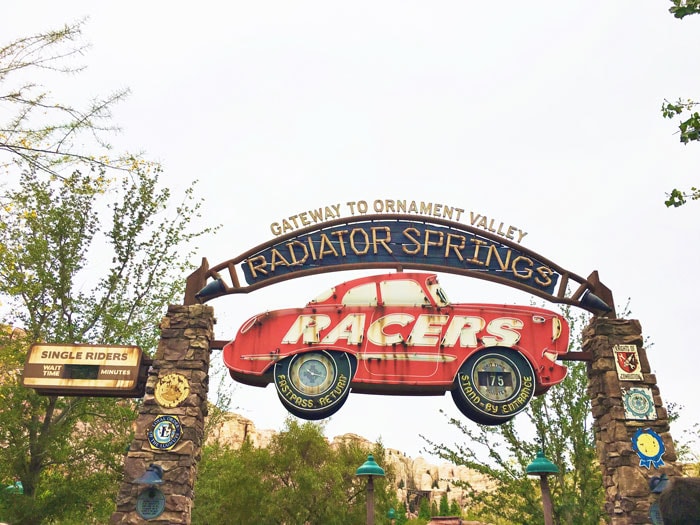 To make the most of the Fastpass system, you'll need to know some tips. Here are 5 Fastpass strategies for your Disneyland vacation that will make everything go a little bit smoother: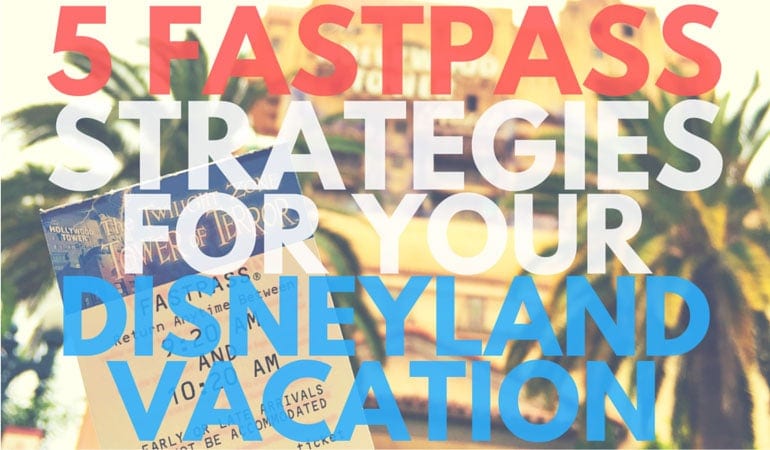 1. Before you even get to the park, assign someone to be the Fastpass gatherer and keeper for your group. There's nothing that seems to make time go slower than standing right in front a Fastpass machine watching someone scramble to find their ticket, or standing outside the Fastpass Return area and watching other Fastpass users go ahead in line while you try to get everyone's Fastpass tickets together. Have your Fastpass person keep everything (regular tickets and Fastpass tickets) together, preferably in a lanyard for easy and quick access for collecting and using Fastpass tickets. This is definitely one of the easiest and simplest of the Fastpass strategies.
2. Get to the park first thing and know which Fastpasses go first. Right now in Disneyland, Hyperspace Mountain tickets go early. Over in Disney California Adventure Park, it's probably a tie between Soarin' Around the World, which just opened, and Radiator Springs Racers in Cars Land. If you use your first Fastpass of the day on an attraction that doesn't have as high of a demand, by the time your next Fastpass is available, the Fastpass you really wanted may already be gone for the day. If that happens, you're looking at loooong stand-by lines for the rest of the day.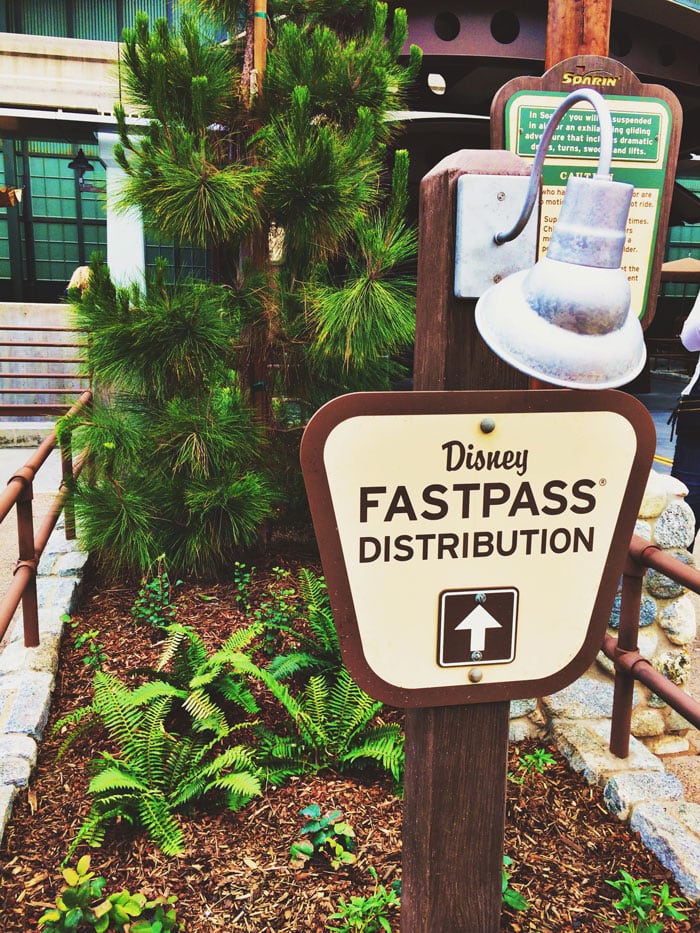 3. Get Fastpass tickets for the shows. They don't count towards your Fastpass allotment, but you still will need one to guarantee you can see the shows. The current Fastpass show tickets are for World of Color – Celebrate! and the new Frozen – Live at the Hyperion. I would recommend getting your Fastpass for Frozen- Live at the Hyperion first. This brand new show opened on Memorial Day weekend and has gotten insane reviews. There are at least three shows each day and the theater holds approximately 2,000 people per show. Then, after you have a Fastpass for Frozen, you can get one for World of Color – Celebrate!, the special version of the show for the Diamond Celebration.
4. Pay close attention to the time when you can get your next Fastpass – and keep in mind during busier times it may not be the return time on your ticket. For example, if you're visiting during a really busy time of year and get a Fastpass in the morning for Soarin' Around the World, but your return time is for late in afternoon or early evening, you DON'T have to wait until your return time to get your next Fastpass. Instead, your next Fastpass will be available two hours after you collected your Fastpass for Soarin'. The time that your next available Fastpass is available will always be printed at the bottom of the Fastpass. Always make sure you have AT LEAST one Fastpass at a time.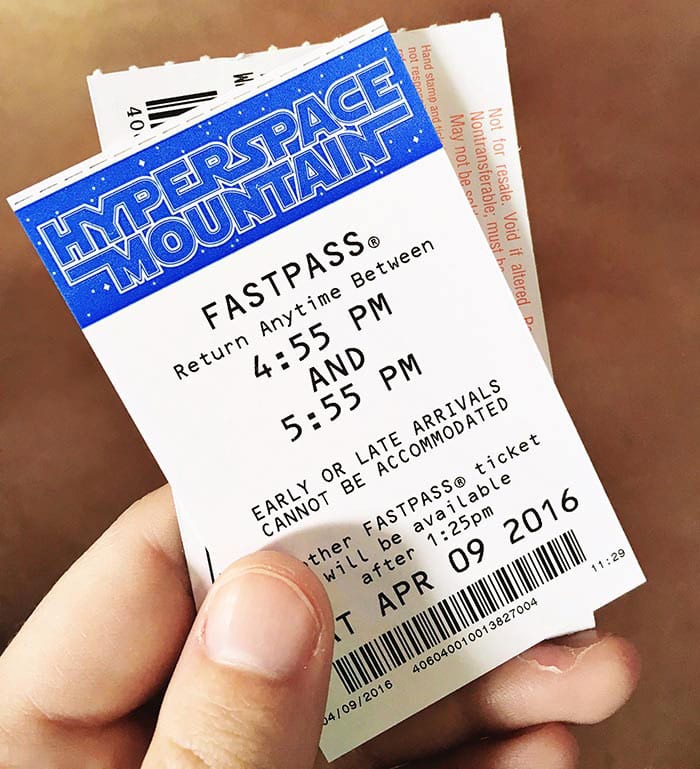 5. Plan your day around your Fastpass return times and pay really close attention to them. For example, if you have a large gap of time between Fastpass tickets, plan on having lunch or catching a show during that time. If you have two return times that are close together, make sure they're close enough in proximity so you're not running across the park. For example, try to get Fastpass tickets with close-ish return times for Hyperspace Mountain and Star Tours. Enjoy the nearby attractions and shows any time you use a Fastpass. Also, make sure you aren't late for the return time or you'll lose out. This is one of the Fastpass strategies that has changed over the last couple of years. You can't use the Fastpass before the return time, but there is about a 15 minute grace period that will allow you to use the Fastpass after the latest return time. Don't over schedule yourself or underestimate how long it will take you to get back in time to use your Fastpass.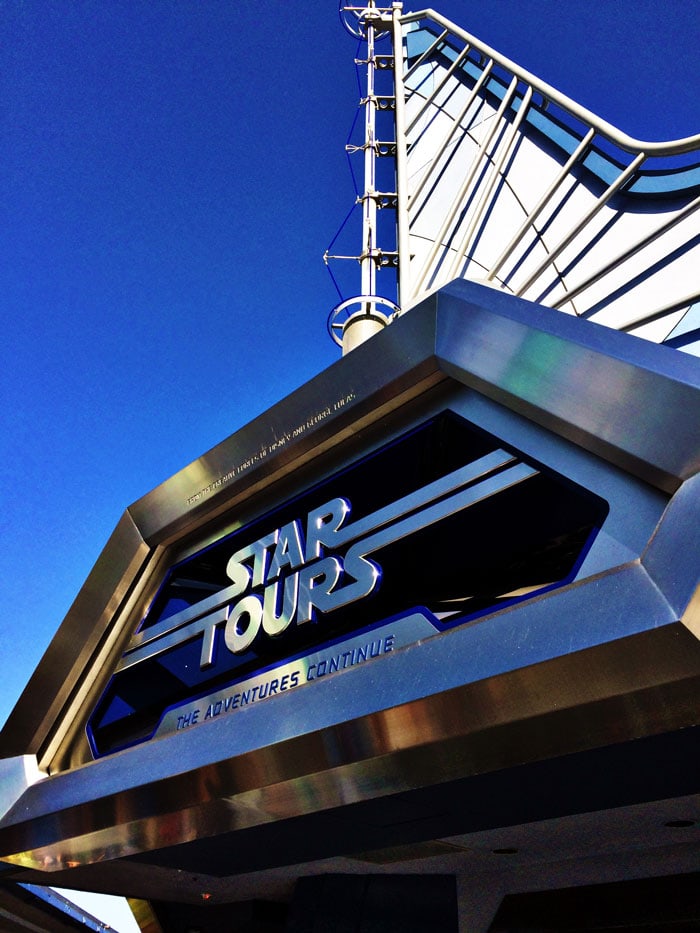 All of the above Fastpass strategies should work for anyone, but I've added a bonus Fastpass tips to our first five Fastpass strategies that will only work for some groups… which is why it's a bonus! Combine the Fastpass with Rider Switch if you can. Rider Switch is for groups that are traveling with small kids that aren't tall enough to ride some of the attractions. Before getting in line, you'll get a Rider Switch Pass from the cast member, which you'll exchange for a ticket before you board an attraction. Someone from the group stays back with the smaller kids while the rest of the group rides. Then, the idea is that you switch riders. Up to three riders can use the Rider Switch pass to ride, which works almost exactly as a Fastpass on many of the attractions. This works best with groups of four or five adults. If you're doing this, split your Fastpasses into two groups, so you can ride multiple attractions. For example, if you have four adults traveling with small kids, two of the adults can get a Fastpass for Soarin', and the other two adults can get a Fastpass for Radiator Springs Racers. Then, before the two adults use their Fastpass tickets for Soarin', they'll get a Rider Switch ticket for the other two adults who are waiting with the young kids. Then, the group will reverse when they use their Fastpass tickets for Radiator Springs. It's a great way to be able to make the most of your time, and as a mom of small kids, it is my favorite of all of the Fastpass strategies! If you are using the Rider Switch option, be sure to check out this article for ideas of what to do with small kids while the other adults are riding: What to Do with Young Kids During Rider Switch at Disneyland.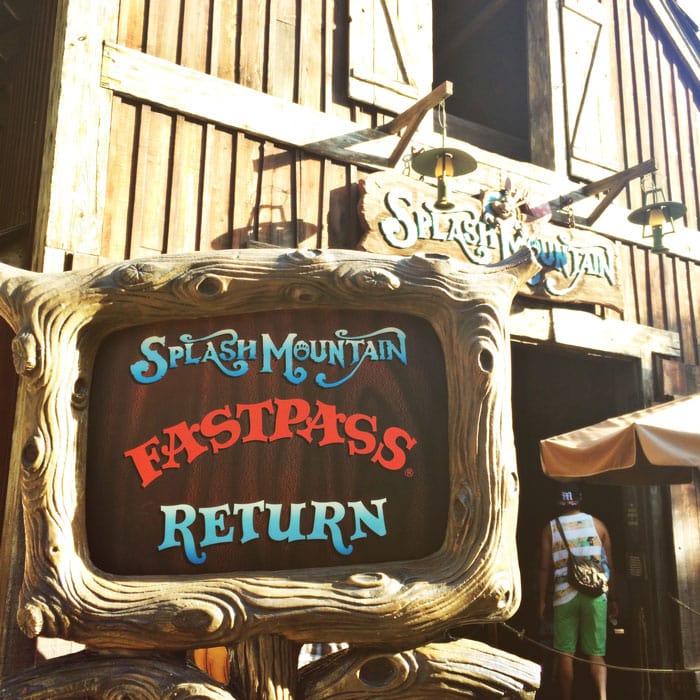 I hope these Fastpass strategies help you have the best time on your Disneyland vacation! If you haven't planned your Disneyland vacation yet, check out our packages at Get Away Today. You'll get the lowest prices on your Disneyland tickets, and find the best deals on Anaheim area hotels. We negotiate special extras exclusive for our guests like extra night free offers, free breakfast, and free parking that you won't find anywhere else. You can book online or call any of our Disney Experts at 855-GET-AWAY. Mention Or So She Says and use promo code: OSSS10 and save an extra $10 off any 2-night or longer Disneyland package.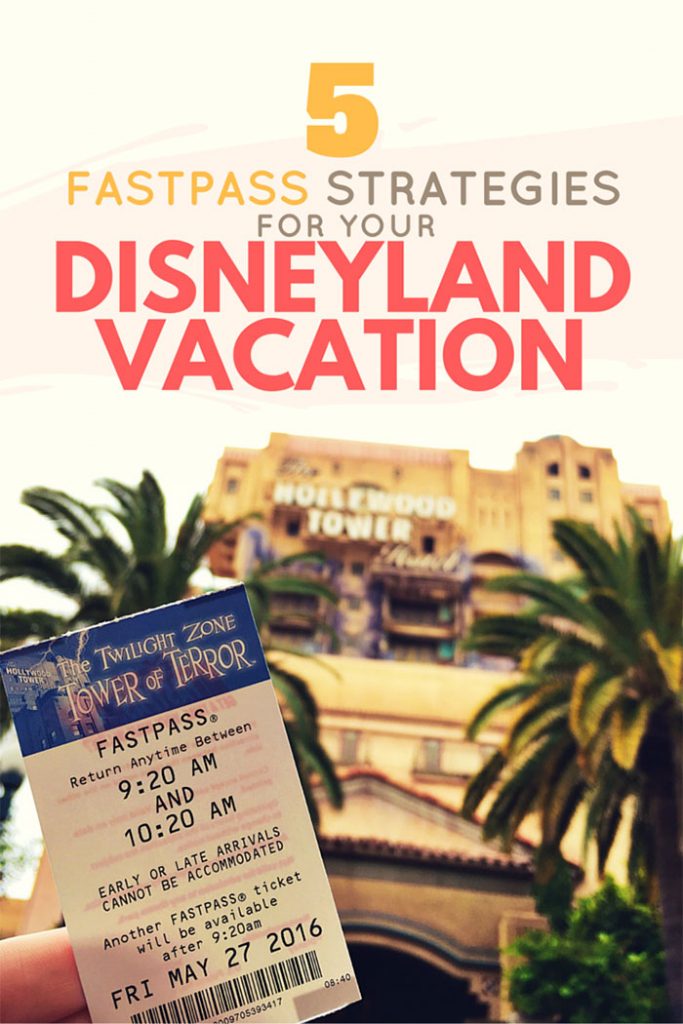 For more tips from our travel experts, check out these posts: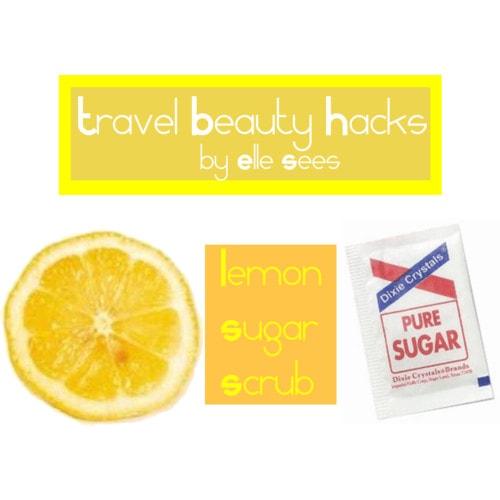 10 Reasons to Book Your Disney Vacation with a Travel Agent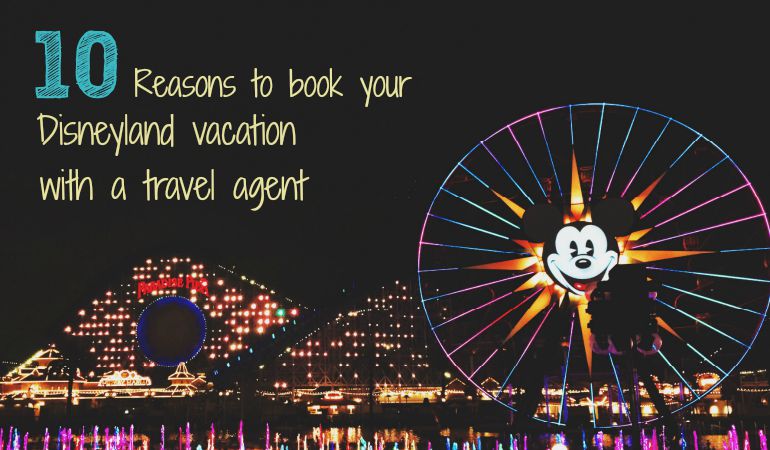 5 Tips for Traveling with Preschoolers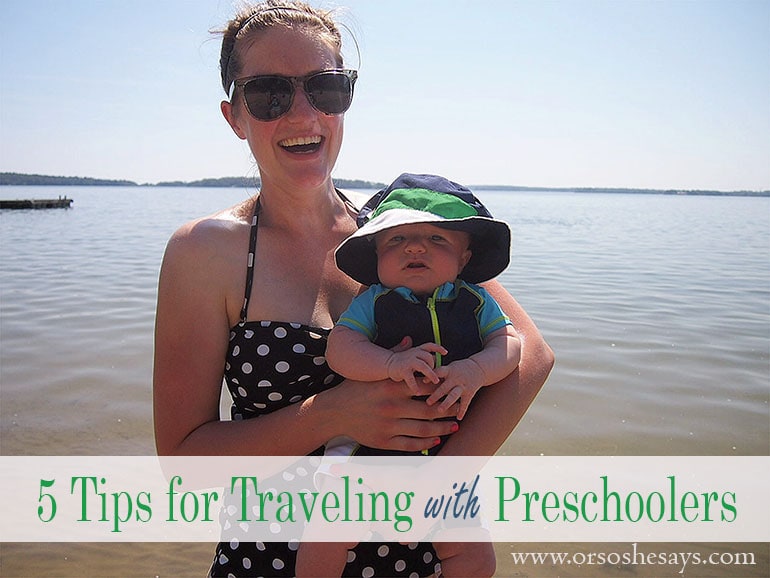 Save
Save
Save