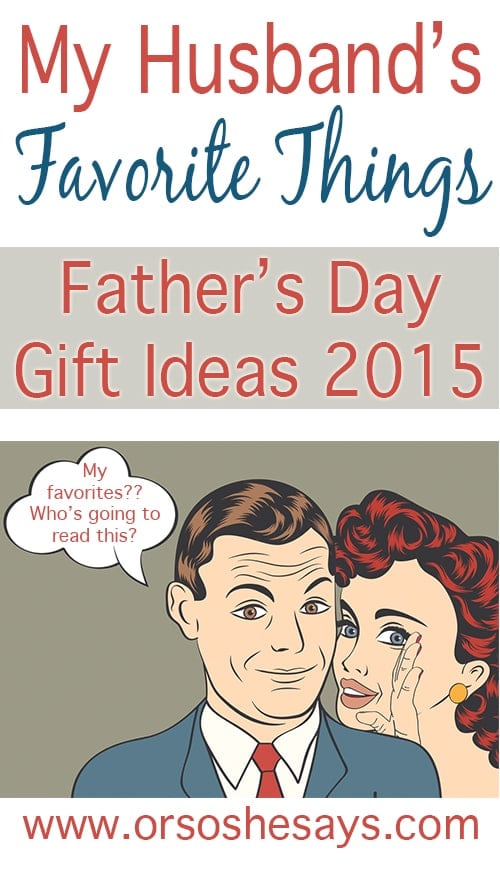 Hello there friends! I'm Nichole, Social Media Manager, here at 'Or so she says…' and I am sharing some of my husband's favorite things for the Father's Day Gift Guide. I hope it inspires you when shopping for the father's in your life!
I am currently about 20 weeks pregnant with our first baby and I am kind of really excited to celebrate my husband this Father's Day. We find out if it is a boy or a girl the day after so pretty much his greatest gift will come a day late but I am excited to give him a few things as a thank you for putting up with my pregnant aversion to all things meat. Poor guy eats a lot of salad and fast food burgers right now.
My husband is a quiet guy, more of an observer and is really easy going. That is a great thing except when it comes to giving gifts. He can be pretty relaxed and ok with just about anything, it can be pretty annoying. So these are the things that have really excited my laid back husband.
My hubs loves this knife, ever since he read the survival knife reviews he carries it with him regularly at home, work or out and about. It isn't a big knife, kind of an oversized pocket knife that is sharp and comes in handy all the time. He happily whips it out if I need a box opened at home or if he needs it at work. He gets compliments and even asked for a second one, just in case.
O'Neill UV Sun Protection Men's Basic Skins Tee Rashguard
My husband grew up Skiing. Snow and Water Skiing are his thing. Since it is summer I am going with this Rashguard Tee perfect for a day out on the boat. In and out of the water with a life vest on and sun beating down made this a practical gift for me, less complaining about sunburns and for him. It fits great and is light enough that he practically forgets he has it on. Available in lots of colors means I can find one that matches any swim suit he decides he loves.
Like Mariel, I love my Bearded Man. When I grabbed this Beard Trimmer set for Christmas this last year he was so excited! Like, more excited for this than anything else he got for Christmas. Go figure. He loves that it is cordless, has lots of attachments for different beard lengths and he secretly loves the ear hair trimmer, but don't tell him I told you that.
Ok, so my husband likes "tools". You know, not hammers or saws (though he likes those too!) but odd little tools. This credit card sized tool is right up his alley. This little gadget has a knife, tweezers, toothpick, bottle opener…and more. He likes to have whatever he needs whenever he needs it. So this is a big hit. He even had me get extras incase he needs one or needs a quick gift for a friend.
My husband loves the new TV show, "The Island" which is hosted by one of his favorite people, Bear Grylls. He is a huge fan of survival skills and being able to wow people with all of his mountain man abilities. He has been mentioning that he wants this particular Fire Starter for Father's Day. Don't tell him but I think he will be happy come June 21st.
I hate doing dishes. I hate it. So when we got married I made a deal with my husband that I would cook and do laundry if he would take care of the dishes. Best. Deal. Ever. So as my husband does the dishes he listens to his music on his phone. Which he plugs into the oldest computer speakers I have EVER seen. He says they still work, he can use them. Recently they started sounding crackle-y. Ick. So he has started shopping around for a new alternative and this is the one that is currently sitting in my shopping cart on amazon that he put there as a nudge. He thinks he is being sneaky.
So my husband could sit on YouTube all day long. Watching how to fix something on the car, a funny video, how things work…every time I turn around it is something different. Mainly he loves to watch EMT videos to brush up on things so he is always on top of his game. So he loves being able to watch his YouTube videos on the big screen TV. The Fire TV Stick is pretty cheap and he loves it. Worth it to me.
Like I mentioned my husband is an EMT. He worked hard to get certified and is pretty excited any time he gets to use his knowledge and skills. Since he is an EMT first aid kits have become a big deal in our house. We have one in each car, two in the house and 2 in our camping gear. He loves this First Aid Kit even though this is the dream kit he really wants…maybe for Christmas. I am happy to support a hobby that is super useful skill too.
Ok, like most guys my husband LOVES The Avengers. He loved Age of Ultron and already has it on pre-order. So while I can't really give it to him as a gift, I know he really wants it.
I hope my ideas for my husband helped give you some ideas for the important men in your life.
For more Father's Day gift ideas and gifts for men, check out these posts:
My Husband's Favorite Things (Mariah)
Father's Day Gift Guide ~ Mariel's Picks 2014
Gift Ideas for Men – My Husband's Picks (she: Rebecca)
And tons MORE right here! Gift Ideas for Men