This is Veronica again, and I'm excited to be back with a quick and simple idea for Family Night AND Father's Day! Sometimes a mama just needs something simple! Right?
In my home, some of our favorite Family Nights together have been the simple ones. The ones that I've had to throw together on those days when "Super Mom" had already left the building. And this is one of our favorites.
On to Family Night!
FAMILY NIGHT: Don't Eat Dad Game

This is a fun activity that you can play any time, but because Father's Day is coming, I thought I'd put a fun spin on it. It's a game that is typically called "Don't Eat Pete", and we love it. It's a great game for ALL AGES, which is always a huge bonus. For Father's Day we've changed the name to "Don't Eat Dad".
LESSON:
Take a minute to share with your kids why their dad is so important to you (what makes him a good father, what sacrifices does he make, how does he bring happiness into the home, etc). Express what you hope they are learning from him. *I'm a firm believer that our kids need to hear why we love each other, and that we support each other in the roles we play as parents.
Challenge them to find ways to let their dad know how important he is to them.
GAME: Don't Eat DAD!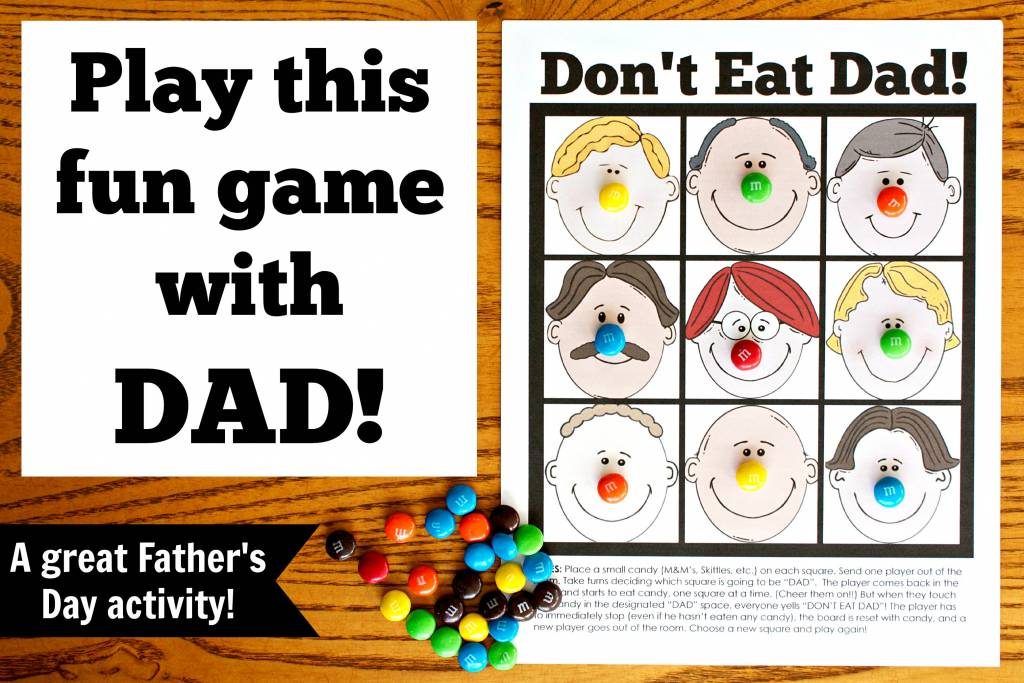 ITEMS NEEDED
Game Board: print game board here
Small candy or treat that your kids love: M&Ms, Skittles, mini marshmallows, chocolate chips, etc.
RULES: Place a small candy (M&Ms, Skittles, etc.) on each square. Send one player out of the room. Take turns deciding which square is going to be "DAD". The player comes back in the room and starts to eat candy, one square at a time. (Cheer them on!!) But when they touch the candy in designated "DAD" space, everyone yells "DON'T EAT DAD"! The player has to immediately stop (even if they haven't eaten any candy), the board is reset with candy, and a new player goes out of the room. Choose a new square and play again!
I hope everyone has a GREAT Father's Day! There's nothing better than helping those guys in our lives feel loved!
If you are looking for a more traditional Family Night for Father's Day, check out my post here from last month.
Liked this post? Then check these out on OSSS, too:
Slobber-Fest Sunday: Father's Day Ideas
Father's Day Gift Ideas (from Facebook Friends!)