Happy October, friends! Do you love the changing weather? One of my most favorite things about Utah is the notable seasons and fall is my favorite. After a busy summer, fall just seems to have a way of relaxing me… just a bit. I love the changing and falling leaves… I love them all over my yard, it's alway sad to have to rake them up!
Anyway… let's see, what's going on at my house. We're knee-deep in homeschool and loving it. Every year, I like it even more. Let's see, my dishwasher broke and I'm feeling really ashamed of how big of a deal it is to me. That is an amazing invention. I'm prepping the blog for a million Christmas things, starting to gather my ideas for the annual gift idea series, and trying not to lose my mind. The husband and I just finished re-watching every season of The Office. Phew! That was a lot of work. 🙂 Luckily, I have enough blog work to multi-task through it. And… I'm trying to do more cardio and eat less cupcakes. It's hard. But, life is good… and so is October.
Should we get to it?? It's time to share all the latest and greatest things that I've been loving this past month…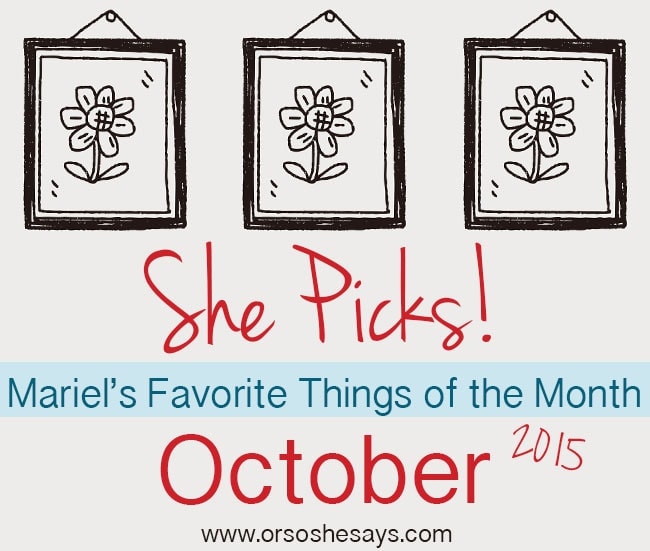 Pick #1
Have you seen Poldark yet?? Or, as my mother-in-law calls him, Pol-dark-and-handsome! This is a great show and a perfect one to cuddle up with your man to watch. My husband and I were completely absorbed in this show, after hearing rave reviews from my dad and bro-in-law, and now we can't wait for the second season to start. I also love that the show is clean… no graphic sex scenes, which seems to be the thing for tv shows now, swearing, etc. You can buy the DVD of the season on Amazon, or purchase the episodes on demand. Then set your dvr to record the next season on PBS as soon as the show starts back up!
From Amazon, "It s 1783, and Ross Poldark has returned home from the American Revolutionary War to find England in the grip of recession and his beloved Cornwall on its knees. His father is dead, his family s land and copper mines are in ruins, and his childhood sweetheart is about to marry his first cousin. Feeling betrayed by everything he loves, Ross must rebuild his life, embarking on a risky business venture, facing new adversaries, and finding love where he least expects it."
Pick #2
So, I think 3 years ago, I bought this whipped cream dispenser, after reading such great reviews. It just sat in the box… seriously, until last week! I had to bring a bread pudding to a friend's house and was getting ready to whip up a batch of whipped cream to leave in a bowl next to the dessert. And, then I remembered that box I've had kicking around the pantry for so long! I pulled it out, read the instructions, and in no time I had a new favorite thing! It's so cool to have a dispenser squirt out REAL whipped cream… all creamy, vanilla-ish, and yummy. It was probably as much of a hit as the Butterscotch Bread Pudding, which you also have to try, by the way. Be sure to order extra N20 chargers for the dispenser!
Oh, in case you're wondering, I added 2 cups heavy cream in mine, with 1 cup powdered sugar, and 1 tsp. vanilla. I stirred it in a cup first, then dumped it in the container, put the lid on, and pressurized it.
Pick #3
These crackers. Cheez-It Italian Four Cheese. Mmmmm… I just love them… love sucking all the seasoning off! I could munch on them all day, so it's probably good that my nephew steals them from me on a regular basis.
Pick #4
For homeschool, we often listen to audiobooks (while we color!) Anyway, I really wanted a great little bluetooth speaker to connect with my phone and listen to our books. And, I found one! I'm really loving this Bose Color Soundlink! It sounds so great and it perfectly portable. Whenever I go golfing with the hubs, I'll bring it along, and play some tunes in our golf cart. P.S. I got the mint color, but there are several to choose from. 🙂
Pick #5
Okay, so are you drowning in dirty laundry too? These Norwex towels have saved me from doing many-a-loads. They are seriously SO thin.. I was completely surprised by that when I first received them. But, dude. They're like Sham-Wow, or whatever those cloths are… super absorbent. Both my husband and I have fallen in love (true love) with them. My MIL recently came to stay at my home and after she used them, she had to order some too. Because they're so thin, I can wash SO many of them! Last week, I had 8 of them in my washer with two of my Norwex bath mats, and like 5 kitchen towels. And, I just have a standard, old-school washer! The other thing about these towels is the Bac-loc feature, or in other words, the embedded silver, which helps to inhibit bacteria growth… so, that means I can go even longer between washings. I'm all over that. Oh, AND the ultra-fine microfiber weave gives it the much-loved Norwex feature of wiping cleaner than anything out there! Okay, they're a lot pricier than a standard towel, but for the time they save me, I'm sold. There are a couple different sizes, but I think the X-Large is the only size to have… it actually seems normal towel size and anything else would be too small for an adult. Unfortunately, that size is the most expensive and I haven't stocked all of my bathrooms yet, but little by little…
Leave a comment and tell me some of your favorite things that you think I should check out. I'm always looking for new favorites!
Be sure to check out my favorites from previous months: