Today is a BIG day in the Create & Babble family! My first and only grandchild ("only" until February!) starts Kindergarten today! Yes, today is Jordan's first day of school. I've been wracking my crafty brain to come up with an original photo idea for his big day. There a a lot of great ideas floating around blogland. Then one day my daughter called and said she saw this on Pinterest and she wanted me to make one. A T-shirt with the year he will graduate from high school on it.
First Day of School T-Shirt Tradition:
The idea is to take a photo of your child on their first day of school every year in the same shirt. Maybe some of you have seen this, but I hadn't and thought what a great idea! Of course you have to guess at what size your child will be in 13 years. We went with a size Large. It looks like the shirt in the Pinterest photo may have been embroidered. Since I don't do embroidery, I did the next best thing. I painted it on using a stencil that I made out of freezer paper. I cut the letter and number shapes with my Silhouette Cameo*.
After the shapes were cut, I used the negative space of the freezer paper as my stencil. I then ironed the freezer paper stencil (shiny side down) onto the front of the t-shirt with a dry iron, making sure that the edges were well adhered to the shirt to prevent the fabric ink from seeping under the stencil. After placing a piece of cardboard inside of the shirt, I pounced on the ink with a sponge. Of course I had to use Jordan's favorite color: green
After the ink is dry, just go over it with an iron to set the ink.
Here's my handsome little guy all ready for his big day!
Looks like he has a lot growing to do! It will be fun to see him grow into this shirt over the next 13 years!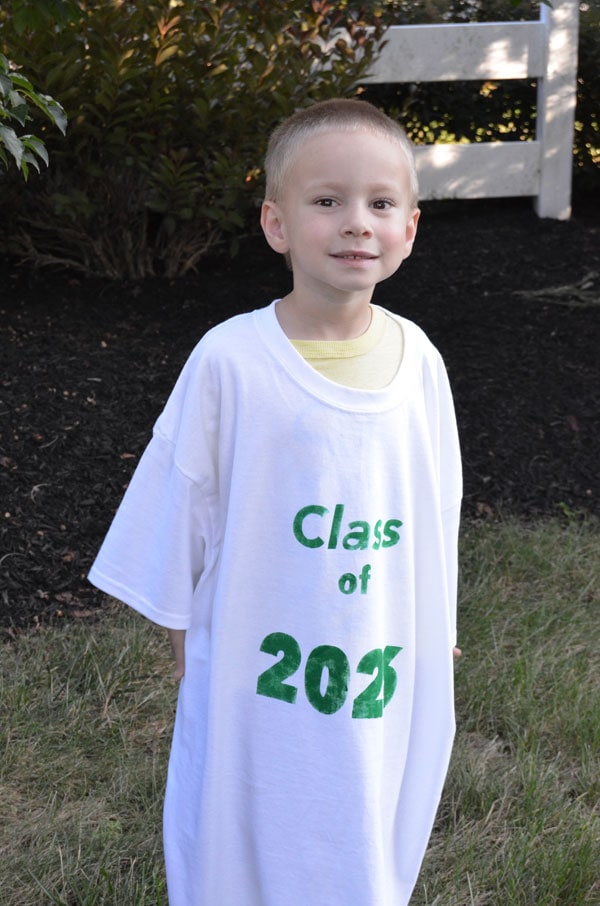 Like I said earlier, I used my Silhouette Cameo to make the stencil, but if you don't own a Silhouette yet, you can still make this shirt. You could easily make a stencil by typing the year in a word processing program, print it and trace it onto the freezer paper. Then use a craft knife to cut out the year. Or, if you have steadier hands than I do, just paint on the year with fabric paint.
*If you are cutting the stencil with your Silhouette, be sure to put the shiny side of the freezer paper down on the mat.
It's hard to believe that summer is almost over and the kiddos are going back to school already. And it also means the countdown is on for my epic bicycle trip. You can read about that here. Enjoy the rest of your summer and don't forget to stop over at Create & Babble! I'd love to show you some other things that I've been working on.