Announcing that a baby is on the way and revealing the baby's sex can be such exciting moments in a parent's life! Plus, there are so many fun and creative ways to share that happy news with your family! With my first I don't remember doing anything exciting for the gender reveal and I wish we would have. It's so fun to document moments like that, and you can't really take a picture of a phone call… 😉 So, I scoured the internet and found some really cute gender reveal ideas that I hope will help make your exciting moment extra special!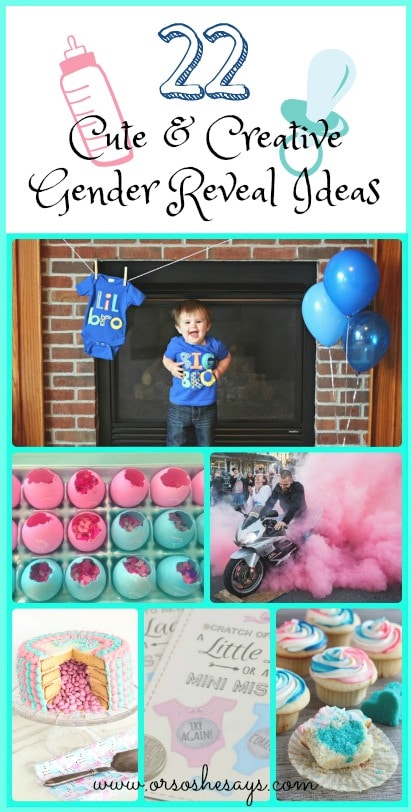 22 Cute & Creative Gender Reveal Ideas (she: Mariah)
Paint Powder Reveal ~ Grey Likes Baby
Gender Scratch Cards ~ Good to Know
Pull-String Pinata Reveal ~ Funny/Beautiful
Holiday Reveal ~ A Paper Proposal
Pet Reveal ~ Bark Post
Fortune Cookie Reveal ~ Mom The Intern
Balloon Release ~ Mallory Buck Photography
Motorcycle Reveal ~ Saving Dessert
Special Outfit ~ We Heart Photography
Bow & Arrow Reveal ~ Sweet Miles
Gender Reveal Cake ~ Gluten Free with L.B.
Sibling Reveal ~ Simple Suburbia
Stork Pinata ~ The House That Lars Built
Confetti Eggs ~ The Vintage Modern Wife
Silly String Reveal ~ Fenton Fever
Baseball Reveal ~ David Swayze Photography
Gender Reveal Cupcakes ~ Dessert Now Dinner Later
Squirt Gun Reveal ~ Macon Photography
Bubble Gum/Balloon Pop Reveal ~ Let Me See You Sparkle
Rifle Gender Reveal ~ Anna Elizabeth Photography
Ombre Cake ~ Style Me Pretty
Confetti-Filled Balloons ~ Kara's Party Ideas