Need help knowing how to think of gift ideas your recipient will love?? I got you. I know, I know…Christmas is over. But, that doesn't mean gift-giving ends, right? There's birthdays, Valentine's Day, anniversaries, baptisms, and all sorts of special events… all begging for a gift to be involved.
How to Think of Gift Ideas Your Recipient Will Love
With 7 kids of my own, and 7 "grown kids" in both mine and my husbands family…it seems we are giving several gifts every month. It can be a lot, but I really don't mind. One of my most favorite things to do is give gifts. I love it! It's like a challenge for me…to find just the right thing that suits the recipient. When I know there's a birthday or holiday coming up, I get all giddy inside. Really, I like it that much! I imagine I've given plenty of duds…but, I like to think I do pretty good. So, hopefully these tricks for gift giving that I use will help you in your quest to become the best gift giver!
Above All, Be Thoughtful
People always say, "it's the thought that counts" when they give someone an unthoughtful gift (and they KNOW it!) I would like to argue that there is NO thought behind that, so it doesn't count. I would rather receive a sweet card, hug, or phone call than something bought on a whim to satisfy or even worse…something re-gifted! It's the REAL thought that counts. What thought, exactly? Well, when you truly want to give or do something for someone because you love them, not because you have to. And believe me, the recipient can usually tell which category their gift fell in.
With that said, be thoughtful. Think of the reasons you love that person and how it would be fun to do something special for them. Once you are in a "thoughtful" frame of mind, consider these ideas…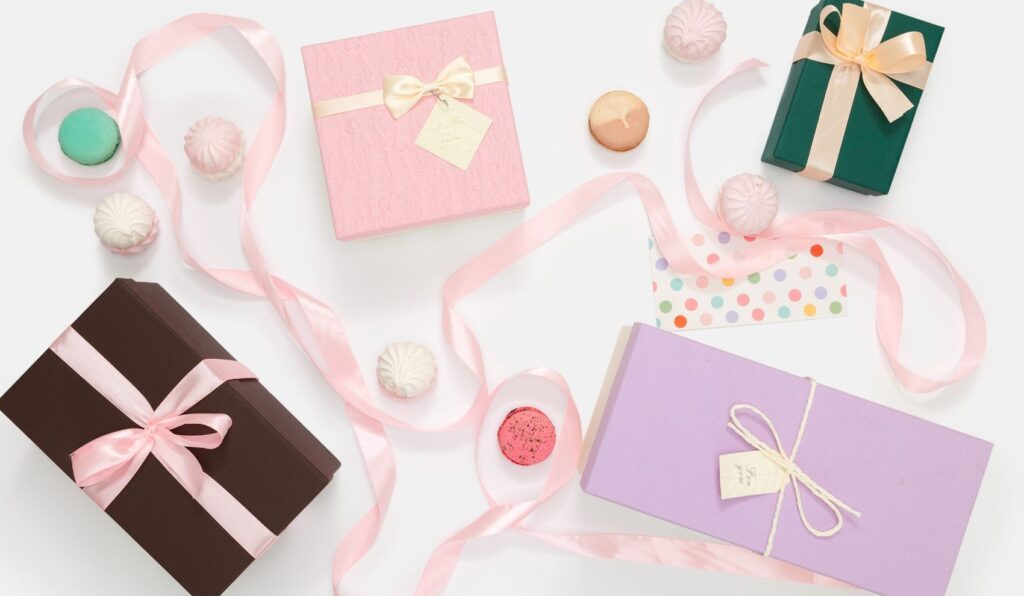 Nostalgic Gift Ideas
Some of the most favorite gifts I have received are ones that take me back to my childhood. When I was little I used to play with these cute little things called, Nerfuls, with my littlest brother. We would play for hours! I'm 40 now, but my cute brother thought it would be fun to find Nerfuls for me. And, he did…on eBay! It was so thoughtful and brought back memories of the good times we had together. I obviously don't play with them ("sure, sure"…you say) but I get a kick out of seeing my children playing with them. They make me smile! Did you ever play with Nerfuls??

Another time, a different brother gave me the boxed DVD collection of Faerie Tale Theatre. We used to watch it all the time as kids so I love owning it now. It's fun to watch the videos with my own children and see the joy they find in them. So, think of things the recipient may have played with or had as a child. Maybe certain candies & treats, or books they loved. You may have to do some research… ask their parents or siblings!
Just this past Christmas, I found my grandpa's most favorite novel from his childhood on eBay to give him. Of course, I had to get one for myself too, so I can read something that he loved so much.
Movies or TV shows from their childhood
Candies that were popular when they were a kid
Favorite toys they used to love
Favorite books from their childhood
Recreate an experience memory (take or send them to do something they have a fond memory of doing as a kid.)
Your Favorite Things
Hear me out, because I'm going to suggest giving them something YOU love… with the caveat that you THINK they will love it too. It's great to give them THEIR favorite things, of course. But, chances are that if they love it, they already have it. And, if they don't have it and you know what it is, then heck yes… give it to them. You don't need this blog post. 🙂
I've had some people say this is a thought-less or selfish idea. It most definitely is not, unless you make it that way. If you're giving a book you love to someone who has vocally declared they will never read a book, well of course… bad idea. Or, if you give a diamond necklace to your husband that you really want and know he will hand it right back to you… bad idea. You would definitely be missing the point and need to go back to my caveat at the beginning of this paragraph. That's the only right way to do this.
For example, I know that my little sisters love beauty supplies, and I do too. I have a few things that are my absolute favorite, that I know they haven't tried. I think it would be fun to give those as a gift!
Another example, I have a couple favorite kitchen gadgets that my family uses all the time. If I'm giving a gift to another family, I would definitely want to think of some things that my own family has enjoyed using, such as those kitchen gadgets.
So… Think about some of your very favorite things…it could be some favorite lip gloss, a favorite kitchen gadget, a favorite plant/flower, a favorite book…etc. Give that (if you think they will love it!) I always love receiving things that someone else finds so exciting. I'm curious to try it for myself.
Some of My Favorite Things I've Given as Gifts:
Anyway, I think you get the idea!
Theme Gift Ideas
When wondering how to think of gift ideas your recipient will love, I hope theme gifts come to mind! Theme gifts are not only fun to put together, but they're fun to receive, as well! First, you will want to think about the things your recipient is interested in. Is it gardening? Dirt biking? Cooking? Lettering? A theme gift package could work for any interest they have!
Once you have their interests in mind, narrow it down to the one that you want to create your theme gift around, then start shopping! Ask others who have that interest in common, what some of their favorite things are, in relation to the interest. They could probably give you some great suggestions for your theme gift basket! Visit websites dedicated to that interest, read product reviews, etc. With just a little effort, you can pull off a killer gift that they will love!
Some Interests and Product Ideas to Create a Theme Gift Around:
Gardening – Favorite gardening tool, packets of nice seeds, gardening book, kneeling bench, plant
Exercise – Protein, gym membership, pedometer, jump rope, shoes, smart watch, socks, water bottle
Beauty – Top rated makeup, makeup bag, face masks, cleansers, gift certificate for facial
Cars – Cleaning cloths, chemical cleaners, air fresheners, car vacuum, organizers
Baking – Cookie sheets, bags of expensive chocolate chips, apron, gift card to baking goods store, cooking classes
Relaxations – Great book, candle, slippers, comfy blanket, hot chocolate, bath salts
Movies – Theater tickets, nice popcorn seasonings, tub of Red Vines, cuddly blanket
Basketball – NBA or college game tickets, leather basketball, clothing item/accessory for favorite team, signed memorabilia
Travel – Suitcase, neck pillow, compact umbrella, waterproof backback, rolling makeup bag, compact packing clothes bags
Dating – Dinner gift card, activity gift card, sparkling apple cider, cuddly blanket, foot lotion (foot rubs!), packs of gum
Keep a Secret List
This is one of my favorite ways to give a thoughtful gift. Keep a note on your phone for gift ideas, ALL YEAR LONG!
In your daily conversations with family and friends, you will notice that every now and then they will mention something they love or something they would love to have. Pay attention to it and write it down. You will be so glad you did, when it's time to give them a gift. And, they will think you're a gift-giving genius… how did you know that's what they wanted?! Pretty slick. I think I have most everyone I would ever give a gift to, written down on my note, just waiting for those moments that I get a little gift-giving insight.
Another little tip, if you think you might ever give a clothing item to this person… (see section below, first): Take note of their sizes! If they ever offer up a clothing or shoe size in conversation, chances are you're safe to buy them such a gift (now that it's public knowledge), and how handy would it be to already know their size?! No having to call their bestie or spouse to have them do some sleuthing for you.
Think Twice Before Giving These Gifts
I'm not saying to never give these. There are definitely times when it totally works to do so. But, just think twice… make sure you're not asking for trouble or creating unnecessary stress by giving these sorts of gifts. I don't like to walk on eggshells because of easily-offended people, but any of these could cause issues for the average person.
Decorations for the Home – Sometimes receiving decorations as a gift can be stressful. Typically people want to decorate their house the way they want to and the decoration you give them might not be something they would have chosen. The recipient may worry that they will offend you if they don't have the gift on display in their home, so they are forced to choose… possibly offend you or display something in their home they find unappealing. Maybe think of a different gift idea, unless you know you're on the right track or you've heard them say they want something specific.
Clothing – I have definitely given many clothing items in my days as gifts, but sometimes you need to be careful, for two reasons. One, is similar to the decoration point above. Most recipients want to choose their own clothes and also don't enjoy offending the giver by not wearing something, even when they don't like it. Two, some recipients can be particularly sensitive to seeing the size you choose to buy for their clothing. If I decide to gift clothing, I personally like to stick to buying clothing from stores I know the recipient is a die-hard fan of. I also only buy clothing for those I feel are comfortable with me doing so, like my children, husband, best friend, or sisters (whom I'm really close with.) Our clothing sizes are common knowledge between myself and them. I would also suggest including a gift receipts and deciding to NOT be offended if they decide to exchange.
Weight Loss or Fitness Products – Do I need to explain this? Basically, don't make someone feel like you think they're fat. People need to be ready and excited to get in shape on their own. And, maybe that's not your intention with the gift. Maybe you just think they will actually love the product. But, you know your recipient and how something like this will be received. They may have said they want these kinds of things and that's great! Makes things easy. But if you're not quite sure how they will take it, think of a different gift.
Cleaning Tools and Products – Similar to above, people don't want to feel like you're giving them a gift to tell them they're messy. They may not feel that way, but I would really only give a cleaning tool or product if I knew it was something the recipient wanted. I know there have been times where I actually wanted a new vacuum or some Mrs. Meyer's products and even suggested them as gift ideas for myself. So, it does happen. Just maybe wait for the green light before proceeding.
A Project – Projects and kits of things to complete can be stressful to receive (things to create and display, things to complete with the family, etc.) People often love creating and love to do things with their family, but time is often so limited. It can be tricky to get a project done and they may worry that the giver will find out the project isn't done yet. Definitely think twice before giving someone something to 'get done.'
Pin This Image to Save Post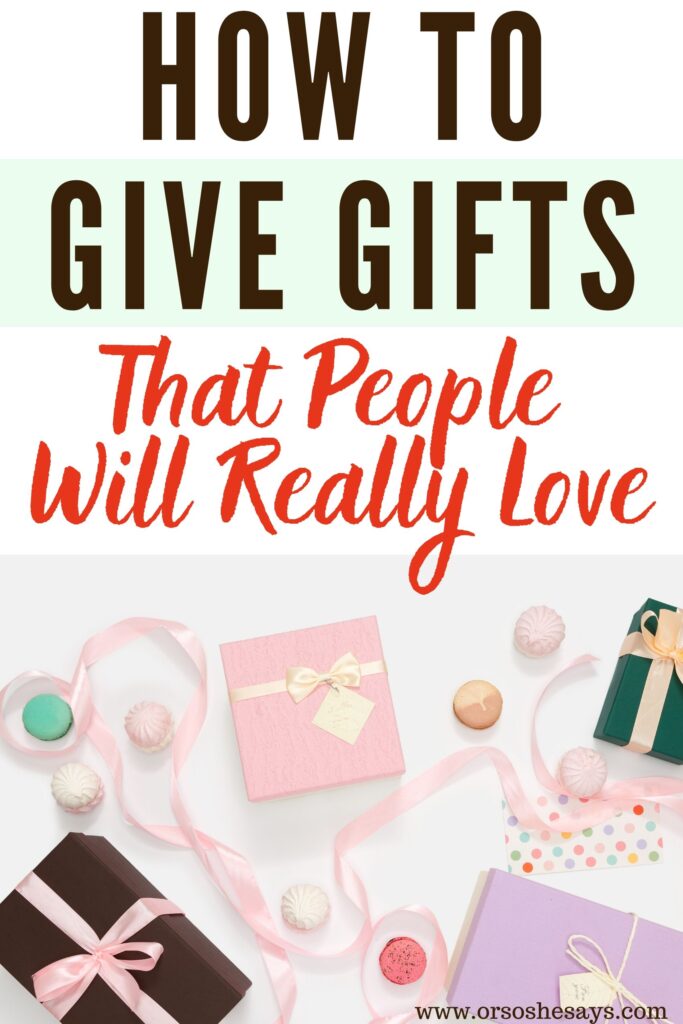 If you loved these gift giving tips, check out: