In need of some GIFT IDEAS FOR BABIES AND TODDLERS?? We've got you covered! One of the best things about 'Or so she says…' is the fun gift ideas. You can count on products that get great reviews and are great gift ideas that are actually wanted by the recipient. These recommended gift ideas for babies and toddlers are picks from the series, from the past years. Hope they help you a ton!!!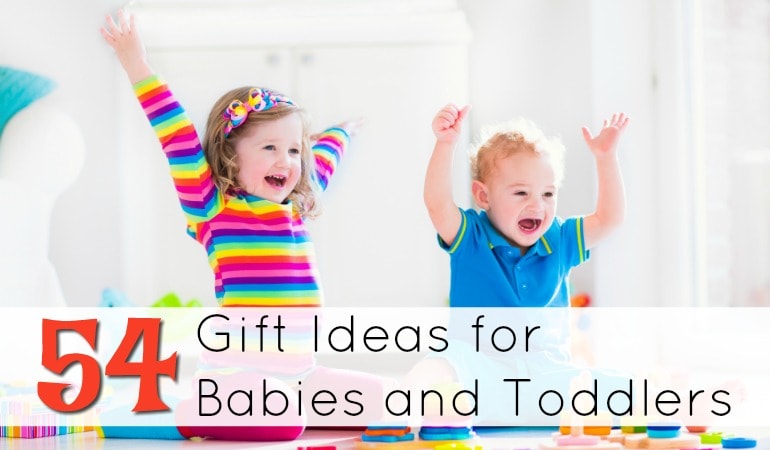 Gift Ideas for Babies and Toddlers:
Pick #1
I am loving the idea of this ALEX Toys Little Hands Button Art Kit! It's mess-free and great for teaching colors and improving fine-motor skills. It comes with 10 different brightly colored pictures for your little one to create. Reviewers HIGHLY recommend it for kids 18 months and up. I don't know if I've ever come across a kids' product by Alex that I haven't loved.
Bundle this gift with: My kids love the Melissa & Doug On the Go Water Wow! Activity Books and I love them, too; mess-free coloring and an awesome quiet-time activity! These Washable Dab and Dot Markers look like a fun way for your toddler to get artsy as well!
Pick #2
This has been my son's favorite bath toy since his first birthday; the Green Toys My First Tugboat. This little boat is so cute and so well made! It floats, scoops up water and pours it out of it's spout. Plus, since it's made by "Green" Toys it's made from 100% recycled milk jugs. How cool is that?! I love that it's a back-to-basics kind of toy… simple and fun, no batteries needed!
Bundle this gift with: Keep the bath time fun going with these top-rated picks; the Crayola Color Bath Dropz and this Nuby Octopus Hoopla Bath Toy.
Pick #3
I don't know about you but my kids LOVE looking at my change. I don't know why but they are fascinated by it! How fun would this Little Tikes Count 'n Play Cash Register be to teach those little ones about counting and sorting "money" WITHOUT the choking hazard. With color, size, and number matching, this toy is sure to be one that will grow with your child rather than be outgrown.
Bundle this gift with: Help them create their own little grocery store they can shop in with this Little Tikes Shopping Cart and a Learning Resources New Sprouts Bushel of Veggies!
Pick #4
I'm pretty excited about this find because I KNOW it's a toy my youngest would adore! "The ALEX Toys Little Hands String A Farm lets you string up big, chunky shapes with these beautiful wood beads. Thread the cotton lace through the openings on either side of the beads and string up a collection! Stringing helps young children develop fine motors skills and the beads help promote sequencing and counting skills." Reviewers recommend it for kids 15 months and up.
Bundle this gift with: Stick with a farm theme and check out this adorable Open the Barn Door Chunky Board Book. This Melissa & Doug Puffy Sticker Play Set – On the Farm looks super cute as well. Plus, the stickers are reusable!
Pick #5
Okay… Isn't this the cutest thing you have ever seen?! This Qaba Kids Plush Rocking Horse Airplane plays 32 different nursery rhymes, has an extra cushy and padded covering as well as a sturdy wood frame, AND has a seat belt for added safety! The reviewers love that it isn't SUPER rocky which makes it perfect for even young babies. They recommend it for babies 6 months and up. I also love the Qaba Kids Plush Rocking Horse Giraffe so I think you better check that one out, too. 😉
Bundle this gift with: How adorable would it be to get this Pilot Cap Beanie and have a little aviator in the house! Snag them this Planes Board Book and your sure to have a future pilot on your hands! If you decide to go with the giraffe you'll want to get this super cute Giraffes Can't Dance Board Book.
Pick #6
This Hape Kid's Toy Lawn Mower Wooden Push and Pull Toy was given to my son as a gift when he was only about 6 months old and I can't believe how well it has lasted over the years. It has been played with by drooling babies all the way up to a destructive three year old and is still as sturdy as ever! It's definitely not a high-tech toy, but there is something about hearing the gentle "clickity-clack" as they push it around the room that kids just love! Even the non-mobile babies love pushing and pulling it back and forth while they sit. It would make a great gift for kids about 9 months and up.
Bundle this gift with: Hape toys rock! Check out the Hape Walk-A-Long Puppy Wooden Pull Toy and this Hape Pound & Tap Bench. Both highly rated and great options for non-electronic playtime.
Pick #7
I remember taking my 6 month old baby with me to visit a friends house a couple years back and seeing this ALEX Jr. Sound and Play Busy Table on the floor of her living room. She had twin boys close to the same age as my baby sitting next to each other playing with this thing and having the time of their lives. My son soon joined the party on the other side of the table and we had some very happy babies the whole time we visited! I tracked it down for this post because, well, I still would really love to get one for my babies. I love that it can entertain multiple children at once! It includes a xylophone and a wooden mallet, a drum, peek-a-boo doors, spinning gears, a curvy bead maze, and track sliders. It is pretty low to the ground so it is perfect for small babies to sit on the ground with their legs under. This would make a great gift for babies 6 months and up.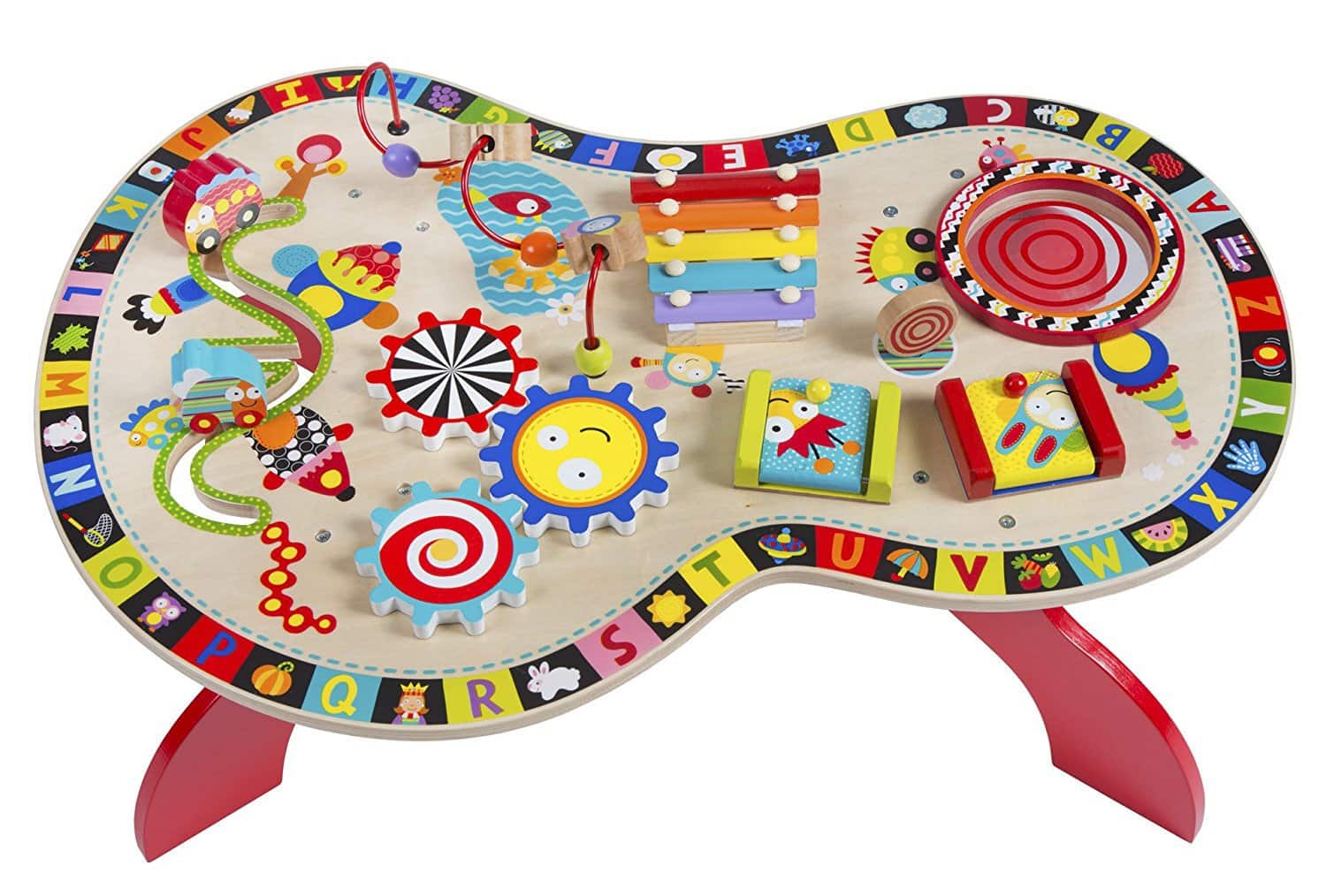 Bundle this gift with: This musical Baby Einstein Octoplush looks like a winner to me! It plays classical music and is super huggable. My babies have loved the Nuby IcyBite Keys Teether for soothing their sore gums. You can also visit orthodontist The Woodlands for more information providing braces for children, teens, and adults. Heck, even my three year old still plays with them pretending they are the keys to his truck!
Pick #8
What little girl doesn't like to be "just like mommy?!" This Kidoozie My First Purse is ADORABLE and perfect for 1-3 year olds. Reviewers love that it's brightly colored, simple, and has the basic essentials for a purse. This cute little toy allows for realistic roleplay and includes just enough pieces to be engaging without being too overwhelming. Plus, maybe having her own purse will keep her out of yours! 😉
Bundle this gift with: This Little Tikes Shopping Cart would go great with this purse! She can do a little grocery shopping with her purse on her arm; SO CUTE! Don't forget the food: Melissa & Doug Let's Play House! Grocery Cans, Melissa & Doug Wooden Pantry Products.
Pick #9
I am really digging this Fisher-Price Sit-Me-Up Floor Seat. I have used a Bumbo for my kids in the past, but I think I would like this seat better! My baby girl has some seriously chunky, Michelin Man, I-want-to-squish-them-all-day thighs, and I have had a really hard time getting her in and out of our Bumbo! My son's thighs were not nearly as voluptuous and I remember having the same struggles. I like that the seat of this chair is fabric and the leg openings look a little more forgiving for bigger babies. I also love the teething toys that are attached!
Bundle this gift with: This Peek-A Who? board book gets awesome reviews and it's a great one for babies! You could also check out this Lamaze Clip & Go Firefly Freddie which would be fun to attach to the chair or to a car seat or stroller. Another option that is popular among babies in the 4-10 month range is this Infantino Textured Multi Ball Set.
Pick #10
My two year old son LOVES to be my little helper. Anytime I start vacuuming, mopping, sweeping, etc. he HAS to help! It makes it kind of hard to mop with a toddler in front of you trying to push the mop in another direction! Now, don't get me wrong, I love that he is such a good and willing helper, but I think I would get a lot more done if he had his own set of cleaning tools. Enter the Melissa & Doug Let's Play House Dust, Sweep & Mop Play Set! This set is perfect for anyone with similar "helper struggles." The set includes a broom, mop, duster, dust pan, brush, and storage stand, is made with durable wood construction, and is perfectly sized for kids.
Bundle this gift with: If they're going to help you clean, don't let it stop there! Check out the Melissa & Doug Let's Play House Spray, Squirt & Squeegee Play Set and this Toy Dyson Ball Vacuum.
Pick #11
One thing I know for sure is that babies love lights, bright colors, and music. This VTech Rhyme and Discover Book has it all! This top rated little book features a variety of classic nursery rhymes that your child can sing along to and fun, colorful illustrations. It has buttons, lights, and movable parts on each page to keep babies engaged. Plus, it has a volume control/OFF switch to keep you sane! 😉
Bundle this gift with: This Fisher-Price Brilliant Basics Baby's First Shape Sorter is a favorite at our house, or these B. Toys B. One Two Squeeze Blocks are a great first block set for babies as they are squishy, chewable, and free of pointy corners.
Pick #12
One of my son's all time favorite toys is this Little Tikes Gas 'n Go Mower. Anytime my husband is out mowing the lawn, you can be sure to find my toddler right out there with him pushing his little Gas n' Go Mower. My neighbors are always commenting on how cute he is mowing the lawn with daddy! 🙂 This mower is pretty slick; the sounds are mechanical, so no batteries are required, when you push the mower the beads in front pop, the pull cord makes engine sounds, and there is a clicking key, moveable throttle, and removable gas can! Basically, it's a kid's dream come true.

Bundle this gift with: Get them some more tools for helping outside, like this G & F JustForKids Kids Garden Tools Set or pair it with the Goodnight, Goodnight Construction Site Book; top rated and another one of our favorites.
Pick #13
I'm not sure why kids love these bead mazes, but they do! They have these at my pediatrician's office and they are like magnets to the kids! I usually try to keep my littles away from such toys because to me they are just festering balls of disease, so I think if we had one at home my kids would love it! They could finally play with the toy that mom would never let them touch! I have my eye on this Melissa & Doug Classic Bead Maze. It's a good size but not too complicated for little ones.
Bundle this gift with: This cute Melissa & Doug Stacking Train or the Melissa & Doug Magnetic Wooden Fishing Game and Puzzle would pair really well!
Pick #14
How cute is this LeapFrog Number Lovin' Oven?! From counting and cooking to serving and sharing, it's the perfect preschool prep for little chefs. This oven makes learning to count and share fun! Kids can move the number slider to explore numbers, time and temperature, and when they place the pan on the stove it makes sizzling sounds. Your toddler can bake the bread, pizza and cupcakes on the baking tray and the light will blink off when the food is ready. They can slice and serve treats onto plates with the spatula to share, and when they're done, everything fits inside. Score!
Bundle this gift with: I've been wanting to get this LeapFrog Fridge Phonics Magnetic Letter Set for a while; reviewers love it for teaching kids their alphabet and letter sounds. This book, Five Little Monkeys Jumping on the Bed, is a fun one if you want to stick with a numbers and counting theme.
Pick #15
For the wee ones, I LOVE my Peke-buo diaper bag. I take it everywhere! It's small and compact with SO many practical features. I have never seen a diaper bag as well thought-out. Check out the images below… look at all of those features! This would make a great gift for a new mom or even for a baby (bundle it with a fun toy!) I have it with me every week in church, for those moments I need to sneak away to change a diaper. I can leave my huge, heavy "church bag" behind and grab this little diaper bag, knowing I have everything I'll need.

Pick #16
I've seen these Munchkin Miracle 360 Sippy Cups floating around Amazon's top sellers list for a while now and I'm intrigued. These cups help little ones learn to drink from spout-less cups without the spills and mess! Can I get a hallelujah?! These are SO perfect for that, "I want to do it myself!" stage. These little beauties come highly recommended by dentists and help support normal muscle development in your child's mouth. Such a useful gift for toddlers!
Bundle this gift with: These BABYBJORN Soft Bibs are SUPER popular on Amazon and you gotta love the little cupped part on the bottom that catches all those dropped Cherrios! This EZPZ Happy Silicone Place Mat and these Gerber Graduates Bunch-a-Bowls and WeeSprout Reusable Food Pouches are top-rated as well!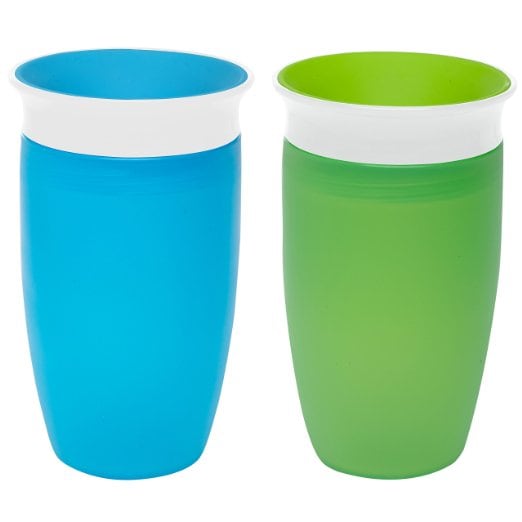 Pick #17
My two youngest would have just DIED over this toy when they were learning to walk. Trains are where it's at people! This VTech Sit-to-Stand Alphabet Train has so many great things going for it. It has three modes of play: Floor Play Mode, Walker Mode and Ride-On Mode, it teaches your toddler letters, numbers, colors, songs, stories and more, and it has motion sensors that activate sound when moving. This toy comes recommended for children ages 1 to 3, but I bet even 8 or 9 month olds would love pulling themselves up on this baby (just maybe take away those smaller parts).
Bundle this gift with: Any toddler will love petting their favorite animals in this VERY affordable board book- Animals (Baby Touch and Feel Book). Or if you want to stick with the train theme get them this adorable Chugga-Chugga Choo-Choo Board Book.
Pick #18
I started my babies out in a doorway jumper when they were around 4 or 5 months. These things are DA-BOMB! Need to make dinner? Off they go to the jumper. Can't remember the last time you showered? Off they go to the jumper. Seriously, these are a great way to occupy your babies for a minute while you get stuff done! I'd just move the jumper to the doorway nearest where I was going to be so I could supervise and we were good to go. Plus, most kids can't get enough of these things. Go look at the amazing reviews for this Graco Bumper Jumper if you want to see some adorable videos of tots having the time of their lives!
Bundle this gift with: These JuDanzy leg warmers are so fun! They're great for crawlers and for keeping those chubby little legs nice and warm. These Robeez Crib Shoes would pair well too, and they come in SO MANY different styles!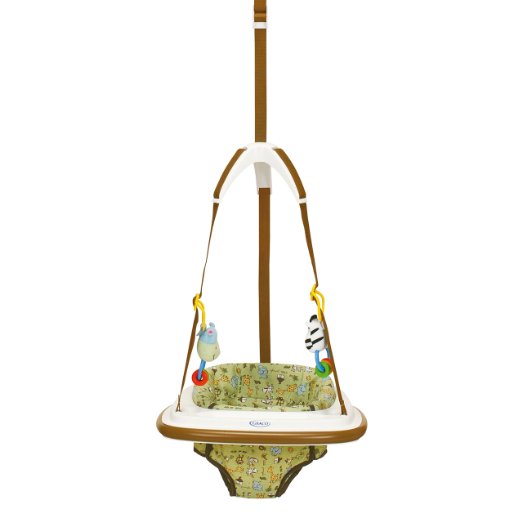 Pick #19
My babies and toddlers always love playing with balls. This VTech Smart Shots Sports Center gets awesome reviews and would be a perfect gift! The scoreboard counts and encourages with fun sounds and songs while your little plays soccer or basketball. Score! You'll have a little athlete in the making!
Bundle this gift with: the popular board book, Spot Loves Sports, or these Sesame Street Sports Bath Books… my babies are always obsessed with Elmo and his friends!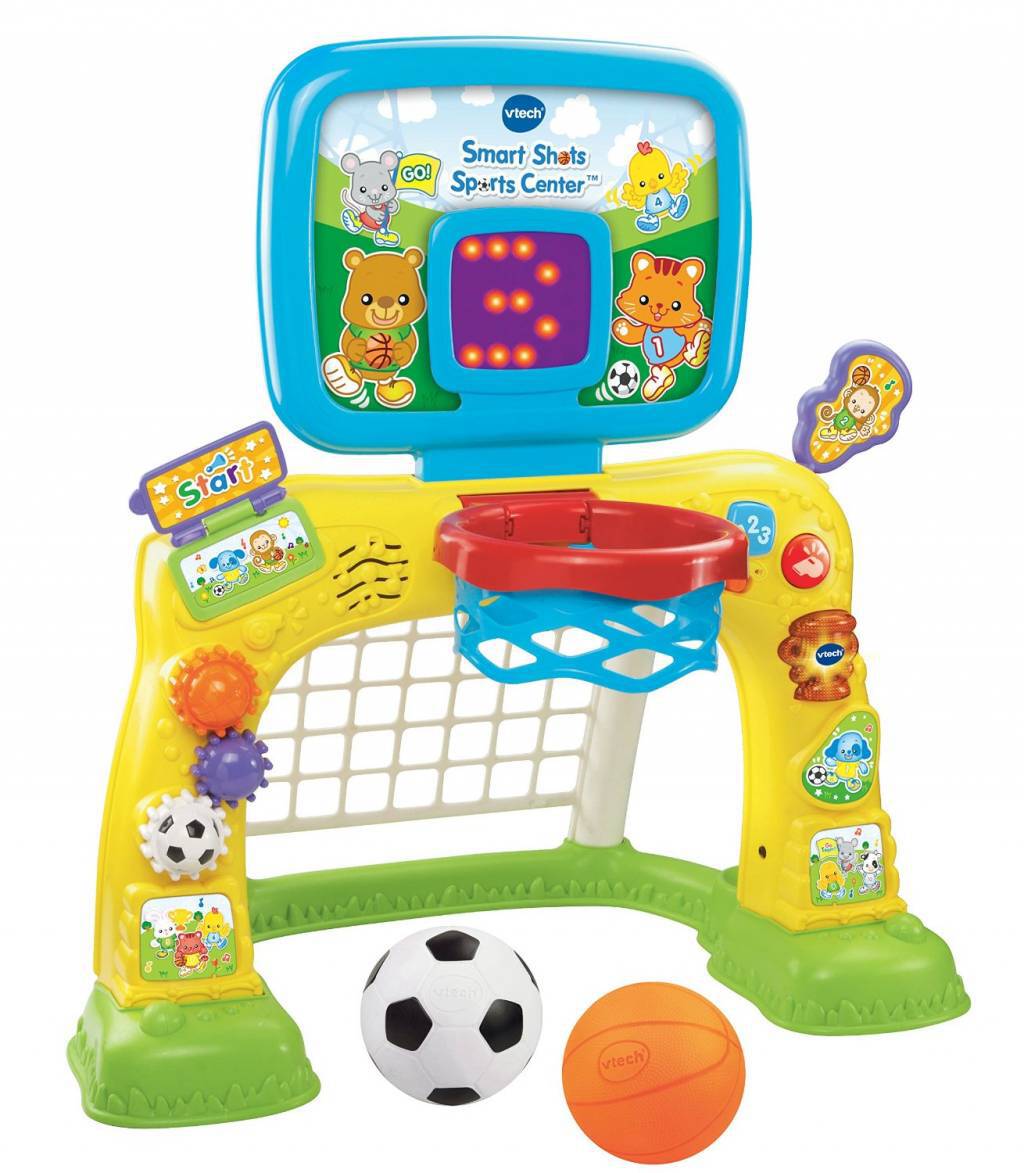 Pick #20
Making it through church alive made possible by: Dear Zoo: A Lift-the-Flap Board Book. I'm not kidding my friends. This book is a life-saver. No "Gift Ideas for Babies and Toddlers" post would be complete without it! Although it's a pretty simple book, the combination of flaps to lift and recognizable animals makes this little book a great one for 1 and 2 year olds that need some quiet entertainment. They'll want to go through it OVER and OVER and will love learning to open the flaps themselves.
Bundle this gift with: A couple of board books that are also super popular around our house are Little Blue Truck and The Going-To-Bed Book. You could also pair this book with a sound machine. I'm a HUGE fan of sound machines to help my babies sleep and this DOHM Natural White Noise Sound Machine gets amazing reviews but for a cuter, cuddlier option try this Cloud b Sleep Sheep Sound Machine.
Pick #21
This little Fisher Price Bright Beats Dance & Move BeatBo is pretty darn cool. It plays songs about the alphabet, letters, and colors and moves around all robot-like. Oh, but here's the part everyone loves (besides his multi colored LED tummy), you can record yours or your little one's voice and it will repeat it back in a funny voice!
Bundle this gift with: First 100 Words board book (so great!) or the Little Golden Book, Robots, Robots Everywhere!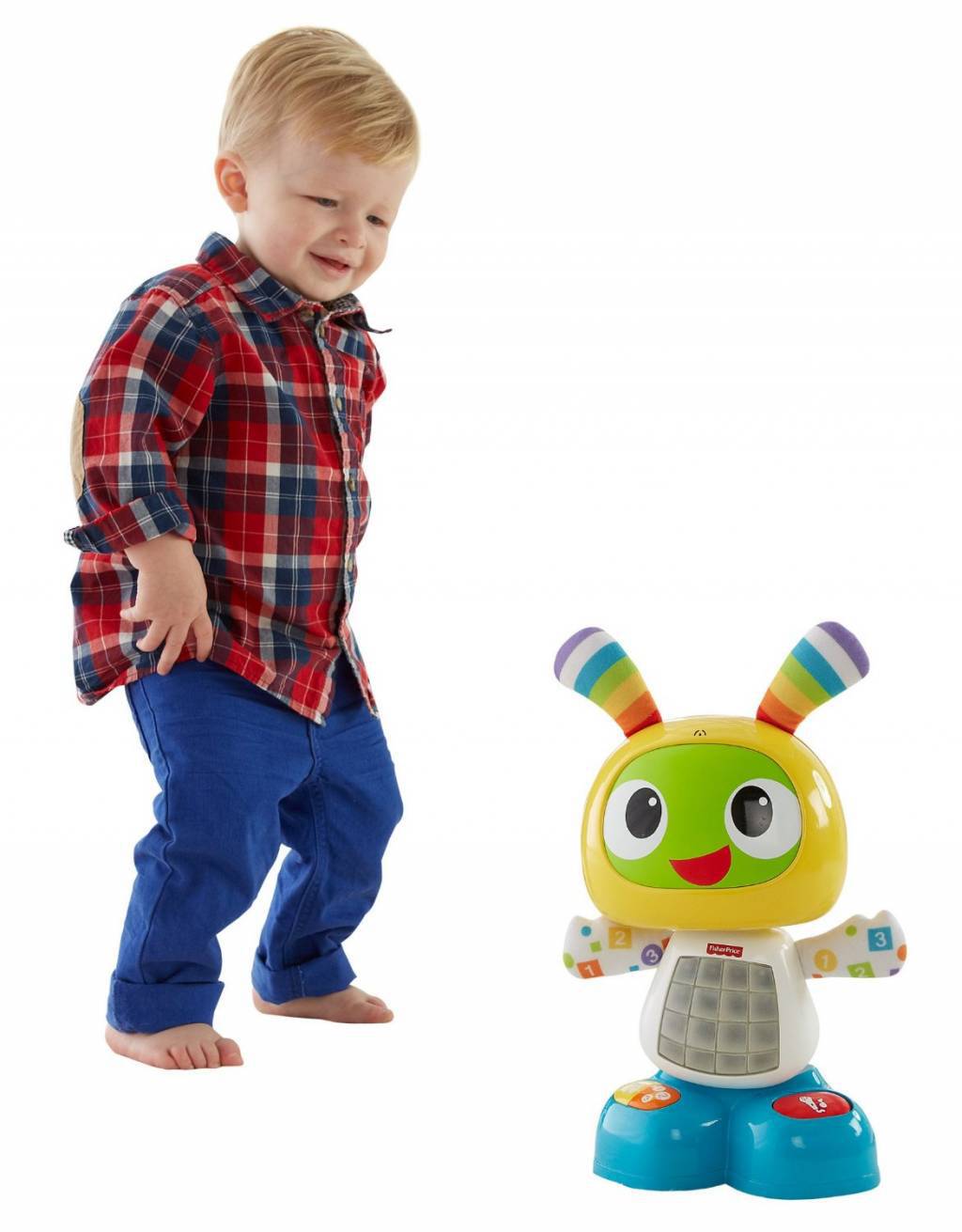 Pick #22
For the younger babes, these Matimati Baby Bandana Drool Bibs are all the rage! I can see why, too! These are way cuter than making your teething baby wear a nasty old bib every day. When your baby is drooling like a faucet of running water these bandana bibs will keep them lookin' snazzy and keep their chest dry! They're supposed to be SUPER absorbent, comfortable, and actually stay on (they have snaps instead of velcro!)
Bundle this gift with: This Vulli Sophie giraffe and these Amber Teething Necklaces are HIGHLY recommended by mothers of teething kiddos. You could also get this Manhattan Toy Rattle and Sensory Teether, which my babies were always mesmerized by!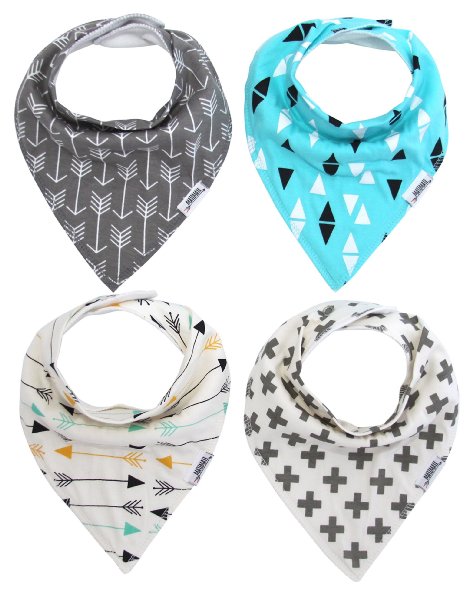 Pick #23
There is nothing worse that being stuck on a long car ride with a screaming baby that just doesn't want to be in their car seat! This Tiny Love Take-Along Arch is awesome because it can not only keep your kid entertained for a long car ride, but it's also SUPER versatile! It can attach to infant seats, convertible car seats, strollers, cribs, etc. Reviewers love that it's bendable and can be adjusted to stay in the perfect position to entertain their babies.
Bundle this gift with: this Lamaze Peek-A-Boo Forest Soft Book or a Cozy Cover Infant Car Seat Cover or one of these Baby Bum Brush Diaper Cream Applicator Tools that I've been dying to try! You can also never go wrong with Aden + Anais Muslin blankets; they are THE BEST for swaddling!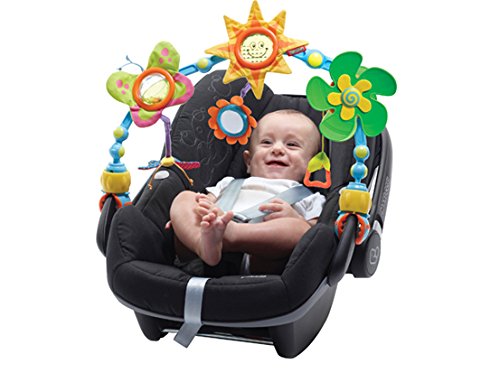 Pick #24
I am just dying over these Prince Lionheart Wheely Bugs! How stinkin' cute! We all know toddlers LOVE ride-on toys, but these Prince Lionheart ones have got Amazon reviewers gushing with praise. They are soft and padded with no sharp corners for safety AND you get to pick from some seriously ADORABLE critters- mouse, ladybug, hedgehog, lion, pig, cow, and bumble bee. They are perfect for kiddos 12 months and up.
Lower priced top-rated options: this Little Tikes Jelly Bean Racer or this Little Tikes Go and Grow Lil' Rollin' Giraffe would be great too!
Bundle this gift with: an AquaDoodle Coloring Pad or a Melissa & Doug Wooden Chunky Puzzle would be tons of fun for kids in the same age range!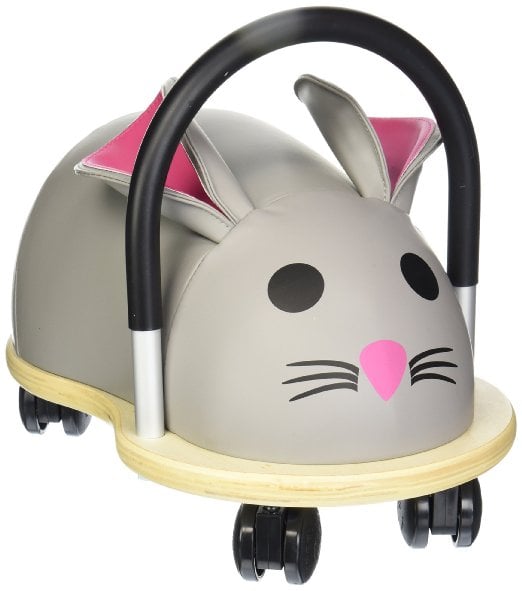 Pick #25
Look how fun this Hohner band set is! Okay, yes… it will likely be the cause of lots of noise, but it's the sound of a babe having fun! Plus, reviewers love it, and they're moms. 🙂
Bundle this gift with: these percussion egg shakers, the top-rated 100 Singalong Songs CD (lots of classics from our childhood on there!), or the LeapFrog Learn and Groove Music Player.
Pick #26
I have fond memories of playing with Little People. Do you remember the red barn and the merry-go-round?? Good stuff. Well, the Little People have put on a little weight, but they're still as cool as ever. This Little People City Skyway is one of the hottest toys of the year! I know my babies and toddlers have always had a thing for watching things go down, down, down… like marbles, cars, balls… I'm sure this set would be a hit!
Bundle this gift with: additional Little People Cars, the Little People Car Carrier, or the Little People Cars with Superheroes!
Pick #27
Does your little girl love to help around the house?? My son, who is 1 1/2 is always anxious to help unload the dishwasher, carry in groceries, and load the dryer. It's super cute! I noticed this Disney Minnie Bowtique Vacuum Cleaner had over 100 perfect 5 star reviews and thought it would be perfect for mom's little helper! With light, a vacuum sound, and swirling beads in the canister, you may have more help than you need!
Bundle this gift with: the Little Helper Broom Set, the Minnie Mouse Shopping Cart, or the Minnie Bowtique DVD.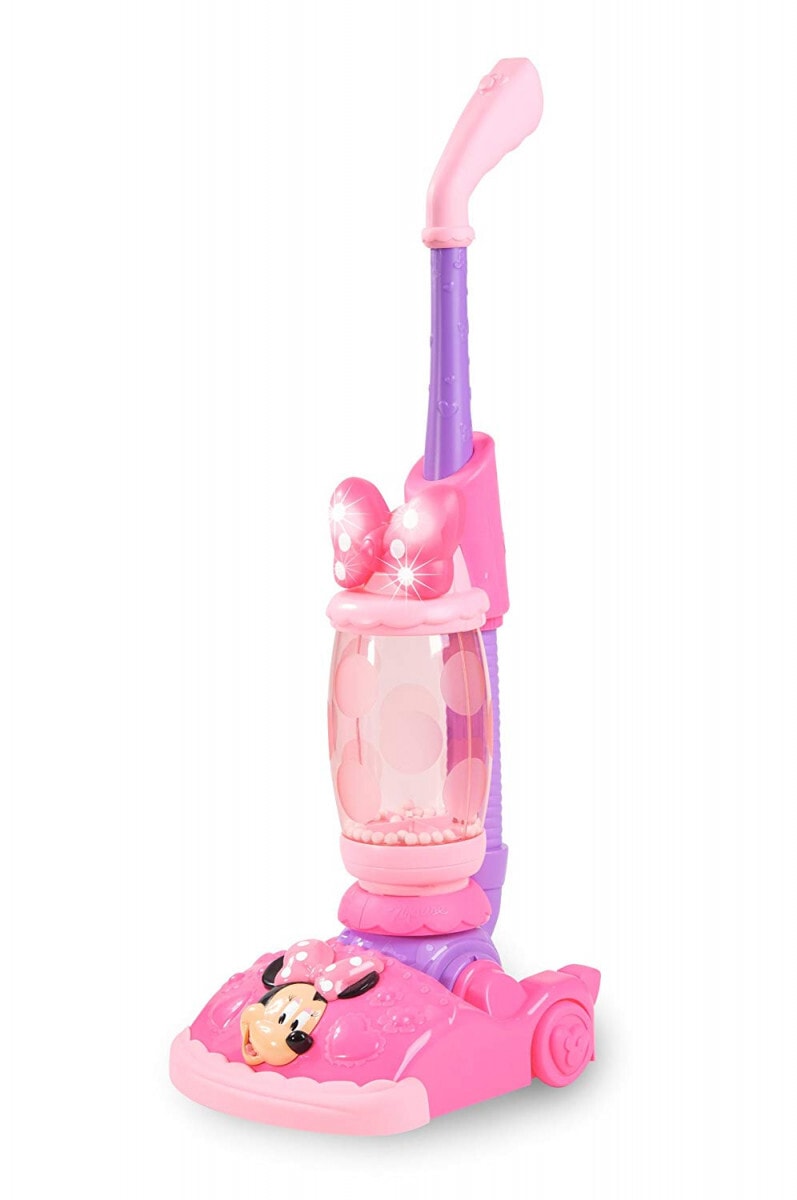 Pick #28
I think I may get this Fisher Price Learning Lantern for my little one (20 months), this year! It does so much! It plays songs, teaches letters, numbers, animals, lights up (obviously), and even has a night-time mode that is quieter and plays soothing songs. I think it would be great for older babies OR toddlers!
Bundle this gift with: a toddler tent (sleeping in tents is always fun… if you're a kid), the Little Critter Just Go To Bed! book (my kids love Little Critter!), or this Lullaby CD by Jewel (her voice is amazing.)
Pick #29
Have you seen the BabyLit board books yet?? They're so cool… board books based on the classics! If you're a little over book about puppies, trucks, and Elmo, you'll want to check these out. There are lots to choose from, such as: Dracula, Pride and Prejudice, Romeo and Juliet, Huckleberry Finn, Jane Eyre, and more!
Bundle this gift with: a cuddly Pillow Pet, a Cloud B Constellation Night Light, or the Cloud B Sound Soother (my babies love sleeping to this!)
Pick #30
Ooooh, I'm really thinking about this for my little guy too. It's the Fisher Price Laugh and Learn Smart Stages Chair. So, besides the fact that my little dude just likes to climb in and out of chairs, this thing is pretty spiffy. You change the settings based on how old your baby or toddler is. So, if they're 12 months, the features are all geared toward that age. If they're 18 or 24 months, you change the setting and have new features! Awesome, huh? It's like a new toy every few months.
Bundle this gift with: the book First 100 Words, the simple and classic toy Baby's First Blocks, or the Fisher Price See 'n Say.
Picks #31
I'm so close to getting this Melissa & Doug Monster Bowling set for my little one. He recently went to a Christmas party at our church, where they had a little bowling game set up. He wanted to play that the whole time! I love the whole monster thing and this set gets fantastic reviews. For only $21 bucks, it would be a great present for one of his siblings to get him.
Bundle this gift with: I love the Tickle Monster book and Monster Feet.
Pick #32
There's something about pretending to drive a car that little ones (and older!) seem to love. You know those grocery cart cars at the store that are germ-infested, too small for all your groceries, and always occupied by other shoppers?? Ya. My kids LOVE those. This Laugh & Learn Crawl Around Car is super cool. It plays 75 songs/phrases, has a light-up interactive dashboard, and activities surrounding the whole thing. Little ones love to crawl all over it.
Bundle this gift with: a cute board book about cars or trucks
Pick #33
I've had the Bumbo chair. I've had the Boppy. But this Hugaboo Support Seat looks like the best of both worlds. Stable AND super soft. This would make a great gift for a baby (who doesn't care about toys) or for a new mom. Oh, I just happened to find out that these seats will be sold on Zulily from December 8th through the 11th (2013) for a discounted price.
Bundle this gift with: I love the Lamaze Freddie the Firefly toy, the SnotSucker (one of my all time favorite baby products), and Baby Mum-Mum rice treats.
Pick #34
This VTech Sit to Stand has been a winner in my house! It's loaded with activities and transforms from a floor toy to walker. It's one of Amazon's best selling and top rated baby products right now.
Bundle this gift with: some cozy fleece pajamas... keeping them warm, for when they kick off their covers!
Pick #35
Do you remember playing with Fisher Price Little People when you were little?? I totally do. We had that schoolhouse with the merry-go-round. It was one of my favorites! Well, life just got exciting for the Little People. I love this Wheelies Loops n Swoops Amusement Park. I'm thinking about this for my little Benny…
Bundle this gift with: I love the additional Little People Wheelie Cars available and the Little People Lift-the-Flap Book.
Pick #36
For the girls (or the boys, I don't care.), Little People has this adorable Disney Princess Magical Wand Palace.
​Shake the magic wand or press the heart button to activate bright lights, fun sounds & phrases. Wand stores easily in top tower!

​Place Disney Princess figures on the magical spot to hear fun character phrases & sounds, and see the Palace & stairs light up!

​Spin characters on the dance floor to activate more fun lights, music, sounds & phrases!

​Press the discovery button to drop down the royal flags
Bundle this gift with: I love the Little People Princess additions, the Little People Cinderella Coach, and the Little People Snow White Cottage.
Pick #37
I'm loving this adorable music kit, B. Parum Pum Pum Drum. Each instrument is colorful, durable, and sure to be a hit with your little one… keep some ibuprofen on hand.
Bundle this gift with: a top rated CD, 100 Singalong Songs for Kids
Pick #38
I totally intended on making my own blocks..but, I've been intending to for years now. So, I finally broke down, accepted that it will never get done, and ordered these Melissa & Doug 60 piece Blocks for my little Joey. Blocks are a classic, great for boys and girls, and a must have for every family room… a great gift for toddlers who have everything! Joey has a one track mind…and it's all 'trains', but I think I can sway him a little with these! I have no doubt his older siblings will play with them too. If you're thinking blocks, this set is the way to go.
Bundle this gift with: a set of road signs and some town buildings
Pick #39
Babies love bouncing, especially big babies. I had never heard of Rody, the Gymnic Horse before, but couldn't help but read up on it after I saw how many people loved it. Your little tike sits on Rody and can bounce their little heart out…great exercise, and also promotes balance! Several colors to choose from.
Bundle this gift with: a hand pump!
Pick #40
All my little ones love taking baths, especially 2 year old, Joey. I've avoided color changing agents in the past, but reviewers promise that these Color My Bath tablets are the best! They say the colors are vivid and don't stain the tub…plus, you get 300 tablets for just ten bucks! If you're looking for a toddler gift that is not a toy, this might be something to think about! Bundle it with a cute towel.
Bundle this gift with: these customer-favorite Rub a Dub Bath Flutes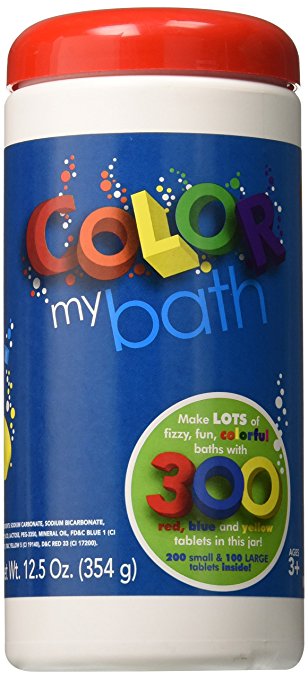 Pick #41
Melissa & Doug makes the greatest products! Quality toys for great prices. Seems like I'm always recommending them. Anyway, I saw this adorable Wooden Bear Family Dress Up Puzzle where you can interchange the bear outfits, with 45 pieces to choose from. I think it would a great gift for the little ones!
Bundle this gift with: a fun dress-up set to keep with the dress-up theme. 😉
Pick #42
For the younger babes, it's nice to have something visually stimulating…it's got to be boring lying around all day! This Wonder Wheel Suction Toy has won awards and lots of praise from reviewers, as well as the Manhatten Toy Winkel.
Bundle this gift with: The best baby walker ever! I have loved everything about this. 🙂
Pick #43
The Fisher Price Learning Kitchen has so many fun features! Babies can sort shapes, press buttons, flip switches, listen to over 20 songs, see the fridge light up when opened, and even learn Spanish. Of course, it's a reviewer favorite too.
Bundle this gift with: this adorable Giggle Gourmet Shop and Cook Walker
Pick #44
I love reading books to my kids, and board books are perfect for babies and toddlers. How fun it would be to have a personalize board book, filled with family pictures! I love these ones by Pint Size Productions. You can get a 16 page book for a great price!
Pick #45
Books make great presents for babies. They love being read to, cuddling with mom or dad, and sometimes even being tickled. This Tickle Monster Book with Tickle Hands is adorable. Perfect reviews, of course. And, I know my little ones would get a kick out of it!
Bundle this gift with: A couple other cute books for little ones: The Monster at the End of this Book, Peek-A Who?, and Where Is Baby's Belly Button?
Pick #46
Puppets are awesome. Babies think they're hilarious and younger kids love puppet shows. So, they can be fun for years! I love the idea of this Make Your Own Monster Puppet (or Make Your Own Princess Puppet) The kit comes with the puppet and 30 pieces to put on and pull off. There are endless monsters waiting to be made…or princesses!
Bundle this gift with: this affordable puppet theater or Tickle Monster book
Pick #47
I've mentioned these before, but I still think the Aurora World Plush Carriers with Animal Sounds are so cute! My little girls actually bought the camouflage jeep one for Joey, for Christmas. They are just soft little carriers with cute animals that make their own animal sounds. There are several different options, as well. I love the farm set!
Bundle this gift with: the Night-Night, Forest Friends book
Pick #48
Pick #49
All my older babies have loved fridge magnets. And, I love them because they actually buy me some time to get some work done in the kitchen. Baby can see mommy, mommy can wash dishes. It can rarely be done without fridge magnets…that, or pulling every blasted thing from the lower cupboards. The LeapFrog Fridge Phonic Magnets are a clear favorite, but the animal magnets are great too!
Bundle this gift with: some top-rated and super fun gear magnets or this Alphabet Water Wow Activity Book.
Pick #50
Melissa & Doug has these super cute Magnetic Catching Games, where kids hold the pole to make their catch, then they put the pieces of the puzzle back together. So, it's like a fishing game and puzzle in one. There are several boards to choose from.
Bundle this gift with: any other Melissa & Doug set and a storage rack.