Today's Picks: Gifts for Teenagers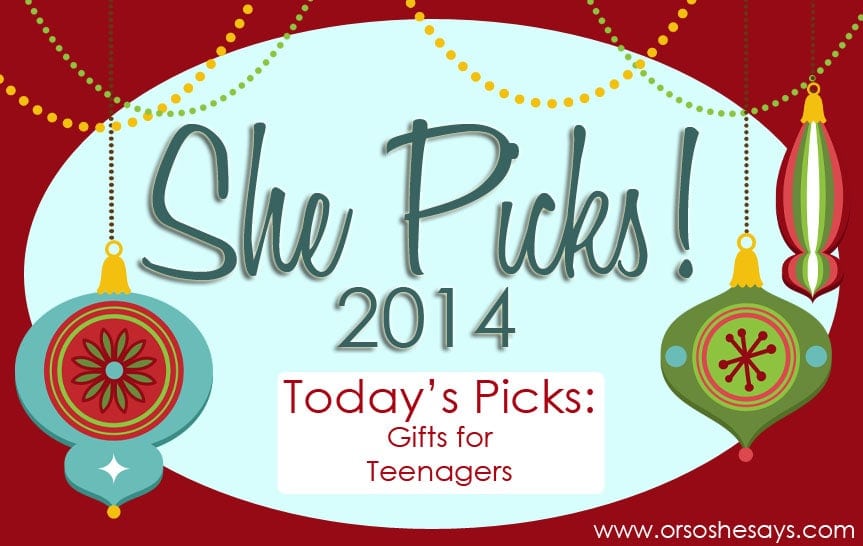 I just wanted to start out by saying, I got A LOT of teenager help on this post. This is quite possibly the hardest category to conquer, every year. Well, maybe that and gifts for men! So, a big FAT 'thank you' to all my teenage buds (Danica, Mary, Ethan, Cole, Caden, and Klaire) for responding to my texts last night. ALL of these ideas are from them. 🙂
~
Alright, so I've never heard of this thing. But, where have I been?!? Definitely not in high school. Over a thousand awesome reviews and highly suggested to me… the Ultimate Ears Boom Wireless Bluetooth Speaker. It's a portable, little 360 degree speaker, that plays music from your phone or device, allows you to adjust volume, or even answer phone calls from up to 50 feet away… wirelessly! It's also water resistant and has a 15 hour battery life. Super hot gift this year!! If the Boom is over your budget, the Mini Boom is half the price, although smaller and without the water-resistant feature.
Bundle this gift with: an Amazon gift card to buy some new music!
So glad my love for comfy leggings is validated by the teenage population. And, it's not just about leggings… it's PATTERNED leggings. Pair them with a cute slouchy shirt and fun boots. There's TONS of patterns to choose from and these babies are so affordable!
Is it just Utah, or are Kendamas the rage everywhere? It's hard to explain, but it's a simple and ancient Japanese skill game where you toss the attached ball off the stick and catch it on all the different sides. It takes a lot of practice and some kids get crazy-good at it… You'll have to check out the Kendama videos on YouTube. These make a great, non-expensive gift.
Can a girl have enough nail polish colors?? I say, 'no.' Check out this Formula X Paint the Town Bucket from Sephora! It's filled with 22 mini nail polishes… great gift!
Bundle this gift with: the Shany Nail Buffer Kit, the Sally Hansen Instant Cuticle Remover, or the Sally Hansen Insta Dry Top Coat.
This made me laugh, cause I've totally seen this thing and it's awesome… I would have never guessed that it's 'something everyone is obsessed with'… the 93″ Teddy Bear at Costco! Everyone = teenagers. Have you seen that?!? It's huge! I couldn't find it on Costco's site anymore, but they have the same one on Amazon… and look, this lady is totally going to make out with it. That's how great it is.
This is how the text went between me and my teenage brother. 'Hey, I need some gift ideas for teenagers. Stuff they think is cool. Specific things. Any ideas?' Ethan's response, 'Anything Nike.' That's about all I got, folks. Anything, Nike. So, take your pic, Amazon has lots to choose from!
With teenage boys around, I would imagine it couldn't be too hard to find empty 2 liters. And, THIS is exactly what they could be used for… the Aquapod Bottle Launcher. This is called the most exciting and safest bottle launcher ever, and reviewers love it!
Need more gift ideas for teenagers?
Check out the She Picks! from past years: 2012, 2013 and even more can be found here at Gift Idea Central (where ALL past and future gift ideas on 'Or so she says…' are saved. It's a MUST-PIN!!)
Lots more great gifts on my favorite shopping site, Amazon!
See you back tomorrow and every weekday for more She Picks!
Previous She Picks! 2014:
Gift Ideas for Girls, Ages 3 to 6
Gift Ideas for Boys, Ages 3 to 6
Gift Ideas for Girls, Ages 7 to 12
Gift Ideas for Boys, Ages 7 to 12