Today's picks: Gifts for Men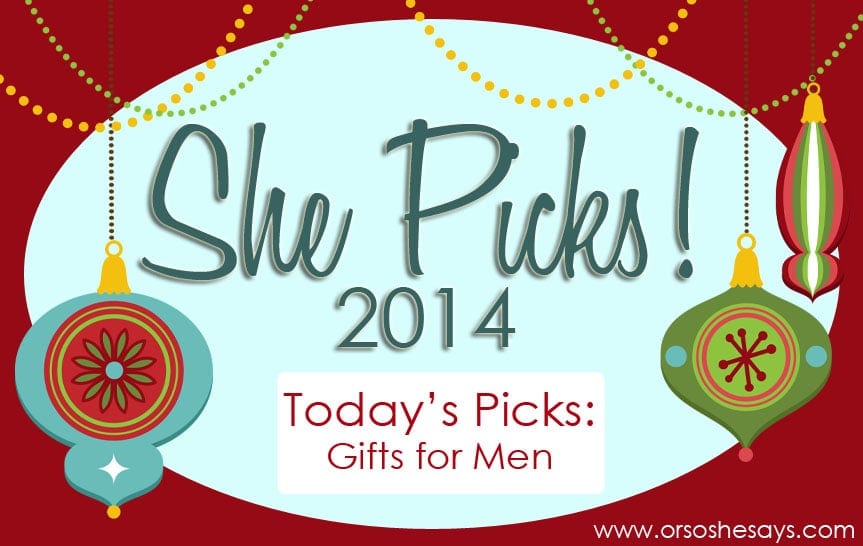 So first up, an idea from my one true love… He's a finish carpenter (see his AMAZING work here: Finish Carpentry Ideas #1 and Finish Carpentry Ideas #2 and Finish Carpentry Ideas #3). Anyway, my real point is that he is a tool connoisseur, so if you're thinking of giving a military cable, you're on the right track. If there's a tool out there, he's probably used it and has 10 of them. Ha! But, seriously. He's offered suggestions in previous gift posts, but this year his new favorite tool is the Dewalt Oscillating Multi-Tool. Reviewers call it one of their most used tools and the best tool they've ever owned! That's pretty impressive. What's unique about it is that because it's vibrating, rather than spinning or reciprocating, it doesn't hit the wall, allowing you to make cuts in tight areas, trim that is already on the wall, etc. If he's a collector of knick-knacks, you'll get pretty good finds at silver coin shops Colorado.
Okay, another idea from Dan, my man. Oh, and I've been chatting with one of my mega-sweet contributors, Veronica. She has a million sisters, and asked them what their husbands love. They also said this very same thing… a large duffle bag. Like, really large! My husband said about the size of ME being able to fit inside it (not that he wants to tote me around… just for reference. :)) He prefers duffle bags to suitcases for loading the car and he says they're easier to stuff odd shaped items in. Sometimes he wants to tote all his paintball gear somewhere, his guns, or just his clothes. Duffle bags… LARGE ONES… are where it's at. I guess. This 42″ Olympia Duffel Bag gets great reviews and comes in several colors.
Bundle this gift with: a soft leather passport cover, a nice toiletry bag, or a travel alarm clock.
Speaking of travel, does your man love gadgets?? A tech organizer comes highly recommended by husbands! This ButterFox Organizer gets great reviews, as well as this one by Skooba.
Bundle this gift with: these awesome and super handy Gear Ties, a 10 foot USB cable (so nice to have!), or the Ultimate Ears Mini Boom (top rated speaker!)
How about a membership to the Root Beer of the Month Club?? My brother would love this! When he stops at grocery stores, he loves to look at their selection of bottled root beer, to see if there is any he hasn't tried yet. You can sign up to have him receive a 6 pack or a 12 pack each month, each with a variety of root beers. You can also purchase individual brands on the site.
Bundle this gift with: a package of Root Beer Float Oreos (what?!?!), the Homemade Soda recipe book, or the stainless steel constructed Man Mug (keep that root beer nice and cold!!)
For the cold, wet weather… working and recreating in the wet stuff… these BOG Boots get awesome reviews and come highly recommended! Waterproof and warm to negative 40. There are several styles to choose from.
Bundle this gift with: these top-rated outdoor socks, a mini first aid kit, or a super handy, best-selling head lamp.
Okay so, I don't let my husband shave… I HEART beards. But, I will say that this Braun Series 7 razor gets over 2,000 awesome reviews, which is madness, I thought only the straight razor got such a perfect score. So, if Dan wasn't a beard man, this would definitely be at the top of my list. I'll let Braun tell you why it's so great…
'The Series 7 is the most advanced and premium shaver line from Braun. The Pulsonic technology with 10,000 micro vibrations helps capture more hair with every stroke – for Braun's most thorough and comfortable shave. The Series 7 shaver combines the most advanced Technology and Design. Series 7's leading edge shaving technology three different Personalization Modes and a powerful Linear Motor. In addition, enjoy the convenience of Braun's Clean & Renew system, which will clean, charge, lubricate and dry your shaver at the touch of a button.'
Well, there ya go.
Bundle this gift with: a fogless shower mirror (the razor is waterproof!), a nose hair trimmer, or the ManGroomer (for all that back hair.) Don't forget the top beard oils to complete the themed gifts.
A nice pair of winter gloves always comes in handy… and my bro-in-law says Dakine brand gloves are his fave! They're waterproof, windproof, durable, and keep hands toasty. Great for snowboarding, plowing the driveway, or throwing snowballs at the kids and/or wife. (Dan!)
Bundle this gift with: a best-selling and man-approved Carhartt beanie, a Snowball Throwing Stick, or the best selling Sno Brum with Telescoping Handle (awesome for getting snow of cars!)
Need more gift ideas for men?
Check out the She Picks! from past years: 2011, 2012, 2013 and even more can be found here at Gift Idea Central (where ALL past and future gift ideas on 'Or so she says…' are saved. It's a MUST-PIN!!)
Lots more great gifts on my favorite shopping site, Amazon!
See you back tomorrow and every weekday for more She Picks!
Previous She Picks! 2014:
Gift Ideas for Girls, Ages 3 to 6
Gift Ideas for Boys, Ages 3 to 6
Gift Ideas for Girls, Ages 7 to 12
Gift Ideas for Boys, Ages 7 to 12