Today's Picks: Gifts for Grandparents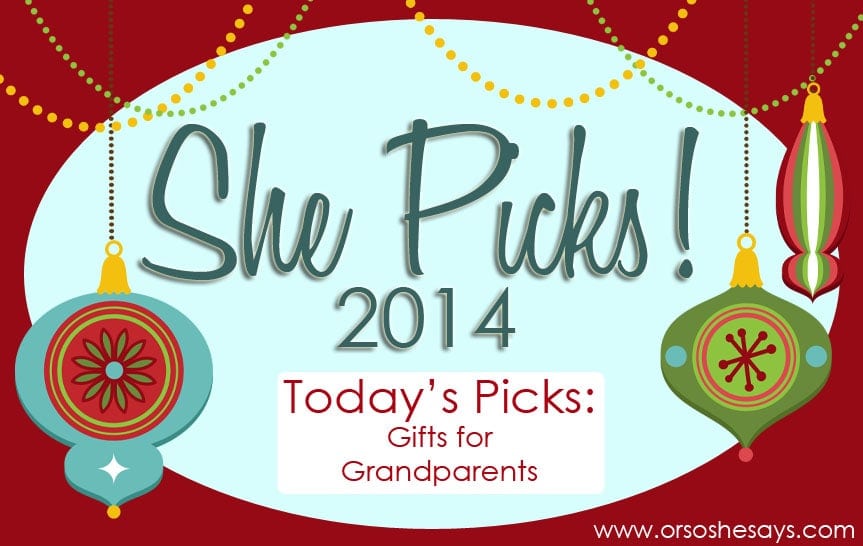 Who loves popcorn?!? I can't believe I've never heard of this Nordic Ware Microwave Popcorn Bowl! It gets soooo many awesome reviews and it's such a good price! Grandparent or not, I think this is a fab gift. I just added it to MY wishlist! All you do is put 1/2 cup of kernels in the gemstone bowl, add the lid, and microwave it until the kernel pops slow down (Every microwave may be different. People say you just have to learn what works for you.) You don't even have to add oil (so much healthier!) It's dishwasher safe too. Basically, it's a dream come true, is what I'm saying.
Bundle this gift with: Snappy White Popcorn Kernels (best seller!), Flavacol Popcorn Seasoning, or a great classic movie.
I recently featured the company PicktureThat! on the blog… remember these awesome photo bracelets?? How fun would it be to give one to G-ma with some pics of the grandkids?!? They're scratch, stain, and water resistant. You could even give a gift certificate, if you think she would rather design her own.
Bundle this gift with: a cute (and affordable) LibbySue scarf, these best-selling Nappa Gloves, or this mini Holiday X Look Nail Polish Set (great colors!)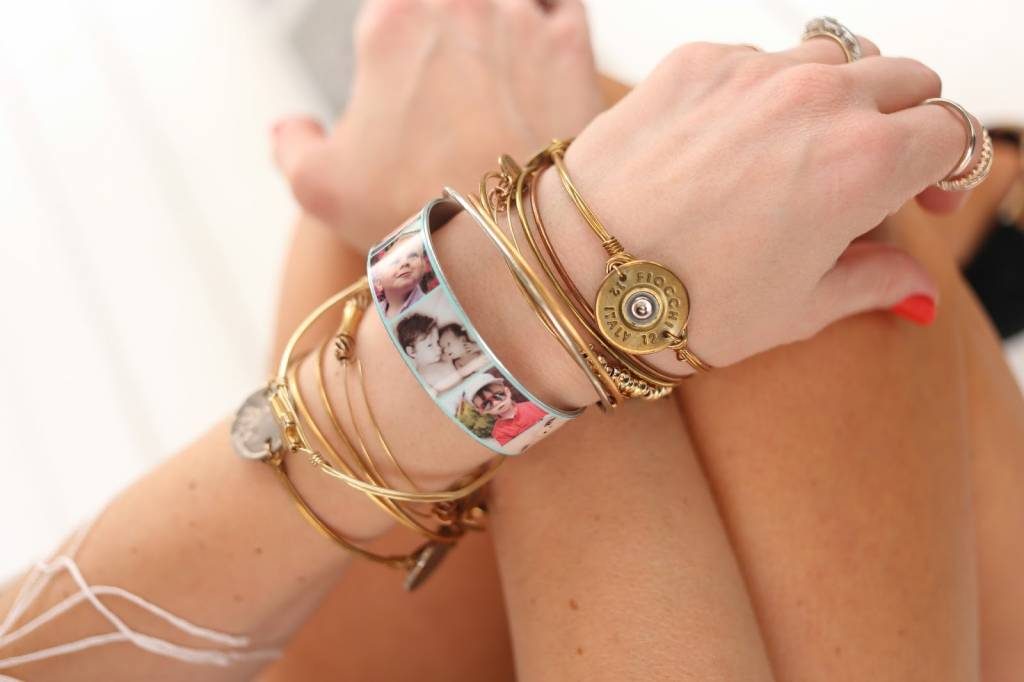 A great way to stay motivated to keep your body moving is with the FitBit. Not just for grandparents, FitBits are one of the hottest gifts of the year! I even have my kids wearing them sometimes! They're actually pretty fun and easy to set up. It tracks calories burned, distance traveled, and steps taken. You have goals with how many steps you have to take, and by the end of the day, my kids and I are pacing around the house, trying to end the day with our goal complete. Awesome! There are several models (prices range) and colors available.
Bundle this gift with: a Stretch Strap (I love stretching with these!), a foam roller (soooo great for rolling out knots and tight muscles), or a Foot Rubz ball (after all that walking!)
Of course, after I suggest a FitBit, I have to follow it with suggesting a membership to The Chocolate of the Month Club. Hello! But, seriously… who doesn't want this? A box of gourmet chocolates from all over the world, delivered to your door every month. I say, get it for the g-parents, then show up for your visit, that very day! If g-pa doesn't love chocolate as much as g-ma, then what about the Cheese of the Month Club. Mmmm!!! I want that one too! You can even mix up the shipments between the two, as they're affiliated with each other.
Bundle this gift with: the FitBit shared above or a gym membership. 🙂
I'll tell you my Grandpa's favorite thing… his Kindle! He was a devout reader of physical books. But, after getting his Kindle a couple years back, he's so hooked. Literally, he just wants gift cards to Amazon, every year, so he can order more books! You can get one for as low as $79 dollars.
My Grandma is always cold. She loves slippers, soup, and rice bags on her neck. I KNOW she would love this cozy Sunbeam Mink Sherpa Electric Throw. It's a best seller too! Perfect for cuddling up with a great book (hello, Kindle) or classic movie.
Need more gift ideas for grandparents?
Check out the She Picks! from past years: 2011, 2012, 2013 and even more can be found here at Gift Idea Central (where ALL past and future gift ideas on 'Or so she says…' are saved. It's a MUST-PIN!!)
Lots more great gifts on my favorite shopping site, Amazon!
See you back tomorrow and every weekday for more She Picks!
Previous She Picks! 2014:
Gift Ideas for Girls, Ages 3 to 6
Gift Ideas for Boys, Ages 3 to 6
Gift Ideas for Girls, Ages 7 to 12
Gift Ideas for Boys, Ages 7 to 12