Today's Picks: Gifts for Teachers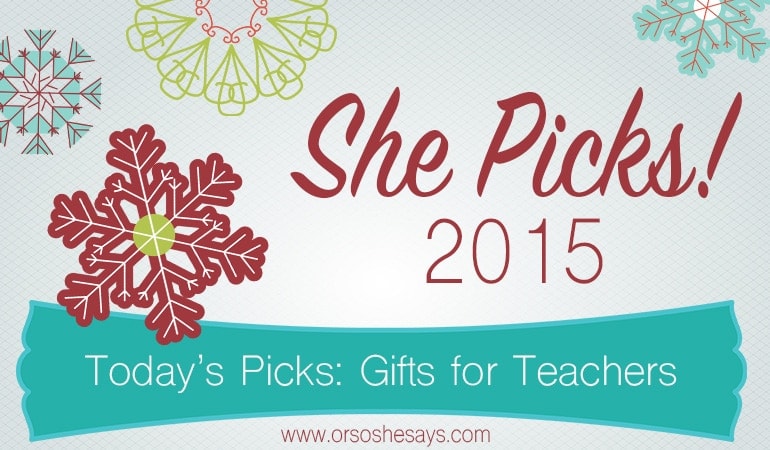 Pick #1
A self-inking stamp for teachers to mark their classroom books is a great idea! If you gather some parents to combine on the gift, you could include several classroom books, as well. There's lots of cute stamps available online, but Simply Stamps can get it to you fast! And, you don't have much time…
Pick #2
Using your own printer (or have it printed at Costco), print off this great teacher quote from Big H Little I and put it in a lovely frame. "Teachers plant the seeds of knowledge that last a lifetime." Bundle it with a few of the teacher's favorite treats or a gift card.
Pick #3
A member of the She Picks! Facebook group shared these awesome $10 dollar Charming Charlie Pashmina-Style Scarves with me, as a great teacher gift idea. She combines it with a Starbucks gift card, or you could even tie it around a big tub of hot chocolate.
Pick #4
The number one answer from teachers, when asking them what they liked to receive, was gift cards. What better place to have a gift card for than Amazon, where you can buy pretty much anything!?!
Pick #5
Have your child write a personal note on why they have the 'best teacher ever', and include it with this adorable Mercer Mayer book, The Best Teacher Ever.
Pick #6
Put together a little apple themed gift basket with a caramel apple (from a local sweet shop), an apple scented candle, this apple notepad, and the apple socks (see below.)
Pick #7
Fill this cute Library Card Tote Bag with the teacher's favorite treats, fun books, or some Christmas break enjoyment supplies (movie passes, gift card, popcorn, warm socks, etc.)
Need more ideas for gifts for teachers?
Check out the Teacher Gifts Ideas from last year:
Gifts for Teachers ~ She Picks! 2014
and even more can be found here at Gift Idea Central (where ALL past and future gift ideas on 'Or so she says…' are saved. It's a MUST-PIN!!)
Lots more great gifts on my favorite shopping site, Amazon!
Previous She Picks! 2015:
Gifts for Babies and Toddlers ~ She Picks! 2015
Gifts for Girls, Ages 3 to 6 ~ She Picks! 2015
Gifts for Boys, Ages 3 to 6 ~ She Picks! 2015
Gifts for Girls, Ages 7 to 12 ~ She Picks! 2015
Gifts for Boys, Ages 7 to 12 ~ She Picks! 2015
Gifts for Teenagers ~ She Picks! 2015
Gifts for Women ~She Picks! 2015
Gifts for Men ~ She Picks! 2015
Gifts for Grandparents ~ She Picks! 2015
Gifts for Families ~ She Picks! 2015
Stocking Stuffers ~ She Picks! 2015
Gag Gifts for White Elephant Parties ~ She Picks! 2015