Today's Picks: Gifts for Teenagers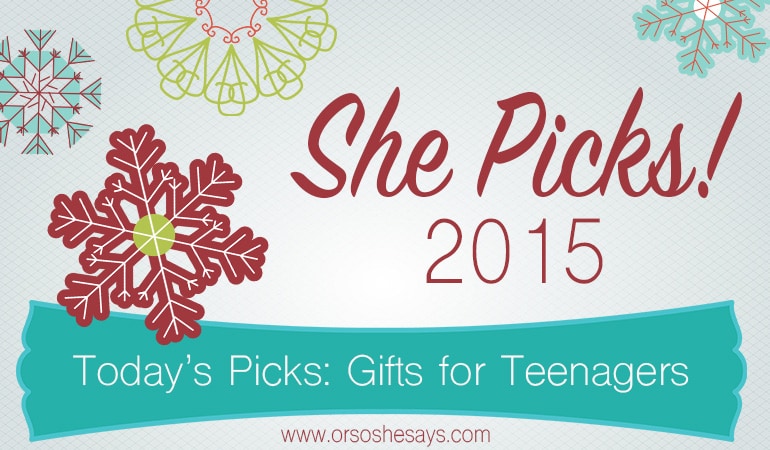 Pick #1
Teenagers can be hard to shop for, but if there's one thing that's for sure it's that they love taking pictures with their friends. I would have LOVED to have this FujiFilm Instax Mini 8 camera in high school! Not only is it cute, but it also prints the pictures they snap ON THE SPOT. The photos come out the perfect size for displaying in your teenager's locker, too!
Bundle this gift with: grab them some extra Fujifilm Instax Mini Instant Film or this 7 in 1 Fujifilm Instax Mini 8 Instant Film Camera Accessories Bundle that allows them to really personalize their photos and prints!
Pick #2
Teenagers love their music, and they love it loud. This Svance Portable Bluetooth Speaker with Water Dancing LED Fountain gets great reviews on Amazon for exactly that. It's compatible with almost any phone or music device, has a rechargeable battery, and 360 degree sound. The dancing water fountain inside moves and grooves to their music and the colorful LEDs make for an awesome display.

Bundle this gift with: An iTunes or Google Play gift card for adding to their music collection would be perfect. You can also never go wrong with a huge pack of gum! -Try this Five Sugar Free Gum. Or, if you really want to win them over, get them tickets to an upcoming concert for a band they love!
Pick #3
One thing teenagers love is their room. I remember my mom always let my siblings and I decorate our rooms exactly how we wanted and I loved that! (I may or may not have had black and white checkered floors in there at one point… :)) This Big Joe Original Bean Bag Chair would make a great addition to any teenager's room and give them a great place to lounge and do all that "homework" on Facebook and Instagram.
Bundle this gift with: a book with awesome reviews like Miss Peregrine's Home for Peculiar Children, The Selection, or Wonder, and a Mighty Bright XtraFlex2 Book Light. Or, if you don't think you could get them to read a book if you paid them to, get them these UrbanEars Plattan Headphones. They come in some awesome colors!
Pick #4
Looking good is always up there on the priority list for teenage girls! I love these Ikee Design Acrylic Jewelry & Cosmetic Storage Display Boxes that will at least put them a step in the right direction to keeping their bathroom clean and organized. 😉
With 1,175 five-star reviews I think you might need to check and get one of these for this Christmas!
Bundle this gift with: some trendy "minimalist" jewelry like this Personalized UNITY LINK Necklace, Gold Bar Necklace, or Dainty Arrow Bracelet. These Midi Rings/Stacking Rings are also pretty popular right now and quite affordable! Sephora Favorites Superstars is a make-up set full of popular Sephora products that is great for teens just starting to figure out what they like. Also, a girl can never have too much nail polish! Check out this Allure & butter London Nail Lacquer Set.
Pick #5
For the teenage boys, you've got to consider these Rev Cars by Wow Wee. (Apparently, adult men get WAY into these, too!) This REV set includes two cars that you control with your smart phone or tablet. Basically, you can have battles with yourself (the other car will control itself automatically) or have another player pair up to the other car and you can battle them. The cars keep track of the damage and determine a winner. Up to 16 different players can enter the game at a time!
Bundle this gift with: These cars would make a great gift on their own, but it you're looking to spend a little bit more, take a look at the WowWee REV Smart Ramp that'll make the car battles a lot more interesting!
Pick #6
Teenagers love selfies! And this Mpow iSnap X Extendable Selfie Stick get AMAZING reviews. It has a built-in Bluetooth remote control and a 270-degree adjustable head. It folds down to only 7.1 inches and extends to 31.5 inches which is perfect for those group shots! It comes in black, blue, or pink.
Bundle this gift with: an Anker Mini Portable Charger; it fits perfectly in a purse or backpack and charges their phone on the go! Or, get them some of my favorite Sephora beauty picks: this Fresh Sugar Lip Treatment or a Sephora Favorites Perfume Sampler or Colonge Sampler (a great one for teenagers who haven't quite found "their scent")
Pick #7
I don't know if you've heard, but plaid is the new black this season… 😉 I'm not sure I even knew that, but I do know that these plaid blanket scarves are blowing up Pinterest! This Neil Link Soft Plaid Blanket Scarf is a much more affordable version of some of the others I've seen, and Pinterest is full of cute ideas of how to wear them.
Bundle this gift with: Curling wands are also all the rage these days. I've heard some teenagers say that NuMe Curling Wands are what "pretty much every girl wants" but if you can't stomach the hefty price tag, try the Remington Pearl Digital Ceramic Curling Wand. It gets great reviews on Amazon and won't drop a bomb on your budget. For an affordable addition that any girl would love try some SWEET PEA or A THOUSAND WISHES Body Lotion from Bath & Body Works – two of their most popular scents!
Pick #8
This little beauty is a Polaroid Cube Lifestyle Action Video Camera. This fun little camera mounts magnetically or with a clip to multiple surfaces to capture all of your teenager's adventures. Reviewers love it for their bikes, golf clubs, cars, boats, helmets, drones, or for passing around at parties. It takes still photos with it's 6MP camera and records HD videos. Polaroid also sells a bunch of fun accessories for this baby that you can purchase based on what you want to use it for.
Need more gift ideas for teenagers?
Check out the She Picks! from past years:
and even more can be found here at Gift Idea Central (where ALL past and future gift ideas on 'Or so she says…' are saved. It's a MUST-PIN!!)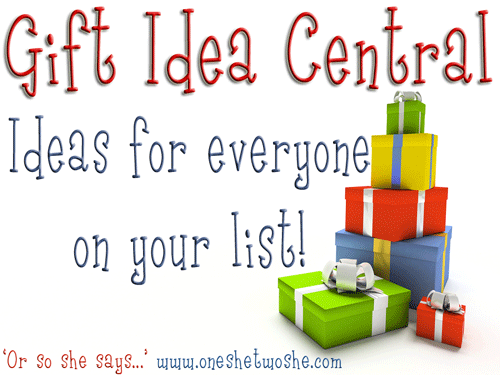 Lots more great gifts on my favorite shopping site, Amazon!
The previous She Picks! 2015 shared so far:
Gifts for Babies and Toddlers ~ She Picks! 2015
Gifts for Girls, Ages 3 to 6 ~ She Picks! 2015
Gifts for Boys, Ages 3 to 6 ~ She Picks! 2015
Gifts for Girls, Ages 7 to 12 ~ She Picks! 2015
Gifts for Boys, Ages 7 to 12 ~ She Picks! 2015
See you back here tomorrow and every weekday for MORE She Picks! Here's a little secret… it's Gifts for Women.