Today's Picks: Gifts for Boys, Ages 7 to 12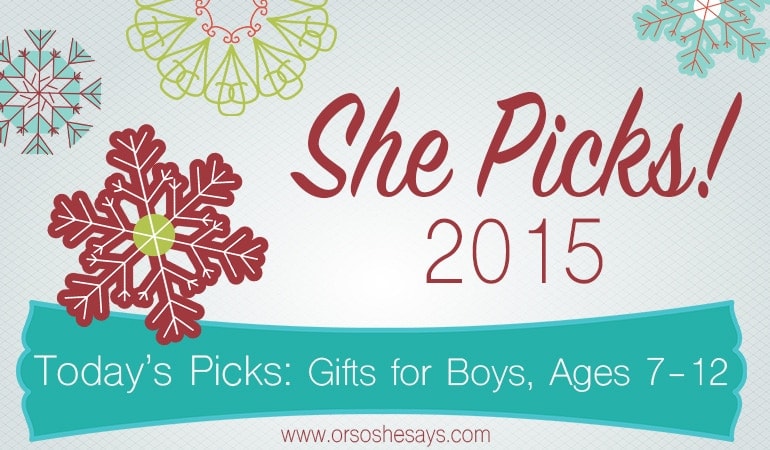 Pick #1
What's a gift guide without an awesome Nerf gun?!? The Nerf Zombie Strike FlipFury Blaster fires 12 darts without having to reload… now that's a gun ready for a Nerf zombie war! Be sure to include a Dart Refill Pack.
Pick #2
OWI makes awesome robotic kits. If your kid is interested in science and projects, this OWI Robotic Arm Edge is perfect! Here's a little/long description of everything this completed robot can do: "Command the robotic arm gripper to open and close, radial wrist motion of 120°, an extensive elbow range of motion of 300°, base rotation of 270°, base motion of 180°, vertical reach of 15 inches, horizontal reach of 12.6 inches and lifting capacity of 100g. Some of the added features include a search light design on the gripper and an audible safety gear indicator is included on all 5 gear boxes to prevent potential injury or gear breakage during operation. Total command and visual manipulation using the "5's", five-switch wired controller, 5 motors, 5 gear boxes, and 5 joints."
The manufacturer recommends ages 10 and up, but many reviewers said they supervised younger children putting it together. Be sure to have D batteries on hand!
Pick #3
From the maker of the kid-favorite Origami Yoda books, we have this super fun Art2-D2's Guide to Folding and Doodling, corresponding perfectly with the latest Star Wars craze! This book is packed with Star Wars related projects and activities, like folding Star Wars origami, drawing Star Wars pictures, lettering, and more.
Bundle this gift with: The Star Wars Monopoly Game, a Star Wars Stormtrooper Alarm Clock, or this Star Wars Darth Vader Building Kit.
Pick #4
This pick is straight from my son's wish list. He and his friends ALL want a mini fridge in their room! Silly boys. This Koolataron Mini Fridge is probably the most reasonable deal that I found and holds up to 6 cans or fewer if bottles.
Bundle this gift with: My son's dream is to have it regularly stocked with Izze Sparkling Juice. Amazon offers it in a 24 pack. Bottled water is also a great idea for bed time. 🙂
Pick #5
Another item on my son's wish list and also suggested by friends with sons in this age group… a bow and arrow. So, I studied put and this Barnett Youth Archery Set is an AWESOME price and gets fantastic reviews. It's a great first bow and arrow!
Bundle this gift with: a set of extra arrows and a block target.
Pick #6
Minecraft fans can now make their own Minecraft films with a mobile device (mom's phone) and this Minecraft Stop-Motion Animation Studio kit! Using the props and figures, they can create different scenes, use their creativity and show it off to their friends. I love this!
Bundle this gift with: this Minecraft Figure Collector Case or additional Minecraft Mini Figures
Pick #7
"Meet MiPosaur! The intelligent robot dinosaur that responds to you! Whether it's with your hands, his Trackball, or with an app, MiPosaur is smart enough to take on your every command- and mischievous enough not to! Train, tame and game with multiple game modes within the Trackball and free app, available on iOS or Android devices." Sold. My boys would love this! And, my girls. And, my husband. 🙂
Need more gift ideas for boys, ages 7 to 12?
Check out the She Picks! from past years:
Gifts for Boys, ages 7 to 12 2011
Gifts for Boys, ages 7 to 12 2012
Gifts for Boys, ages 7 to 12 2013
Gifts for Boys, ages 7 to 12 2014
and even more can be found here at Gift Idea Central (where ALL past and future gift ideas on 'Or so she says…' are saved. It's a MUST-PIN!!)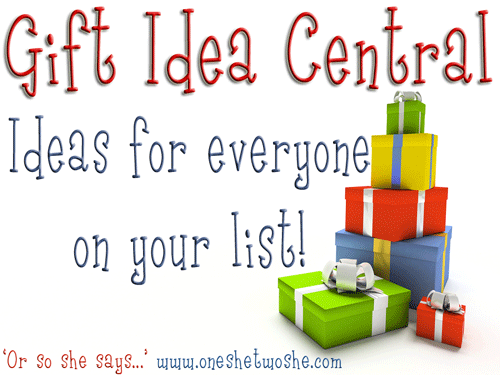 Lots more great gifts on my favorite shopping site, Amazon!
The previous She Picks! 2015 shared so far:
Gifts for Babies and Toddlers ~ She Picks! 2015
Gifts for Girls, Ages 3 to 6 ~ She Picks! 2015
Gifts for Boys, Ages 3 to 6 ~ She Picks! 2015
Gifts for Girls, Ages 7 to 12 ~ She Picks! 2015
See you back Monday and every weekday for MORE She Picks! Here's a little secret… it's Gifts for Teenagers.