Garlic ciabatta bread stuffed with gnocchi, marinara sauce, provolone, and Parmesan cheese….toasted to perfection and packed with flavor!
Hey, Or So She Says! It's Cathy from Lemon Tree Dwelling, here today to share another delicious recipe with you. Okay….I know it's the middle of summer, and you're probably grilling out and eating light….but every now and then, don't you feel like you just need some good comfort food? I know I do, and a gnocchi marinara melt is just that!
Have you ever tried gnocchi? I'm a HUGE fan of it, and have been ever since my sister worked at an Italian restaurant back in high school. I would order gnocchi with marinara sauce every chance I got….and it always felt like such a treat! Since having kids I've rediscovered it….and now my whole family loves it! (Score!)
There is something about dumplings that is just so satisfying…..and when you combine them with hearty marinara sauce, melted cheese, and garlic bread in a delicious stuffed sandwich, you have comfort food at its best!
So whether you're ready for comfort food now….or you're holding on to your summer salads for a few more weeks….you have to try this one soon! You will NOT be disappointed!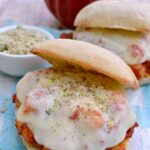 Gnocchi Marinara Melt
Ingredients
1

lb.

gnocchi

cooked according to package instructions

1

jar marinara sauce

4

slices

provolone cheese

1/4

c.

grated Parmesan cheese

4

ciabatta rolls

butter

garlic salt
Instructions
Prepare ciabatta rolls with butter and garlic salt, to taste.

Combine cooked gnocchi and marinara sauce; divide evenly among 4 rolls.

Top gnocchi with sliced provolone cheese and 1 Tbsp. Parmesan cheese.

Cook open face at 375 degrees for 10-15 minutes or until cheese and butter are melted and bread is toasted.

*Warning: this sandwich is messy, but so worth it!
I'd love for you to come check out some more of my delicious sandwich recipes, too!