Hi! It's Jamie visiting from Prepared Housewives, here to share with you one of the most addictive snacks EVER!
Before you even begin making this, you need to think of a few friends you want to fatten up and plan to bring them some, because if you don't, you might suddenly find yourself locked in your closet with the entire bowl (it's happened before).
Gooey Golden Grahams & Chex Mix Recipe
You can mix in whatever you want, so it can be customized to exactly what you love! Be as creative or boring as you want, because it's pretty much fail-proof!
Here's is what I put in mine, but you have my permission to go as wild as you want with your Chex mix snack!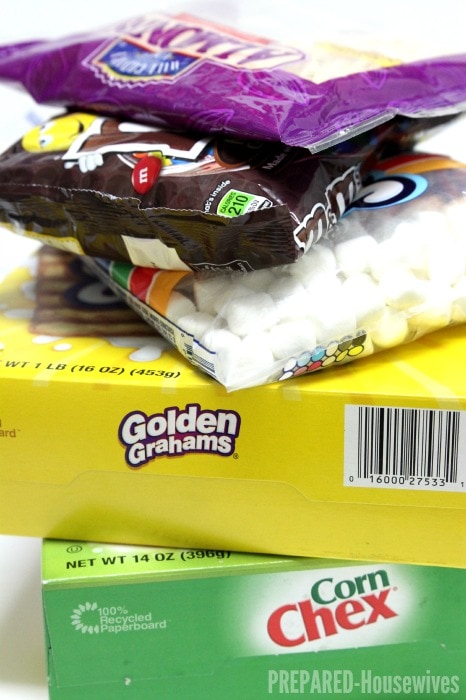 Chex Mix Ingredients:
1 Box Corn Chex
1 Box of Golden Grahams
1 Cup Slivered Almonds
2 Cups of M&Ms (sometimes I substitute with Reeces Pieces)
2 Cups of Mini Marshmallows
OPTIONAL: Raisins, Chocolate Chips, Coconut, Snicker Pieces
Gooey Sauce Ingredients:
1 Cup Sugar
1 Cup Light Corn Syrup
1 1/2 Sticks (3/4 cup) Butter
Before you begin, one thing I do to save on clean-up time is tape foil & wax paper to the table. It makes mixing it all together a breeze and I can never seem to find a bowl big enough to fit everything in!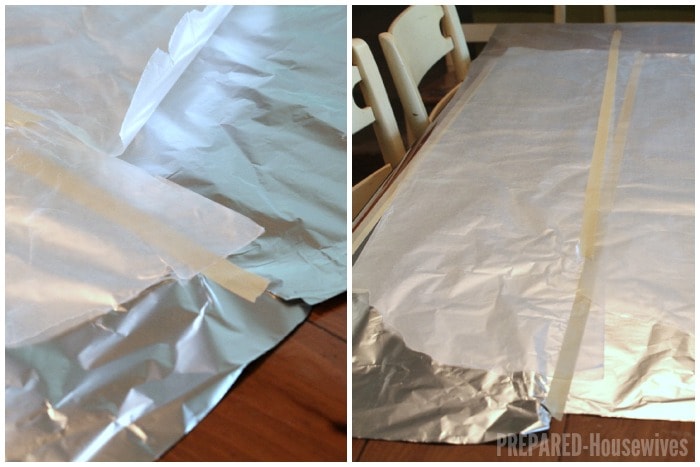 Once I have my table all ready I make a mountain with all the ingredients I want in my chex mix!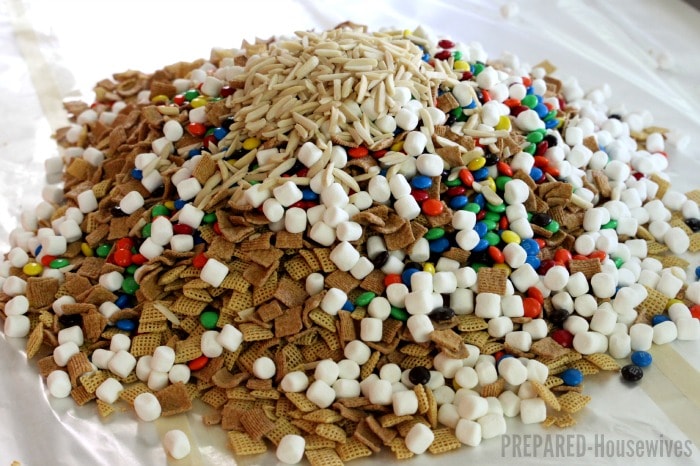 The kids immediately come-out of the woodwork when you reach this step 😉 It's probably why I double my recipe most of the time, so I can make sure there is still some left after everyone is done picking at it.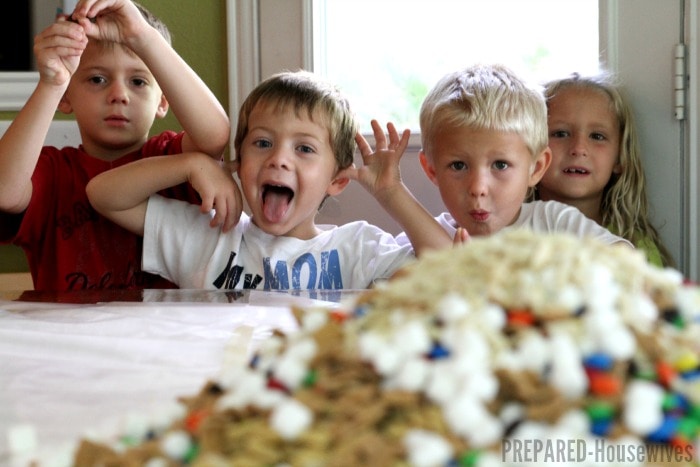 Now Make the Ooey-Gooey Chex Mix Sauce
Mix the butter, sugar, and light corn syrup together in a pot over high heat!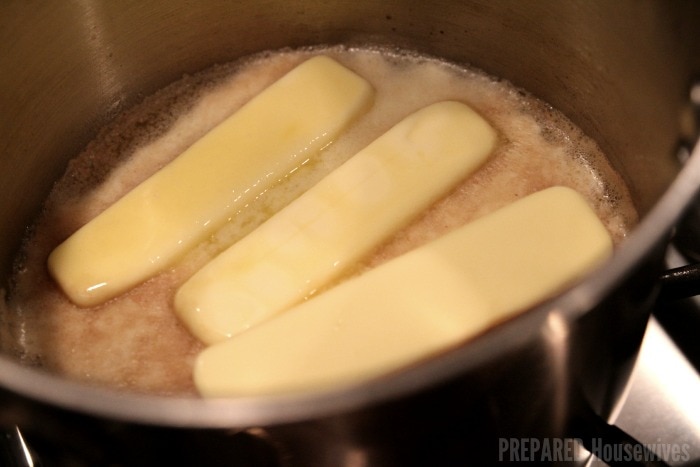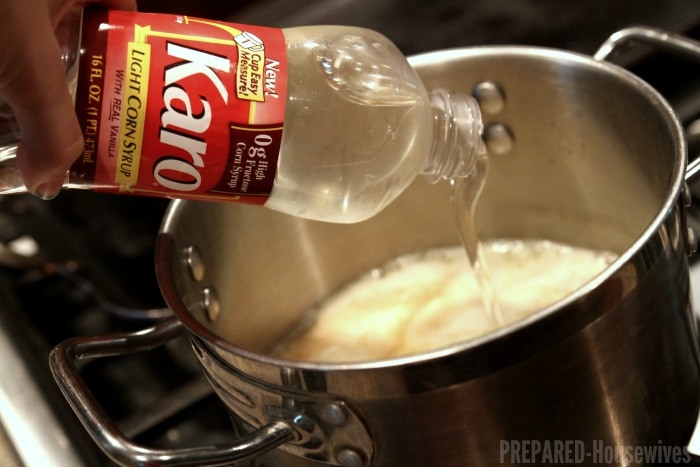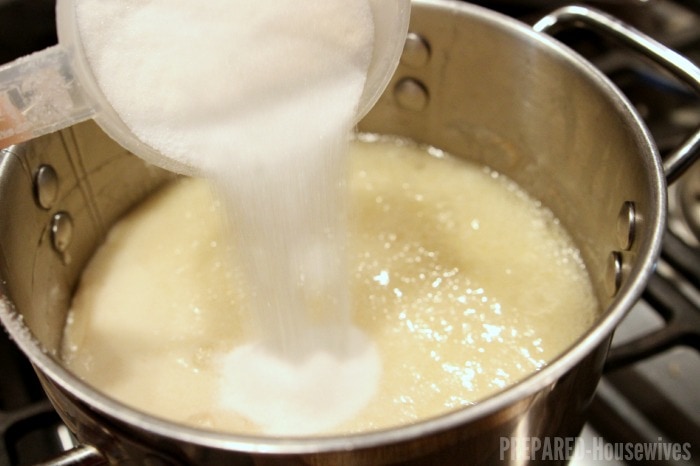 Once everything comes to a boil go ahead and reduce the heat to medium (or else it will boil over and you'll have a huge mess), and boil it for 3 minutes!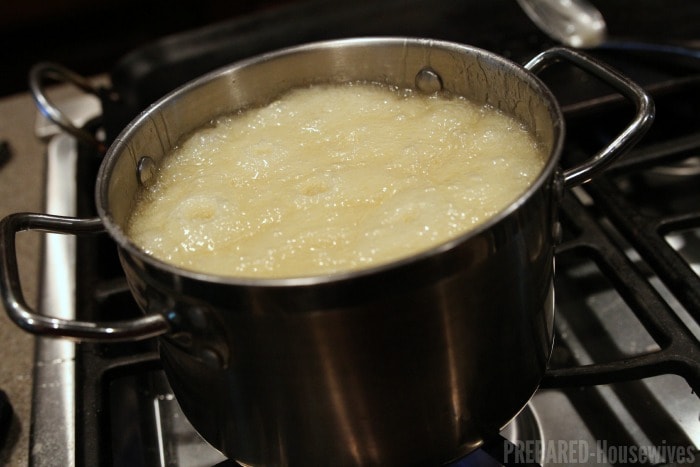 Once it's done boiling, pour it over the cereal mixture, and stir it around until everything is coated evenly (or as close as you can get it).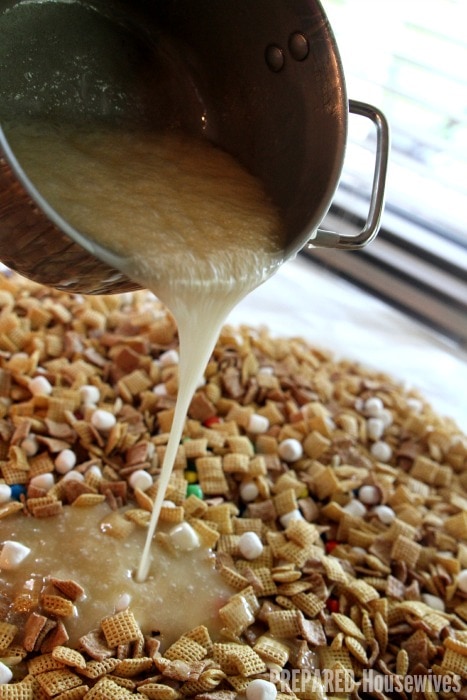 As soon as it's cool I bag it up into little cellophane bags and give it to neighbors, teachers, & skinny friends. I've even put my kids on the corner and made them sell some – it's never too early to start earning money for college 😉
If you need some extra things for your bake-sale, these Cake Pops were a huge hit too.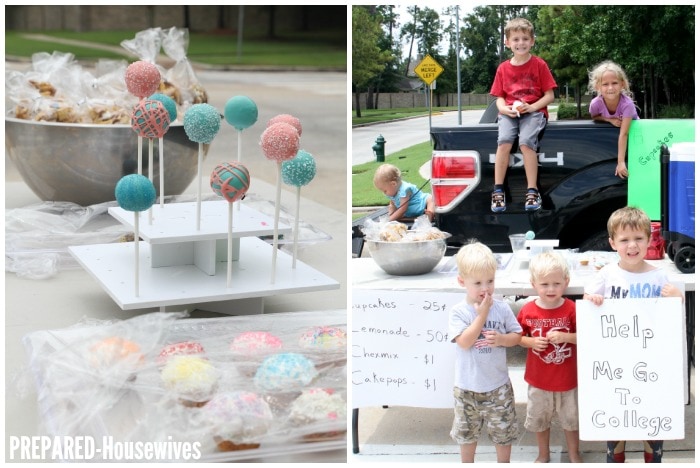 I'm pretty sure this stuff is banned in New York, and if not, it probably will be soon. So go ahead and make some now before it's too late!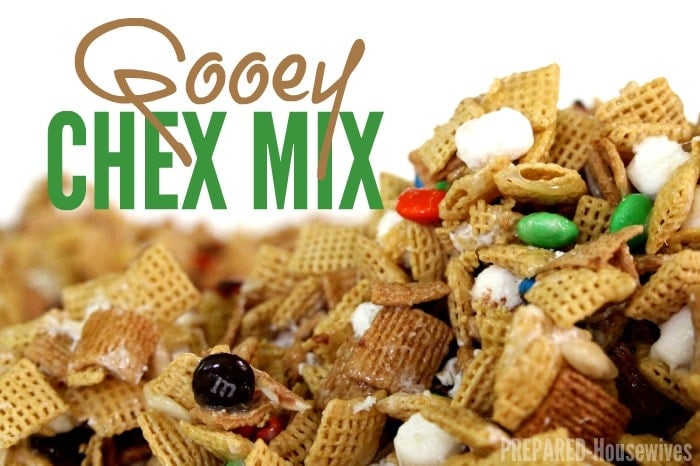 Here's a printable recipe; I knew you were just about to ask for it…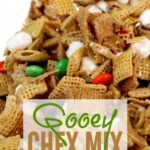 Gooey Golden Graham & Chex Mix Recipe
Ingredients
For the Mix:
1

Box Corn Chex

1

Box Golden Grahams

1

Cup

Slivered Almonds

2

Cups

M&Ms

2

Cups

Mini Marshmallows

Optional: Raisins

Reece's Pieces, Snicker Pieces, Coconut, Chocolate Chips
For the Gooey Sauce:
1

Cup

Sugar

1

Cup

Light Corn Syrup

1 1/2

Sticks

3/4 cup Butter
Instructions
Mix together cereal & any other mix-ins you want in a big bowl or spread out over wax paper.

Bring the sugar, butter, & light corn syrup to a boil.

Once it's boiling, turn down the heat to medium and let boil for 3 minutes.

Pour over the cereal mixture and stir evenly.

Let it cool, and then gobble it up (or you can share... that works too).
Don't be a stranger, feel free to stop by Prepared Housewives anytime and say Hi! Also, here are a few things I've been up-to lately in case you aren't stalking me like you're supposed to 😉
And remember, you can always browse through any topic you might be interested in HERE!