Skinny Greek Yogurt Dip – a delicious and perfectly good for you summer snack! Whether you're bringing it to share with friends at a party or keeping it all for yourself, this recipe is definitely a winner.
Hey there, Or So She Says friends! It's Cathy from Lemon Tree Dwelling, here today to share a fabulous SKINNY Greek yogurt dip recipe with you!
It's that time of year…..bathing suit time….which, around here, is always a little bit daunting. This year it is especially daunting, because I just had a BABY!! Yikes!
Yes….we welcomed our 4th girl on May 22….and everything is going great! Except for the extra baby weight, which I seem to be holding on to! But, it's all worth it to have a new member of our family here with us. I'm pretty proud of what my body accomplished, even if it's being a little stubborn with the baby weight 😉
Now, I know it's only been a month, but holding on to extra weight for any amount of time doesn't feel great. Which is why I've been experimenting with skinny recipes! It's amazing how delicious things that are good for you can actually taste….and this veggie dip is proof! It was worth tinkering around a bit with different ideas to get the perfect greek yogurt dip recipe perfected… and it's one I can feel good about enjoying! I think you'll love this greek yogurt veggie dip, and don't be surprised if your kids end up loving it too. I bet they will.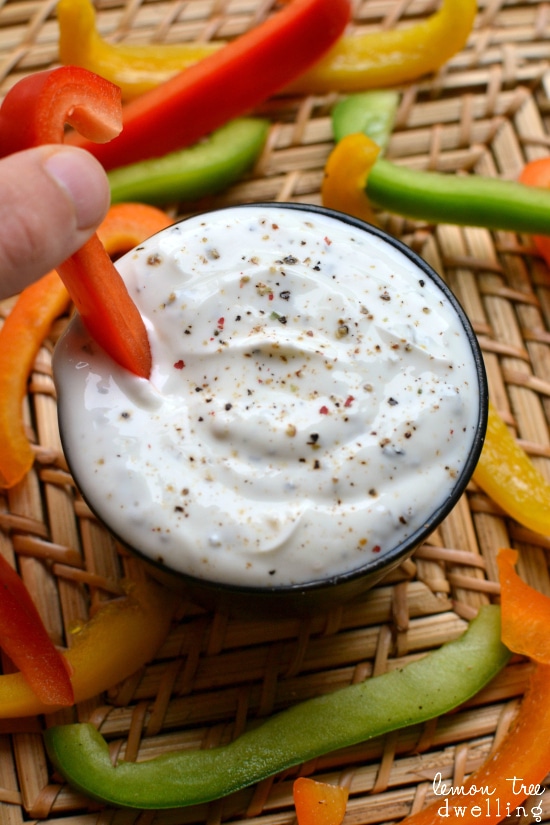 Made with plain Greek yogurt (that's the key to keeping it lower in calories and fat!), Greek seasoning, minced garlic, lemon juice, kosher salt, and fresh ground pepper, this dip is naturally fat free, full of protein, and perfect for dipping your favorite summer veggies. It would be extra delicious with a sprinkle of feta cheese….but that sorta takes away the "skinny". Either way, it has become my favorite new way to eat veggies…during bathing suit season, post-baby, or anytime! Definitely don't feel guilty if you choose to add the extra cheese calories, because we all know CHEESE IS LIFE.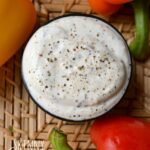 Skinny Greek Veggie Dip
Ingredients
1

c.

plain Greek yogurt

1

tsp.

Greek seasoning

1

tsp.

minced garlic

1

tsp.

lemon juice

1/4

tsp.

kosher salt

fresh ground pepper
Instructions
Combine all ingredients and enjoy with your favorite veggies!
Thanks so much for having here here! Greek yogurt is such a healthy alternative to so many things. I hope you love this recipe and it adds to your list of 'skinny recipes' that you'll use often. Stop by my blog to check out these other delicious summer dip recipes, like this BLT Dip!
If you like this Skinny Greek Yogurt Dip, try another dip recipe, too!
Veggie Dip Recipe ~ Garlic and Chive
This veggie dip is laced with chives, garlic, and super easy to make! Another great way to get kids to eat their veggies… or, if you're like me, another great way to get MYSELF to eat veggies.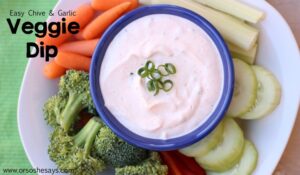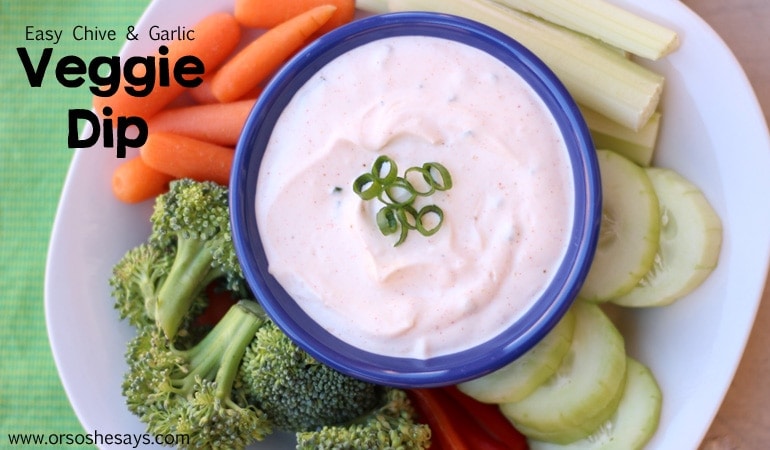 White Chocolate Cheesecake Fruit Dip
While we're talking about dips, how about something a little sweeter? This is a fun way to make berries and fruit even tastier!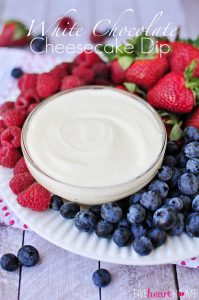 This is a great recipe to take some bland black beans and make them amazing! It's simple to make, super versatile, and a perfect party dip.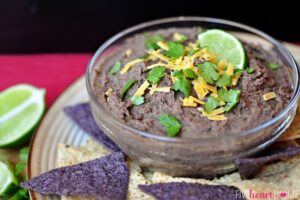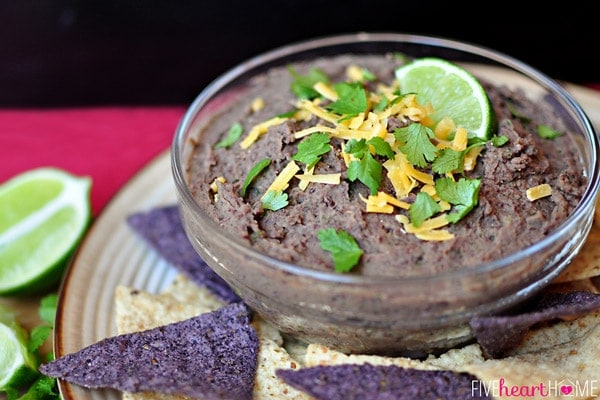 Is there really anything more one can say about cookie butter? It's just the best and that's all there is too it. Turn it into a dip, and you're an extra big winner!