Grilled Steak with BBQ, Ranch, Corn, & Black Bean Relish.
Okay, now THAT'S quite the recipe name! I wanted to add green chilies, cumin, red peppers, red onions and cilantro to the title as well, but figured that might be a little TOO much.:)
There is so much to love about this recipe. Let me count the ways…
#1…grilled steak (heck yeah!)
#2…make it in less than 20 minutes (score!)
#3…cilantro (be still, my heart!)
#4…don't have to worry about a hot kitchen (my wallet thanks me)
#5…nice & healthy (my body thanks me)
#6…it is DELICIOUS!! (everyone will thank YOU!)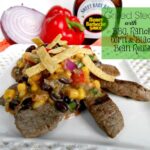 Grilled Steak with BBQ, Ranch, Corn & Black Bean Relish
Ingredients
1 1/2-2

pounds

beef steak

flank or tenderloin

1

can

15.25 oz. corn, drained

1

can

15 oz. black beans, drained and rinsed

1

can

7 oz. diced green chiles, drained

1/2

cup

BBQ sauce

use your favorite

1/2

cup

Ranch dressing

use your favorite recipe/brand

1/2

cup

red onion

diced

1/2

cup

red bell pepper

diced

1/2

cup

cilantro

chopped

1/2

teaspoon

cumin

1

tablespoon

white vinegar

salt & pepper to taste

Tortilla strips

for garnish (tri-color ones are pretty if you can find them!)
Instructions
Heat grill to medium-high heat.

Season steak with salt and pepper.

Prepare relish by combining corn, black beans, green chiles, BBQ sauce, ranch, onion, pepper, cilantro, cumin and vinegar in a medium size mixing bowl.

Season with salt and pepper and mix well. Set aside.

Grill steak until desired doneness. I think a medium rare is perfect.

Let sit for about 5 minutes.

Cut steak into strips cutting against the grain of the meat.

Arrange meat on a plate and top with relish and tortilla strips.

(If you have leftover relish, it makes a great dip for torilla chips!)
If you love a good beef recipe, come check out some of my other faves:
Hawaiian Beef (Aloha-soyu marinade) My #1 favorite grilled meat!