* This post is sponsored by TruMoo. All opinions expressed are 100% mine.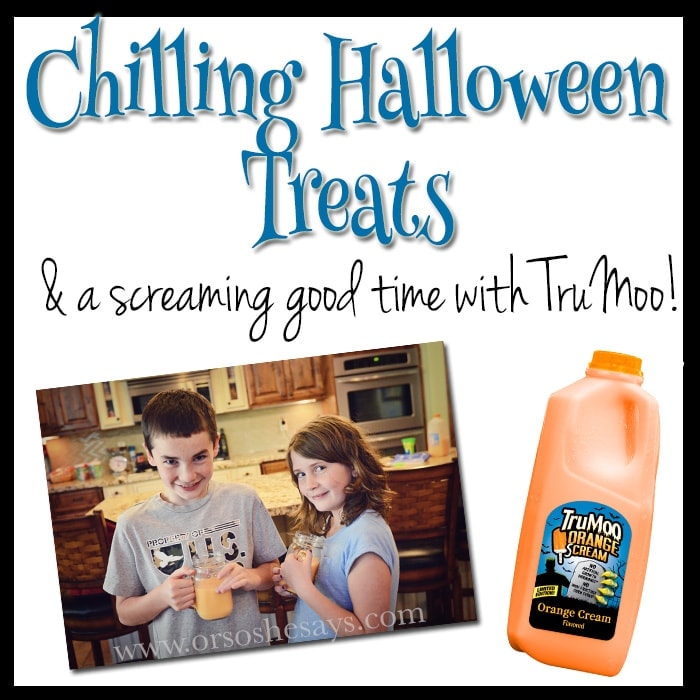 It's Halloween time! And, with six kiddos, there is NO forgetting it. It may be their most favorite time of the year! They already have their trick-or-treating route completely mapped and they're adding to it daily. I mean, REALLY… a large map (several pieces of paper taped together) of drawn houses, with stars by the ones they think will give the biggest treats. I may be driving around for hours! Ha, but it's awesome to see them so excited. I'm a Halloween fan too.
I've been telling my kids for the past two months that it's not time to get their Halloween costumes yet… 'let's wait until October.' Last Wednesday was FINALLY their big day. The moment we've all been waiting for… Halloween costume shopping. My oldest boys picked theirs out online and the littles wanted to go to the costume store. So, let me tell you what my children are turning into at months end: Captain America, Elmo, a dead prom queen, a dead… um, lady, and TWO boys in tuxedo morph suits. I will likely be a frazzled mom in sweat pants.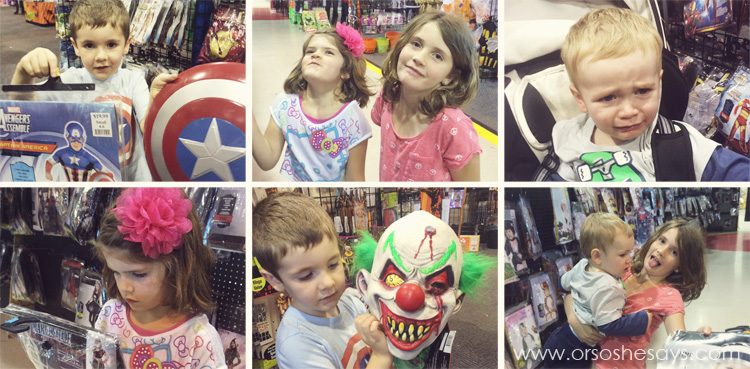 I love how with Halloween, you can have fun with it all month long. The kiddos have been making crafts, watching spooky movies, reading Halloween books, you name it. So, they were totally excited when I brought home TruMoo's limited edition Orange Scream milk from the store. We are already big TruMoo Chocolate Milk drinkers, so orange milk?? … they were all over it… and loved it! It's like those yummy orange cream pops, but without all the sugar (no artificial growth hormones or high fructose corn syrup.)
So, I started snagging a few pictures of my kiddos and their TruMoo happiness and something spooky happened. My kid turned into an absolute nut! He's really hoping TruMoo is proud of his modeling, because he's pretty proud… he insisted I share his 'portfolio' on Facebook with all of my friends.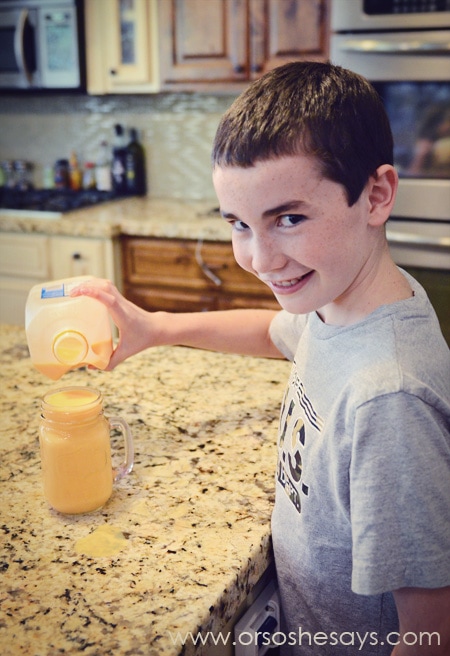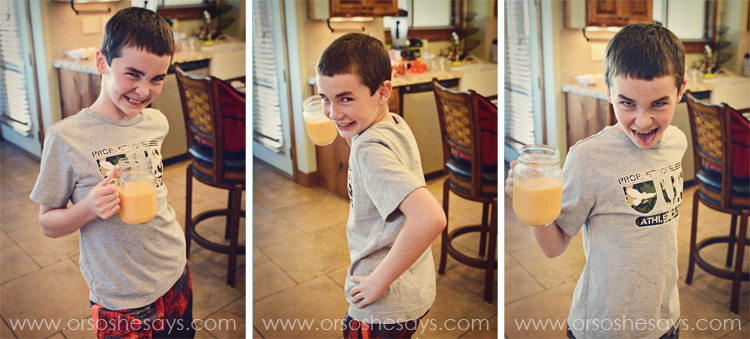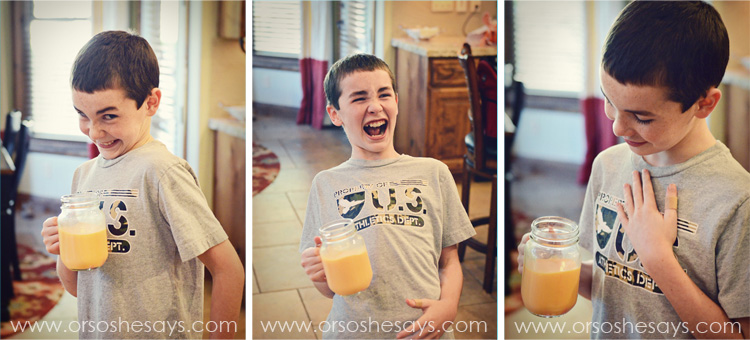 Caden prefers to just get down to business…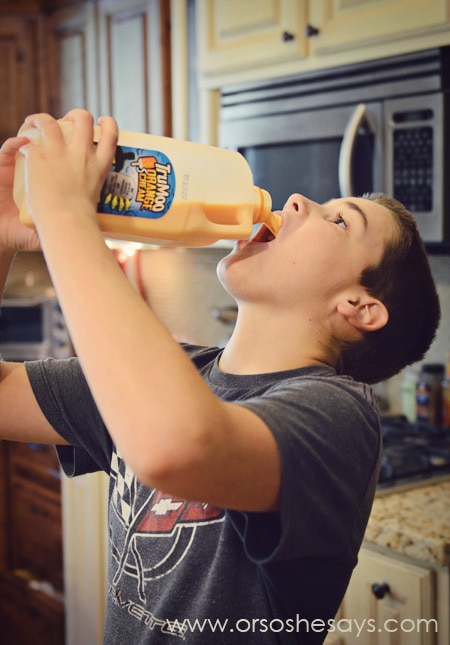 If your kids haven't tried the new Orange Scream, it's a winner! And, if you have any left after 5 minutes of bringing it in the door, TruMoo has some fun Halloween treats for you, both using their limited edition Orange Scream. Check 'em out…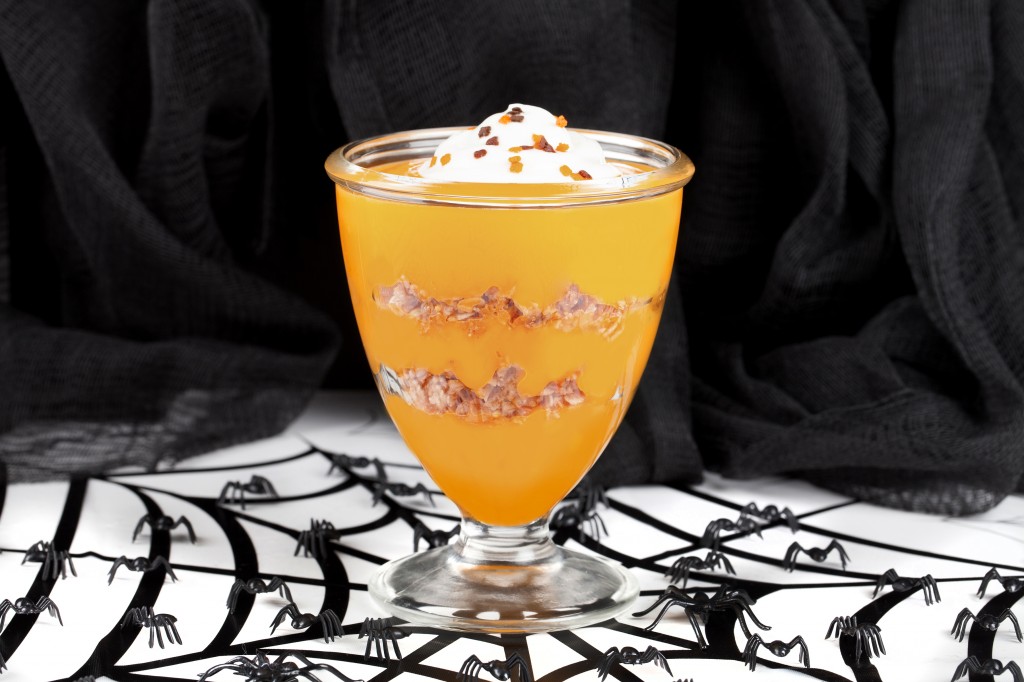 Paranormal Pudding ~ A Perfectly Delicious Halloween Treat!
Servings: 2
2 cups TruMoo Orange Scream milk
1 (3.4-ounce) box instant vanilla pudding and pie filling
1/2 cup low-fat granola
2 tablespoons low-fat plain Greek yogurt
Multicolored sprinkles
In large bowl, with wire whisk beat milk and instant pudding until well blended and thickened.
Spoon 1/3 of pudding mixture into two dessert or parfait glasses; sprinkle with some granola. Repeat layering two more times. Refrigerate until ready to serve.
To serve, top each with dollop of yogurt and Halloween-themed sprinkles.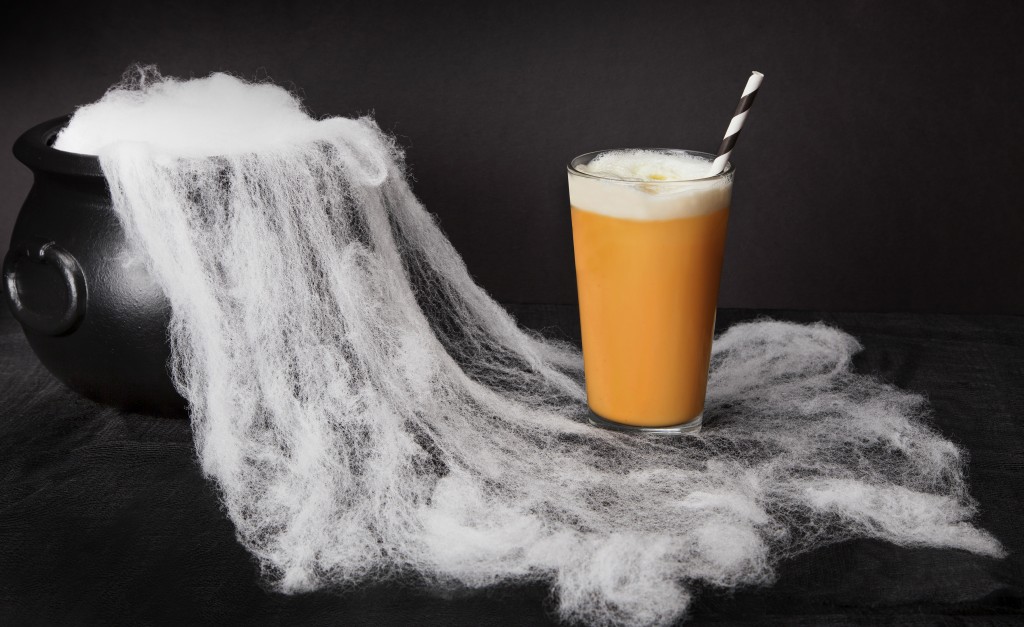 Monster Mash Float
Servings: 1
1 cup TruMoo Orange Scream milk
1 large scoop low-fat vanilla frozen yogurt or ice cream
1 cup chilled seltzer
In tall glass, pour in milk. Add scoop of frozen yogurt. Slowly add seltzer to create foamy, web-like effect on top of float.
Serve immediately.
Fun recipes, right?!?
And if you're looking for a screaming good time this season, you'll want to participate in TruMoo's Halloween promotions! From now until October 31, 2014, each week, TruMoo is giving away $250 to one lucky fan that uploads a Halloween-themed photo to the TruMoo Facebook page. Also, from now until November 15, 2014, fans can enter TruMoo's Spectacularly Spooky Vacation Sweepstakes. Simply visit TruMoo.com and enter the cap code found on specially marked TruMoo Orange Scream and chocolate flavored gallons and half gallons for a chance to win an all-expenses-paid trip for a family of four to a surprise Halloween destination.
TruMoo Orange Scream is available in the dairy section at major retailers nationwide now and throughout the month of October 2014. Regular TruMoo chocolate and strawberry milk varieties are available year round in gallon, half gallon, quart and single serve (10-, 12-, 14- and 16-ounce) bottles.
To find TruMoo Orange Scream at a retailer near you and for Halloween-inspired recipes, sweepstakes and contest information, visit www.TruMoo.com, www.Facebook.com/TruMooMilk, www.Twitter.com/TruMooMilk and www.Pinterest.com/TruMooMilk.