There's cause for celebration around here. I finally, FINALLY, got pictures of the kids up on the wall! It only took 8 years. Eight years of taking pictures of the kids, planning on printing and framing them, never doing it, then a year later taking new pictures of the kids, never printing and framing, then a year later… repeat a total of 8 times. Sigh… sometimes there are just more important things in life than a gallery wall, but I must say, I'm super excited to have it up! I love walking in the room, and seeing all my kiddo's smiling faces up on the wall. I couldn't think of a more beautiful decoration. I'm so proud to be their mother!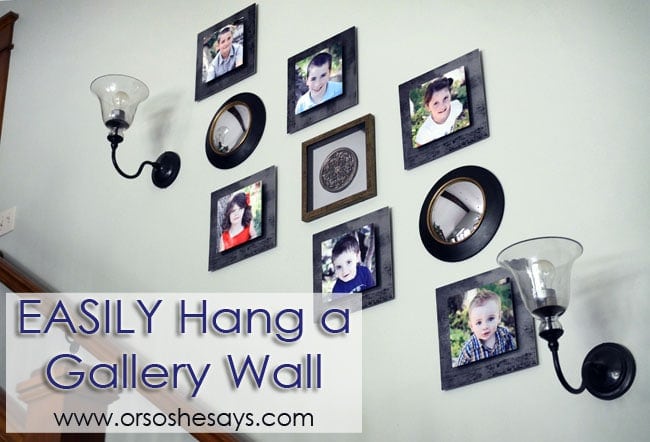 The past few months, I've been working with an interior decorator and friend, Sheri Alvey. She's awesome. We've been transforming my kitchen and family room area, giving it a whole new look. It's got a little ways to go, but I'm loving it already. I was totally intimidated by the gallery wall thing, so I hounded her to come help me. Not only did she come, but she came with the coolest idea to hang a gallery wall. I had to snap pictures of it! It was dark and gloomy outside, so excuse the grainy photography.
So, all you need is a roll of butcher paper. I ordered a roll from Amazon. True, you will only need a small portion of the roll, but the rest is coloring heaven for the kids. My girls have been unrolling it every day since, making wall banners, tracings of their bodies, and big paper wads to chuck at each other.
Cut your paper the width of the wall area you are hanging. Then set your pictures down on top of the paper, arranging them how you like. Once they're arranged, use a measuring tape to get the spaced correctly on all sides. When they're in the exact position, trace around the picture with a pencil. After the picture frame has been traced, remove it from the paper and measure how far down the nail will be hanging. On the paper, measure down on the drawn frame to make a pencil dot for the nail hole. Move on until you've completed all of the frames, in their proper position.
Here's Sheri, working her magic…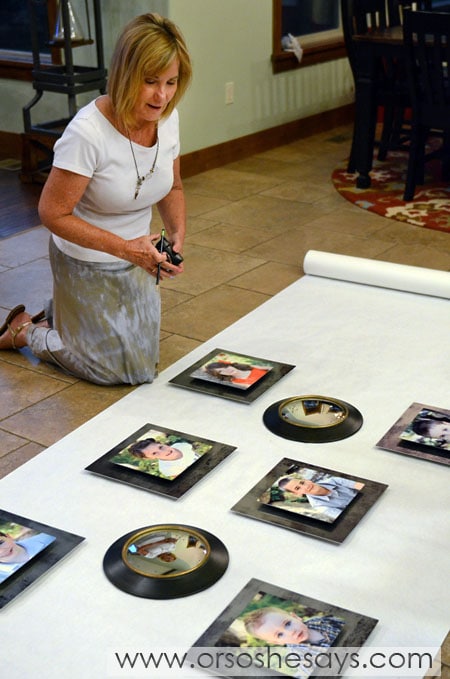 Aren't those stacked metal pictures cool?!? We pulled out all of my 'country' style decorations, and decided to go for more of the industrial look. These were perfect! I found them at The Imaging Depot.
Once all of the frames are drawn, it's time to hang up the butcher paper on the wall. Be sure to make the butcher paper level to the ceiling. Hammer the nails directly onto the paper, on top of each of the drawn nail marks.
I will say that this is easiest if you're pictures aren't on stairs, in a sloping pattern, following the rail. We originally started with a horizontal pattern, but once we had it up, decided to switch to sloping. Whether on paper or not, you've got to have a more logical brain than me if you're doing a slope. That's where my finish carpenter hubs came in handy.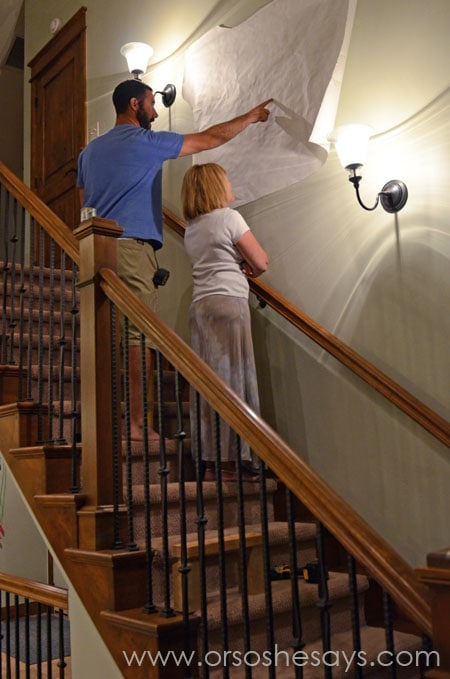 Tear down the paper, and hang the pictures! Everything is in the perfect spot. No mess ups and millions of nail holes. Yay!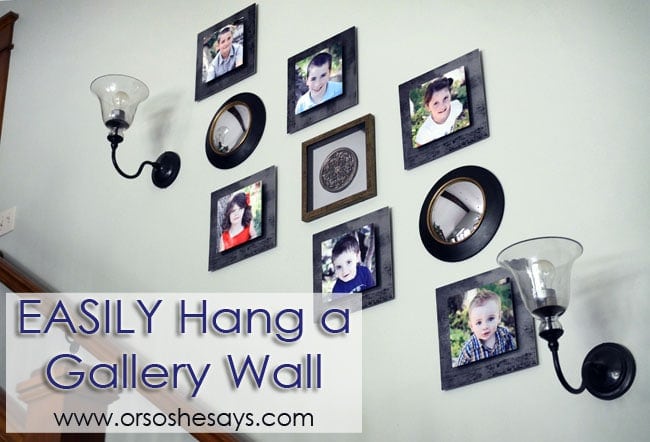 If you like this post, I bet I have another one you'll like… check out all of these Finish Carpentry Ideas from my man!