The three most common email questions that I get from my readers are…
1. Can you give me advice on starting a blog?
2. Can you help me with my curly hair?
3. Can you give me advice on homeschooling or update us on how it's going?
So, now that we have tackled one year of homeschooling, I figured it's time to share with you how it went, what I learned, and what we'll do differently. I've promised this post to several of you for a while now!
Let me preface this post by saying, I'm not trying to convince you to homeschool. I really don't give a poo if you think I'm crazy or if it's not right for you. It's right for me, right now…and these are my thoughts. The end.
You know, it's funny that I feel like I need to have a preface, such as that. But, one of the most surprising things to me about homeschooling is that there have been a handful (only a handful, really) of people that act either/completely bewildered, disgusted, offended, or down-right mad when they find out I homeschool. It's bizarre. But, they can go on being bizarre, I got stuff to do.
When I first began homeschooling, I would say, "Well, if my kids want to go back to public school at any time, they can." It seemed to appease any nay-sayers, and I actually believed myself. Okay, THAT thinking has completely changed. Now that I have completed this year and seen how much my children (and I) have got out of it, there's no way I could let them go back. We love it! Will I homeschool them all the way through high school (common question)? I don't know. We're playing it by ear and will cross that bridge when we get to it.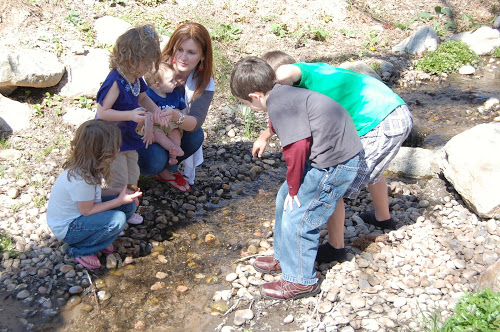 In one of
my first homeschool posts
, I shared with you what I thought I would do throughout the year. Well,
what I thought and what I actually was able to do…two different things.
I learned that the kids learn the most when we have more time to focus on just a few subjects. Instead of jumping from subject to subject every day. We might spend an entire day working on one "heavy" lesson. For example, for history we studied Ancient Greece (among other places), so we read about it, watched a movie about it, wrote about it, and read some more. To jump from that immersion right into a Science lesson on gravity, didn't feel right. I wanted their little brains to process more. So, we would do one heavy lesson at a time and sprinkle the rest of the day with handwriting, reading, math, spelling, etc. The next day, we might just talk about gravity…do a
science project
, and so on. I adjusted to that new method pretty quickly. Not only did it ease stress, but I was spending more time developing a passion in the kids for the daily subject.
Just one of the 8 baskets of laundry in my room…
To add to that thought, I learned that some subjects would just have to wait until summer school. Yes, we're still doing school! (I really loved that we got into the habit of a daily scripture study, the kids reading their novels, and just some sit-down time together…I didn't want to pull the plug and lose everything because it's summer.) We decided that summer school will be 3 to 4 days a week, with Monday being "cleaning day." The other days, we still do our scripture study, reading, journals, chores and then either art, Spanish, or nature studies…depending on what works best for the day. Flexibility is so important to your sanity! If someone's sick, mom is grumpy, or we have an activity planned…school is canceled. But, overall we are trying to stick to our flexible routine. Those subjects are all fun and have been highly requested by my kids. Summer is a great time to focus on them.


A typical homeschool day, during the school year came to be ('used to be' post), as follows:
8:00 – Get up, feed the baby
8:30 – 9:30 – exercise
9:30 – eat breakfast, check email
10:00 – gather the kids on the couch for scripture study and journals (journals we did M,W, and F)
10:30 – feed the kids
11:00 – the kids start "reading time" and do their writing (handwriting books, letters, copy work, etc)
12:00 – break (the kids play outside while I clean up inside)
1:00 – kids work on any math or language arts assignments (I make lunch. While eating lunch, I usually turn on a documentary for them.)
2:00 – we focus on our history or science lessons (We do these together, not based on grade..the boys are only 2 years apart.)
3:00 – everyone does their chores and they're done. They're usually off with the neighborhood kids in no time. No tv/games are allowed until after 4:00, if everything is complete.
So, that's just super typical. I don't necessarily stick to the clock and I can adjust whenever needed.
We love to go to have picnics in the park!
This past year, I have seen my children grow closer to each other. I have seen them develop passions for very specific topics and crave learning more. I have loved having a designated time to teach them about being good human beings and loving their God. I love having more time together. I have loved the more relaxed atmosphere around the home. I love knowing exactly what they are learning, and love learning right along with them!
Is it all peaches and cream? Do I ever feel like I'm losing my mind? Sure. Do my kids and I ever butt heads? Of course. But, I'm doing this for my family, I can see the benefits and it feels right, right now.
So, let's talk about curriculum. I shared with you, previously, that I was doing the K12 online public school program, mingled with a couple subjects that I did on my own. There were parts of k12 that I liked, but after a few months, I was wishing I did every subject on my own. There are so much amazing homeschool curricula available and depending on your child's learning style, you can find something that fits perfectly. k12 is a lot of worksheets, checking in online, and I found it to be pretty slow-paced…especially in the "improving reading skills" area. Lots of people like the style of it, but I decided it's not for me. I did lots of research and have decided to try the Sonlight program for next year.
It gets amazing reviews and fits perfectly with how my children learn best. The programs biggest focus is on reading and multi-tasking by reading lots and lots of history/geography novels that teach and develop a passion for history…while sub-conscientiously improving reading skills, spelling skills, grammar, etc. They also have a great program for Language Arts and Science. We just got our huge box full of books and the kids can't wait until fall school starts to get on with them.
So, we'll be using Sonlight for history, science, and language arts. I'll keep using Math-U-See (for math) and Handwriting Without Tears (for handwriting :)). If I had to choose something else besides Sonlight for history and science (something cheaper), I also really like The Story of the World for history and Apologia for science.
Anyway, I hope I answered lots of your questions! Feel free to ask if you have more. I'm obviously no expert…haven't been doing this very long, but I'm happy to tell you what I can.