The only thing worse than having a sick kid is having a sick kid when you're getting ready to head out of town or are on vacation. I've experience this over and over again. My little guy seemed to get sick EVERY time we tried to go on a trip for at least the first year of his life. Here he is when he spiked a fever on the drive down to our beach vacation.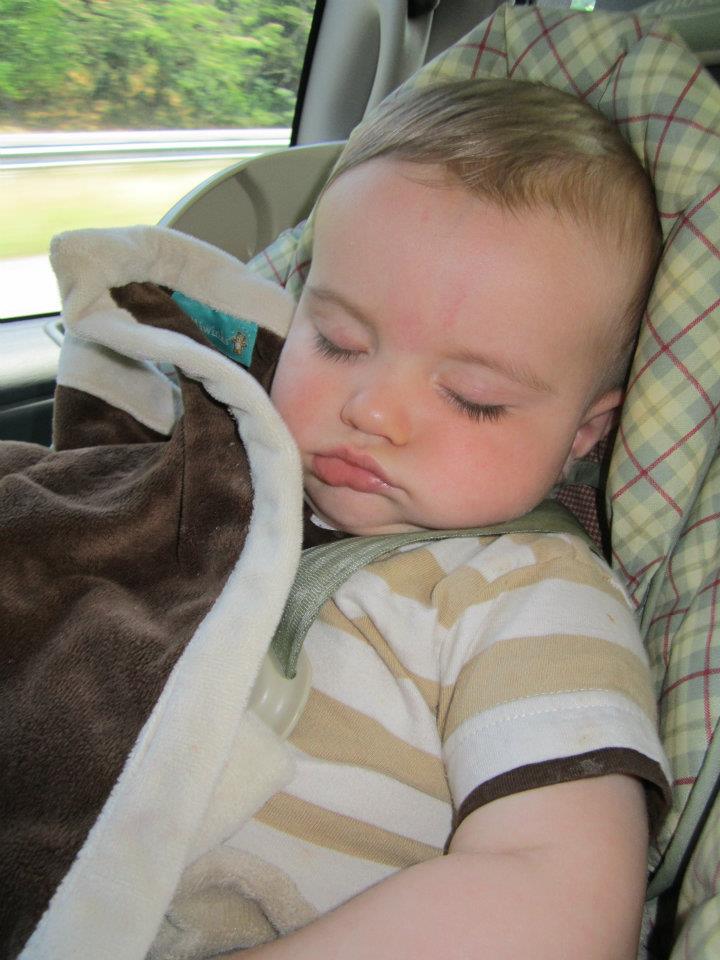 And a few months later when we met some family at a lake for a mini family reunion. You can tell how miserable he feels!
In both situations, we ended up at urgent care facilities because his fever was out of control and he was so miserable. It was super stressful to have to find a place in an unfamiliar area, load everyone in the van and then wait FOREVER to finally be seen by a doctor. I wish I'd known then about online doctor visits offered by American Well!
American Well offers an amazing service that connects you with your choice of doctors for an immediate, live online visit. They are available 24 hours a day either on your desktop/laptop or on your mobile device. And the best part is your doctor visit happens in the comfort of your own home! Imagine being sick in bed and not having to get up, get dressed and drag yourself to a doctor's office to get the help you need! Sounds too good to be true, right?!? Well, it's not! Check out this video for a better idea of how the service works.
I got to try out American Well yesterday to get some help for my daughter. We're getting ready to go on a spring break trip in a few days, so of course she woke up with a sore throat – argggggh! Connecting with a doctor on American Well was way easier than I even expected it to be. I just went to American Well's web site and created an account. Then I entered our location and picked out an available doctor from the long list offered. From there, I just had to answer a few simple questions about insurance (American Well is actually covered by some insurance carriers), enter payment, test my internet connection, web cam and speaker and then I was connected to the doctor within a few minutes. It was very streamlined, and the web site and mobile app were extremely user friendly!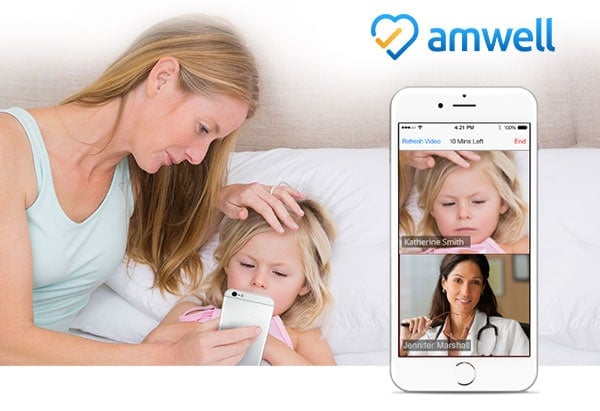 My daughter loved being able to see herself in the web cam directly above the image of the doctor. The doctor was very sweet with my daughter and made her feel very comfortable. She was able to give us some suggestions to try prior to our trip, as well as symptoms to look for that may require a visit with a doctor in person. We didn't need a prescription this time, but the American Well system allows the doctor to send prescriptions directly to the pharmacy of your choice if needed. Again, so convenient!
I can think of many, many times in the past when the American Well online doctor visits would have made my life so much easier! They can't help with every medical concern, but it's a great first step that could save me from future lengthy waits in ERs or urgent care centers. Or, it may actually help diagnose a more serious condition that I may otherwise have waited out before making the effort of going to a doctor's office.
The American Well online doctor visits are very affordable at $49 per visit. You also receive a complete record of your visit afterward and a printable receipt for insurance or reimbursements.
American Well is now offering all OSSS readers a chance to try their online doctor visit service for FREE! Just enter MOMSQUAD on the payment page, and your copay balance will be zero!
American Well also just launched another helpful service called Amwell. It's a site that helps you locate doctors' offices in any town. This service will come in very handy for many reasons, but especially since we recently moved and are still trying to find certain providers.
Go ahead and bookmark the American Well web site now so you're ready when you need it. Or, download the free app either for Android or Apple. Then you'll be all set when the need arises to visit with a doctor, all from the comfort of your own home!
Compensation was provided by American Well via MomTrends. The opinions expressed herein are those of the author and are not indicative of the opinions of American Well or Momtrends.