These Italian Nachos are deeeeeelicious. That's all I have to say.
To make them, you'll need: a bag of tortilla chips, 4 small tomatoes, 10 pepperoncinis, 2 jalapenos, 1 can chopped olives, 1 lb diced chicken, 1 lb Italian sausage, 1/2 lb shredded mozzarella cheese, and a jar of Alfredo sauce.
You don't have to chop your veggies really fine, if you don't want to. You can just slice them (olives, tomatoes, pepperoncinis, jalapenos) and throw them on top of your nachos. But, since my whole family is anti-chunk, I decided to chop everything super tiny and mix it together, like a salsa-type-thing.
Salsa-type-thing…no huge chunks…just the way we like it.

Heat the oven to 350. Cook up the chicken.
Cook up the sausage.
While I'm feeling anti-chunk, I decided I wanted my chicken pieces really tiny too. Tinier than diced.
Warm up a bowl of Alfredo sauce.
Fill a plate, or a platter, with tortilla chips. Top with loads of mozzarella cheese, the chicken, sausage, and salsa-type-thing (a.k.a. veggies), and pop in the 350 degree oven until the cheese is melted. Drizzle some Alfredo sauce over the top, or serve it in a dipping cup on the side.
Italian Nachos
Serves 8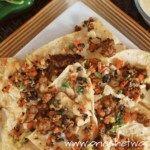 Italian Nachos
Ingredients
2

Jalapenos

4

Tomatoes

small

10

Pepperoncinis

average size

1 4.5

oz.

can chopped olives

1

lb.

chicken

diced

1

lb.

Italian sausage

1/2

lb.

mozzarella cheese

shredded

18

oz.

bag of chips

1

jar alfredo sauce
Instructions
Heat oven to 350 degrees.

Finely chop all the veggies, and mix them together in a bowl, to make a salsa. (You don't have to mix them, or chop them finely, that's just how my family likes it.)

Cook the chicken, and dice it into small pieces.

Cook the sausage.

Fill an oven-safe plate or platter with tortilla chips.

Cover the chips in mozzarella cheese.

Sprinkle chicken and sausage pieces on top, followed by spoonfuls of the salsa (or pieces of the veggies, however you decide to do it.)

Place in the oven until the cheese melts, about 10 minutes.

Spoon heated alfredo sauce over the top, or serve on the side for dipping.