I have GREAT blog contributors, you know that. Jana from Double the Deliciousness has been with me for a long time, mostly because I won't let her go. Her recipes are always a big hit, they're super family-friendly (kid and husband approved), and they're easy. She's not the most experienced blogger on the block, but she's got some great tried and true recipes that I can't get enough of. I'm anxious to try Aunt June's Granola, Black Eyed Pea and Sausage Soup, and Strawberry & Peach Jam. When you have a minute, check out her blog and give her a little love.
Oh, so to the point… I stole this recipe from her. Okay, so not really. I asked permission. I had read about these amazing breadsticks in her post on the Contributor Blog Hop I did, where we got to know the different contributors here on OSSS. One of the questions I asked was for everyone to share their most requested recipe. (If you haven't checked out the blog hop, you totally should. Great recipes and fun reads there!) Anyway, Jana's answer was these breadsticks. Naturally, I had to try them, and they went perfect with the big spaghetti dinner we had last Sunday. The whole family LOVED them. And, I loved that they were so easy to make. You just press the flattened dough into a sheet pan and use a pizza cutter to cut the breadsticks into shape, no rising needed. So fast!
So, thank you to Jana, for letting me share her recipe on 'Or so she says…'.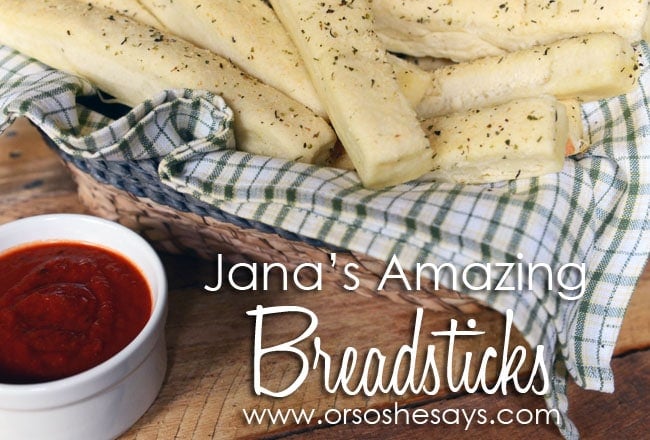 Jana's Amazing Breadsticks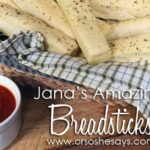 Jana's Amazing Breadsticks
Ingredients
1

Tablespoon

plus 1 1/2 teaspoons yeast

1/2

cup

warm water

2

cups

hot water

3

Tablespoons

sugar

1

Tablespoon

salt

5

Tablespoons

oil

6

cups

flour

divided

1 1/2

sticks butter

3/4 cup

Parmesan

Italian Seasoning

Garlic Salt
Instructions
Combine 1/2 cup of warm water with yeast and set aside to do it's magic.

Mix hot water, sugar, salt, oil, and 3 cups of the flour in your mixer and mix until smooth.

Add the yeast and the rest of the flour and mix in mixer for about 10 minutes.

Melt about 1 1/2 sticks of butter in the microwave. Pour enough of the butter to cover the bottom of a large cookie sheet, about half of it.

Next, roll dough into a rough rectangular shape to fit on the cookie sheet.

Carefully, place the dough in the sheet pan and stretch to fit. (I rolled my dough out on a rolling mat. Once it was big enough, I placed the sheet pan upside down on the dough, then flipped the whole thing over and peeled off the rolling mat.)

Using a pizza cutter, slice the dough in half, width-wise, then into 1" breadsticks, length-wise.

Brush the rest of the butter on the top of the breadsticks.

Sprinkle with garlic salt, Parmesan, and Italian seasoning.

Bake in a 400 degree oven for 15 minutes or until the top is lightly browned.
If you love this recipe, I bet you'll also love: Cheese Stuffed Breadsticks, Cheesy Garlic Pull-Apart Bread, No-Knead Whole Wheat Bread, and Cheddar Buttermilk Biscuits