Today's post is all about something that up until last January, was super hard for me… consistent scripture reading. Whether you read The Bible or The Bible AND The Book of Mormon, daily devotionals, or whatever else enriches your life, this can work for you.
Okay, so as a member of the Mormon church (The Church of Jesus Christ of Latter-Day Saints), we are asked to actively STUDY the scriptures. And despite the fact that when I do, I learn a ton, I evaluate myself for short-comings, I find answers to prayers, and I feel inspired to be a better person… it's still hard to make it a habit to read the scriptures every day. It's been hard my whole life. I get too busy, too tired, too lazy, whatever. But, now I got it down, sista. I haven't missed a day since January 1st and it's all because of a simple little trick. The best thing ever.
Get ready… Hold on to your seat…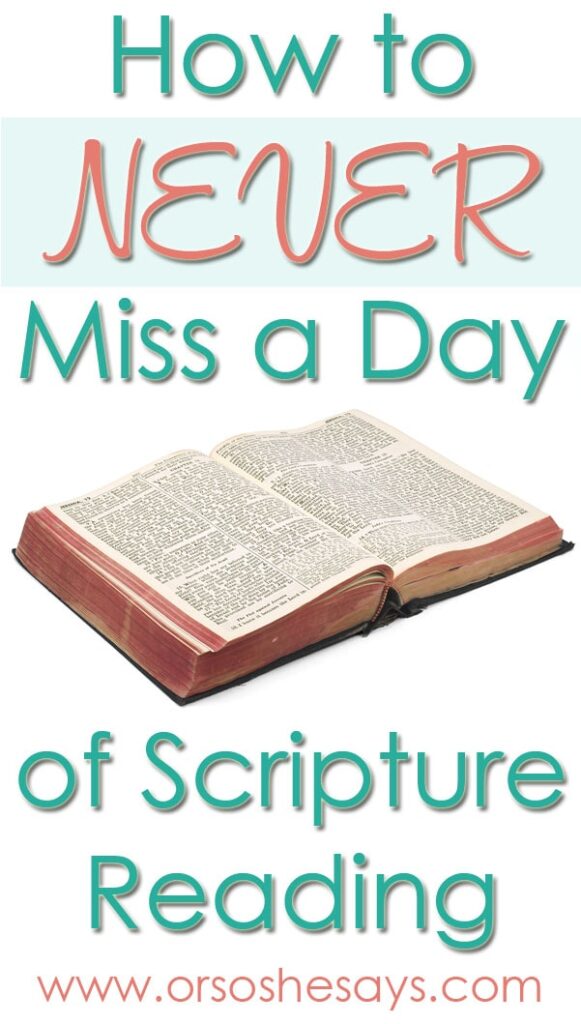 Okay, all you have to do is start a texting/support group! Sounds boring/lame? No, it's super cool.
Here's how it works:
Find a good friend, family member, or stranger on the street, that wants to do better at reading their scriptures. It doesn't matter if they live close or on the other side of the country. In my case, I found my sister, best friend, and personal trainer. 3 people. You could find more, or you could just find one. Whatever floats your boat.
Every day, you have to read the scriptures OR study them (using study guides, additional reading material, etc.) When you're done, you send a text to everyone involved, telling them WHAT your FAVORITE PART was of your reading. The reason it's important to share your favorite part, rather than just what you read, is that it forces you to really think about your reading and apply it to your life. Sometimes I read a chapter and don't feel like I got much out of it. But, when I force myself to go back and find something I liked, it's amazing what I can find! Okay, so in return, your phone will be beeping with your friends' favorite part of their reading. If you're like us, a text might come through at 9 in the morning or at 2 in the morning. We are determined to never miss a day!
Why?
Well, for one… we razz each other if a day is missed. Ha, of course we're teasing and laugh about it, but you could create any sort of incentive or silly punishment you want (buy lunch!)… or, bag that all together. But, for two… we know someone is expecting it. I don't know about you, but it's so hard for me to leave someone hanging. Third, we don't want to break our reading-streak. This text group OOZES motivation.
By the way, you don't even have to be reading the same thing! I'm reading the Book of Mormon right now. My sister just finished that and is is now reading the Bible. My trainer is reading an inspirational book that she's been wanting to read for a long time.
An added bonus to all of this, is we have really gotten to know each other better. You know, when I'm together with any of these gals, we usually talk about food, kids, dieting, food, cupcakes, food, etc. But, it's so neat to get more of a glimpse into their thoughts and spiritual insights. We can both be reading the same chapter, but get something totally different out of it. It's awesome!
Allow me to share some of our texts, to give you a better idea….
Oh, I should probably explain something. Part of our deal is we have to be sure and say our personal prayer too, each day. So, at the start of our texts, we say 'SP' for 'Scriptures & Prayer'. If we forgot to pray, we'll just say, 'Just scriptures. I stink.' Or, whatever. Anyway, that's why you see that in the pictures… (and, of course the awesome iPhone jumbles up the order of the texts, so you have to jump around reading a little bit.)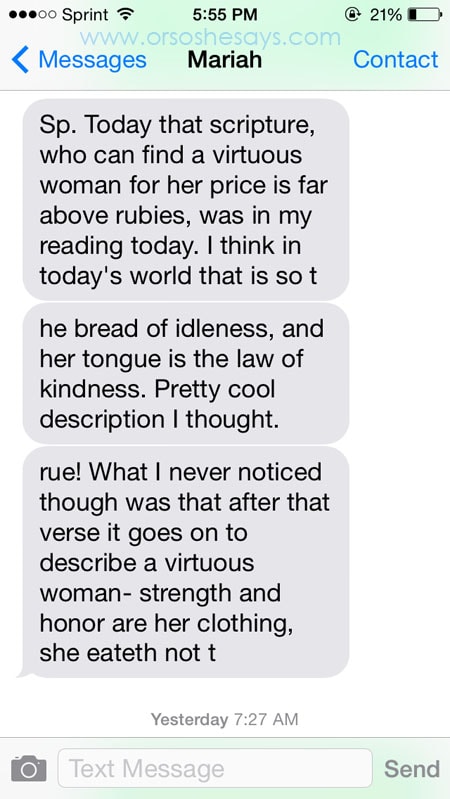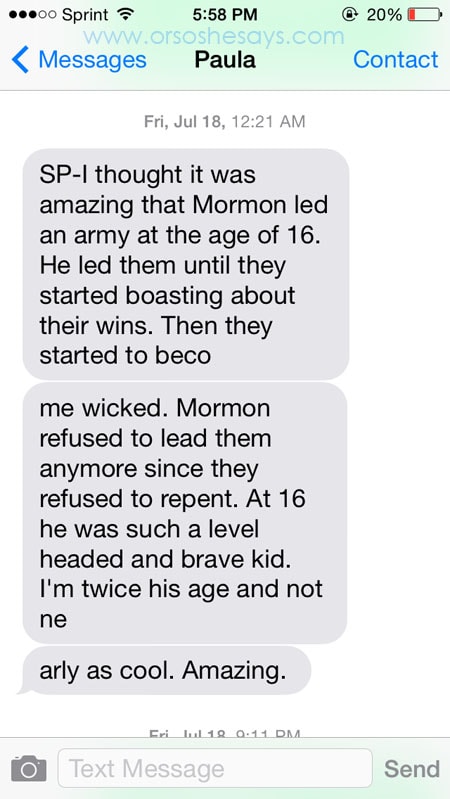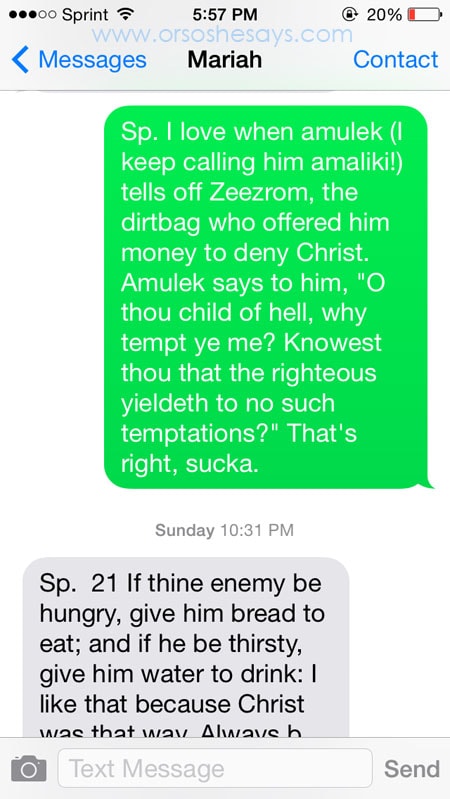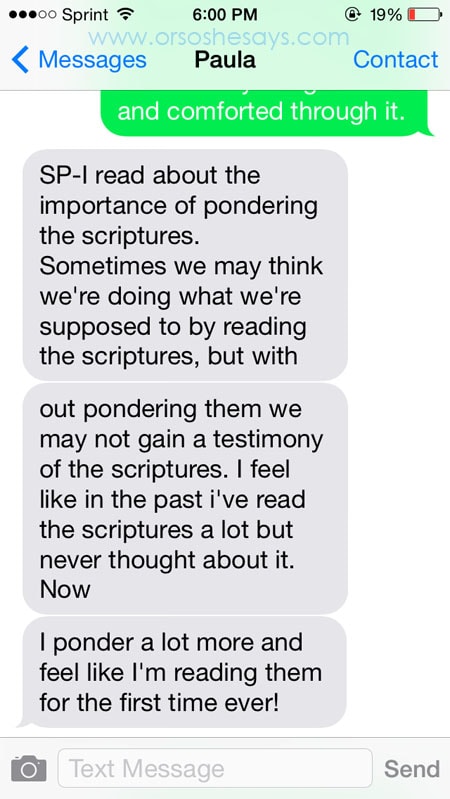 Easy, right? It's pretty fun too! I'm always blabbing about it because I think everyone should do it! This method of reading scriptures has been the best thing for us, in so many ways.
Need some scriptures to get you going? You know I'm always happy to send you a Book of Mormon. I take a trip to the post office every month to send loads of packages. Just let me know if you want in on my next shipment. See these post for details: Why Are Your Favorite Bloggers Mormon and My Favorite Book, My Gift to You.
*Sorry, comments are never allowed on my inspirational or religious themed posts, so as not to distract from the spirit of the message. If you love it, please pin and share!
For all those who are new here, I just wanted to tell you a little about 'Or so she says…'. This blog is all about ideas for women, from women. Every day, you'll find a great idea on topics, such as: parenting, recipes, crafts, inspiration, health, gift ideas, product suggestions, family vacations, and so much more! I would love to see you back again. 🙂 You can also find me on Facebook, Instagram, and Pinterest. Thanks for stopping by!