Since Valentine's Day is about showing people how much we love and appreciate them, I thought I would share a few things that you can do in order to make your child feel special. One of my goals as a mother is for my children to know that they are loved, cherished and that they matter. What better day than Valentine's Day to go a little overboard?
Here are 6 simple things I'll be doing to show my girl she is loved:
Origami Heart Love Notes
If you read my post last week, you'll already know these Origami Heart Love Notes are in the works. I folded a bunch of hearts with special messages inside and they will be hidden everywhere for Elle to find. It's like a little treasure hunt =)
Heart Shaped Pancakes
Elle LOVES pancakes in fun shapes (what kid doesn't?). I'll be getting up a little early to whip up some pancakes for her. And of course, it'll be paired with some pink strawberry sauce.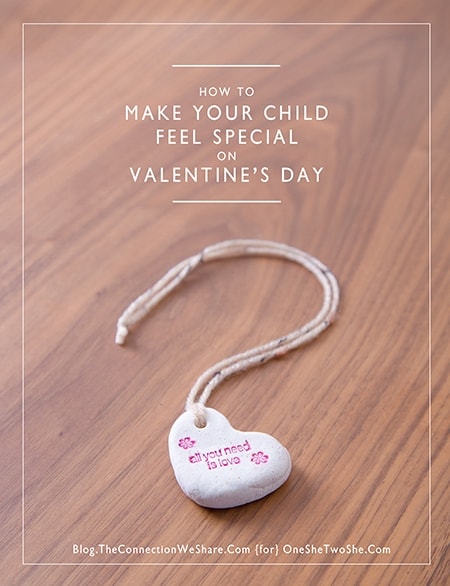 Hand Made Necklace
A week ago, Elle and I made some salt dough heart shaped magnets to give to her friends for Valentines. With the left over dough, I shaped it into a heart and made it into a pendant for a necklace. I know she'll LOVE this since she's really into accessorizing with lanyards, strings of beads or whatever she could find.
Write Her A Letter
I really can't think of a greater gift than a letter of my thoughts about my daughter. With the letters I'll be writing for her and the photos we'll take throughout the year, they'll all be printed into a Blurb photo book as a tangible expression of my love for her. You can easily make your child feel special with a book all about him or her!
Take Her Out To The Park
My girl LOVES the swing. Since the weather hasn't been so nice lately, I thought it'd be fun to go to the park for a swing, rain or shine. If it rains, we could put that Muddy Buddy to use and let her jump in some puddles too =)
Make A Meal With Valentine Colours
Why not? This girl LOVES pink and just maybe if I make a meal in pink, red and white maybe she'll finish it on her own? I'm thinking something easy like garlic butter pasta tossed in grape tomatoes with a side of beets.
I really do believe that to make your child feel special and loved, you just need to connect and bond with them. Whether it's through the things mentioned above, baking something yummy together or doing a craft together such as a Kiwi Crate craft kit, the idea is to spend quality time with them, being present and focusing on them.
How about you? What are some things you'll be doing this Valentine's Day with your kiddos?