Last week, my son was flipping through my Lion House cookbook, looking for a dessert for Sunday dinner. Sunday dinner is kind of our big sit down, delicious meal. That's right, my friends… I don't cook every day. Some nights I make Kraft Macaroni & Cheese, some nights I make turkey sandwiches, tacos, or frozen chicken nuggets. Some nights, I don't do anything and we just fend for ourselves. But Sunday, we feast. So all week, my kids and I are excited, planning what our big meal is going to be. Anyway, this past Sunday my son found a recipe for a Chocolate Cream Layered Cake that he wanted me to make. So, we had chicken enchiladas, apple salad, and chocolate cake for dessert.
While looking over the recipe, I quickly noticed the directions for Stabilized Whipped Cream. What the? I had never heard of such a thing. Have you?? But just the title of it sounded like something that would come in pretty handy in my baking adventures. Basically, it's whipped cream with a packet of gelatin added to thicken it up and make your whipped cream more… stable. You know, like when you're layering a cake and you need the whipped cream to be strong enough to hold the next cake layer without smashing it down? Or, maybe you want to decorate the top of a dessert and don't want the whipped cream to melt and look icky? Or, when you keep your dessert in the fridge for a couple days, and you don't want the cream to separate (this cream holds for up to or 5 days)? All good reasons for Stabilized Whipped Cream.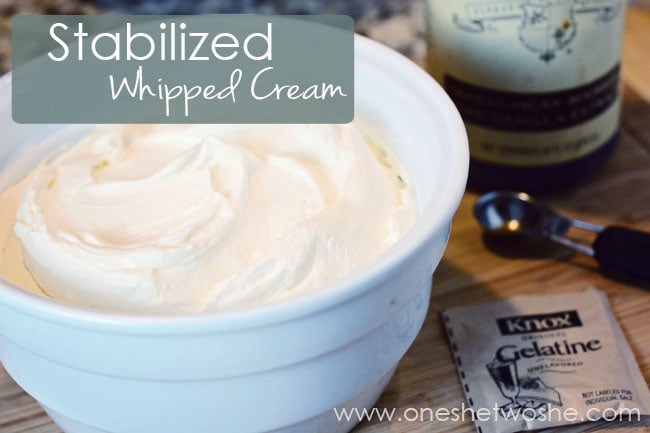 I am so excited about this stuff! I wish I knew about it a long time ago. The gelatin didn't add any flavor to it, it tasted just the same… delicious. It just make it nice and strong. Not sure if strong is the word, but it's a little more specific than awesome.
P.S. If you're wondering about the cake we made… I just made a devils food cake in circular pans, sliced them in half, then layered the whipped cream in between each layer and topped with chocolate frosting. (Chocolate Frosting: 8 TBS cocoa, 6 cups powdered sugar, 1/2 cup softened butter, 1 tsp. vanilla, and milk to consistency.)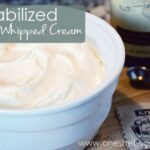 Stabalized Whipped Cream ~ How did I not know about this?!?
Ingredients
1

envelope or 1 TBS unflavored gelatin

1/4

cup

cold water

3

cups

heavy whipping cream

3/4

cup

powdered sugar

1 1/2

tsp.

vanilla
Instructions
In a small saucepan (no heat yet), mix the gelatin with water. Let stand for about 5 minutes.

Turn heat to low and stir until gelatin dissolves. Remove from heat, let cool for a couple minutes.

In a large bowl, whip the cream, sugar, and vanilla until slightly thick (whipped cream consistency.)

Slowly pour in gelatin, while mixing on low.

Beat on high until cream is thick and peaks hold shape.