I'm so thrilled to be Guest Posting here on "Or So She Says."
Thanks for this opportunity, Jessica & Mariel!!


My name is Kristyn and I blog over at Lil' Luna.
I like to think of it as a place where anyone can find fun, cute, and unique ideas, crafts and recipes for all occasions. Go on over and check it out. 🙂
Today, I will show you how to do one of my recent FAVORITE projects.
It's a MONOGRAM DOOR WREATH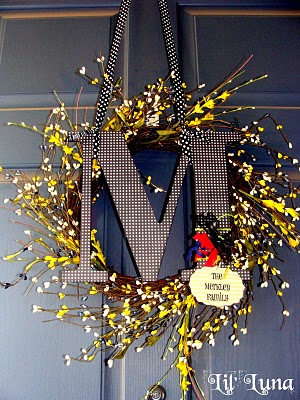 (Don't mind the dirt all over my door) 🙂
SUPPLIES:
-Wreath (or berry vine that can be made into a wreath – found at Michael's, Tuesday Morning, or another website I love called
FAC
TORY DIRECT
)
-Cardboard Letter (Found mine at Joann's several months ago)
-Scrapbook Paper
-Mod Podge
-Sponge Brush
-Lace, Ric Rac, Ribbon
DIRECTIONS: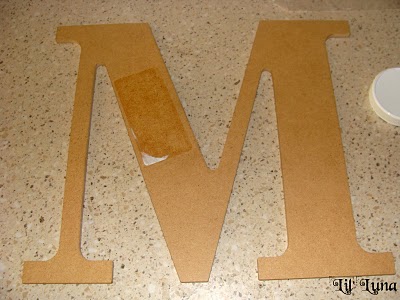 1. Begin by turning your letter upside down onto the backside of a scrapbook paper (make sure your letter is under 12 inches so it fits).
2. Trace and cut out letter from the scrapbook paper. Set aside.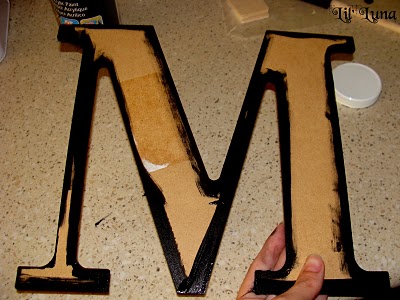 3. Now Paint the edges and little onto the face of the letter if you don't want to see the cardboard on the sides.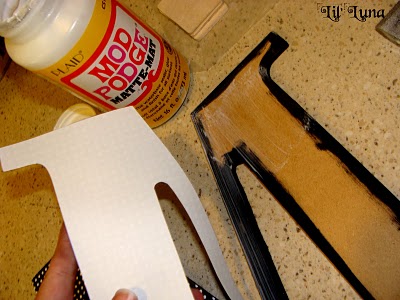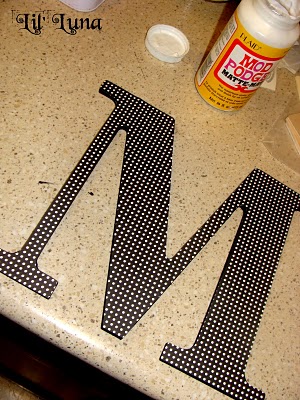 4. Mod podge scrapbook paper onto your letter.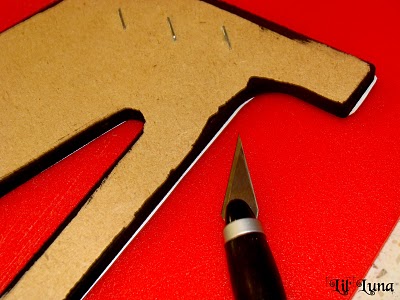 5. Once dry cut away excess scrapbook paper using an Xacto Knife.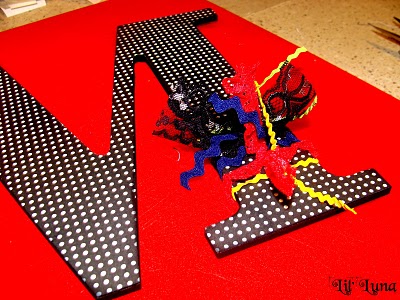 6. Add ribbon, lace, ric rac to the letter.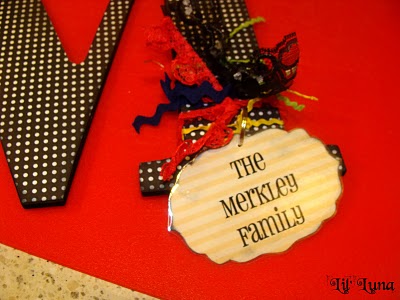 7. I printed out "The Merkley Family" onto scrapbook paper and cut a fancy shape around it. I ended up laminating it so that it would last longer outside.
8. Punch a hole in it, add it to a ring and tie it to the ribbon/lace/ric rac.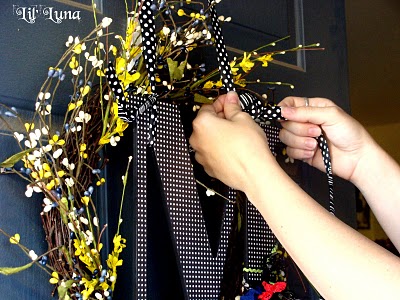 9. You can either attach the letter to the wreath and hang or hang the wreath and then let the letter hang from the door, which is what I did. I also did not have a hook on my wreath so I just added some wire to it. We ended up hammering a nail to the top of the door and then hung the ribbon from there and then tied the ribbon around the letter.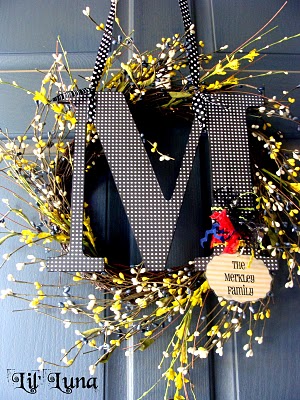 Very easy, cheap and makes your front door look more decorated and personalized.
ENJOY!