Happy April everyone!! It's Veronica with you again today, and I'm so happy to be back sharing a fun Mother's Day gift idea with you. Hopefully everyone is recovering from their Easter feasts. 🙂 With Easter over, it's on to Mother's Day! I wanted to do a post on Mother's Day, but wanted to do something a bit different. (If you don't have children of your own…KEEP READING! There's something in this for you as well). 🙂 For me, Mother's Day always brings a whole mixture of feelings and emotions. But, the thing I love most about Mother's Day is the reminder that I get to be a mom to some of the greatest kids EVER!
This year, I wanted to do something to celebrate THEM on Mother's Day. Because, let's face it…without them, I wouldn't be a mom! This Mother's Day gift idea is a little different, but I think you'll like it.
Typically, others will fill out a fun questionnaire with your kids and give it to you as a gift. So, this year, I thought it would be fun for ME to fill out a questionnaire about being a mom to THEM! As I've thought about filling one out for each one of our children, I've been reminded of how unique and amazing they are. I've also been reminded about how my relationship with each one of them is so personal and different. I can't tell you how much I love that.
So, for Mother's Day this year, why not try something new? Why not celebrate them?
Share your thoughts with your children about what it means to you to be their mom! I loved hearing these types of things from my mom when I was growing up. It meant a lot to me knowing that she actually loved being my mom. It also gave me so much strength when she told me all the good she saw in me. Just print your questionnaire out here and fill it out.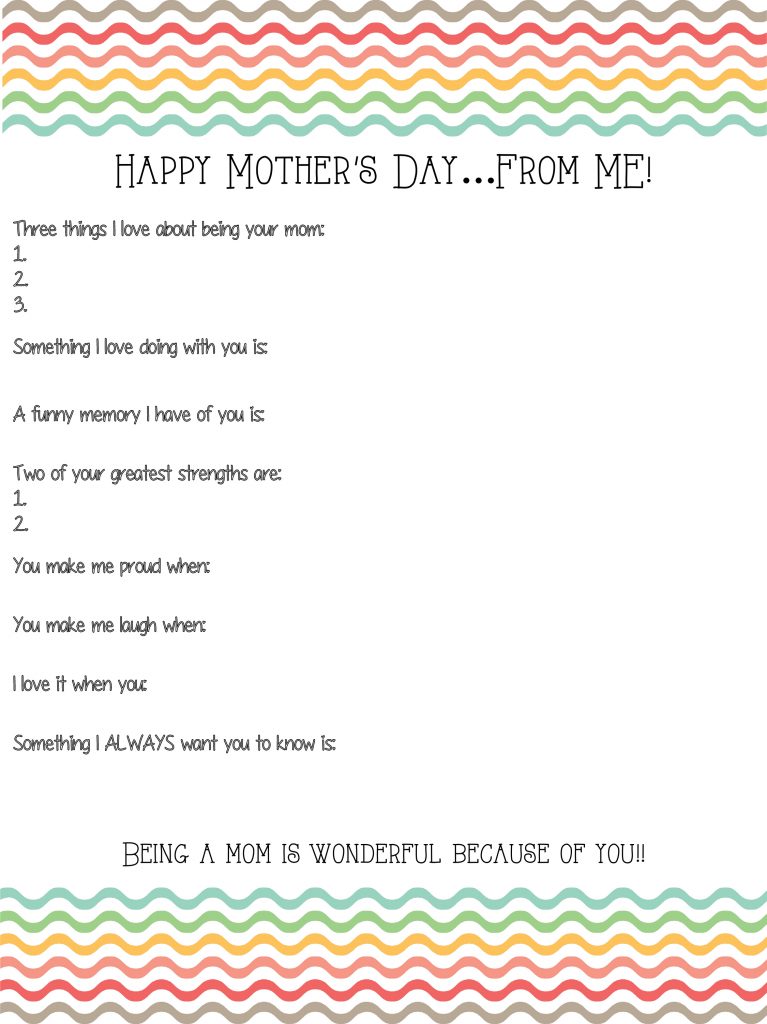 And to top it off, if you want to share a special treat with them, you can print these tags out here as well.
To those of you who don't have children of your own, you can still have a "mother's heart". If you fall into this category, I salute you and love you! I went through many years where Mother's Day was a painful reminder that I had no children of my own. But, through the years, I learned that I could have a "mother's heart" by loving the children in my life. If you have children in your life that you love with your "mother's heart", feel free to print your own questionnaire out here. The wording has been changed just a bit so you can use it. 🙂 You can make a powerful difference. Your love matters. Don't ever doubt that.
Happy Mother's Day to ALL of you!! See you next month.
Love this Mother's Day gift idea post? You will probably love these too: Happy Birthday, Dear Family! Party, Loving Your Husband His Way, and 100 Family Movies.