So, this Chocolate Toffee Trifle is one of those desserts that is so insanely easy but when you bring it in the room…mouths drop.
People think you went "all out" and "spent soooo much time" making this fancy schmancy trifle…but, you didn't. Nope, after the cakes bake…it literally takes 10 minutes to put it together. Best of all, it's so good and makes you feel super naughty. And, I KNOW you're a bunch of bad, bad girls.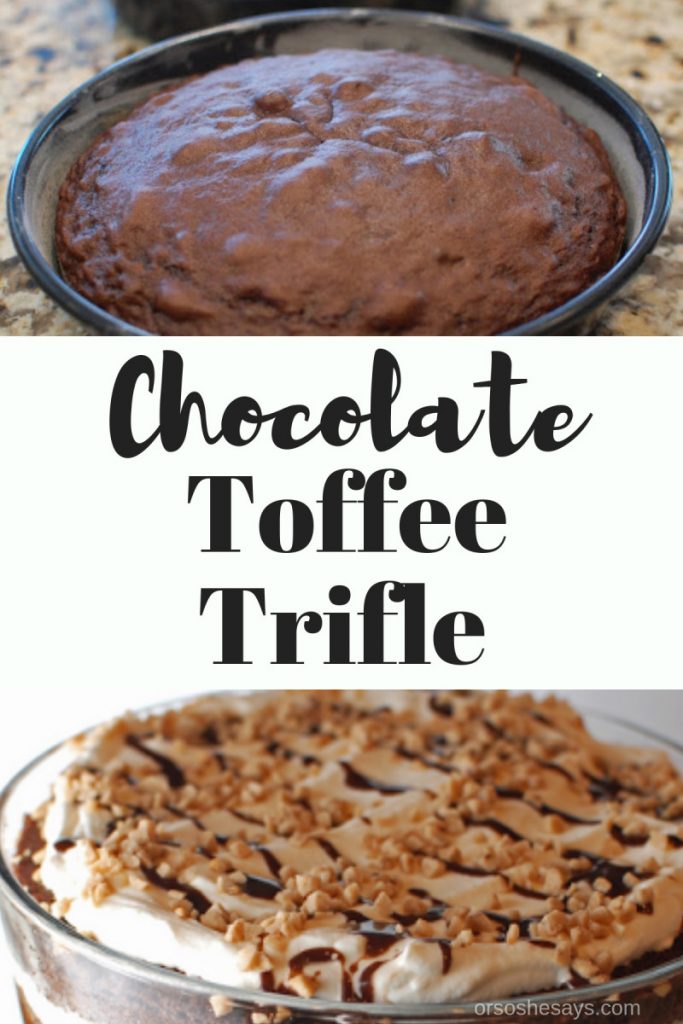 K, so get yerself some: Chocolate
Cake
Mix (and the ingredients to make it: eggs, butter, oil, whatever) Heavy Whipping Cream, Pure Vanilla Extract, Powdered Sugar, a jar of Hot Fudge sauce, a package of Heath English Toffee pieces (by the chocolate chips at the store).
Mix up the cake and pour it in two buttered/floured
round cake pans
. Bake as directed.
While your chocolate toffee trifle cake base is baking, whip up your whipping cream.
Don't use the store-bought whip cream…doesn't taste nearly as good and ya, ugh. To make your whipping cream, pour about 2 cups heavy cream into a bowl with 1 cup powdered sugar and 1 tsp. vanilla. Whip on high with your mixer until thick and soft peaks form. Taste it. You want it to be sweet but not too much! If it's too sweet it will be yuck with your super sweet dessert. Just make it mildly sweet.
When your chocolate toffee trifle cakes are done, let them cool and slice them in half (horizontally) so that you have FOUR circles of cake, carefully. I actually can only fit about 3 of the circles in the trifle dish…so, the kids gobble the last one.
Now for the fun part. Get your trifle dish (these are seriously like $10 bucks or less at Wal-Mart) and start layering! You might have to trim down your first couple cake circles as the dish is slightly narrower at the bottom. Push the cake down in. Pour heated hot fudge sauce over the cake. Sprinkle with toffee bits and then top with a layer of whip cream. Start over until you reach the top.
Tip: Exaggerate your layers along the glass a little more so they show up as "layers" and not all muddled together. So…sprinkle extra toffee on the sides, smear up the whip cream and hot fudge on the glass a little to encourage the layered look.
Products used to make this chocolate toffee trifle:
Chocolate Toffee Trifle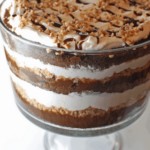 Mouth-Dropping Chocolate Toffee Trifle
Ingredients
1

box chocolate cake mix and necessary ingredients

Homemade whip cream

heavy cream, powdered sugar, vanilla

1

bag Heath English Toffee bits

1

jar Hot Fudge Sauce
Instructions
Bake your cake in two rounds.

Slice them length wise so you have 4 circles.

Place a circle (might have to trim down) in the bottom of a trifle dish.

Make your homemade whip cream (whip heavy cream until soft peaks form, add handful or more (to taste) of powdered sugar, and a tsp. vanilla).

Pour heated hot fudge sauce on cake layer.

Sprinkle toffee on top of hot fudge.

Add a layer of whip cream.

Start over until you reach the top.

Exaggerate your layers more on the sides so that they look more like "layers" (more toffee against glass, smear whip cream, and fudge against glass, etc.)
Our picks for making this chocolate toffee trifle:
Ghirardelli Chocolate – Double Chocolate Premium Cake Mix 12.75 oz. (Pack of 2)
Duncan Hines Classic Devil's Food Cake Mix (2 Pack)
Betty Crocker Chocolate Fudge Cake Mix, 15.25 oz
HEATH Bits O' Brickle Toffee Bits, 8 Ounce (Pack of 12)
Ghirardelli Squeeze Bottles – Caramel, Chocolate & White Chocolate – Set of 3
Ghirardelli Hot Fudge Squeeze Bottle | 23 oz. | Desserts & Ice Cream
Herrells Hot Fudge Sauce
Tosnail 9
Wilton SS-DAR-WI2105-7908 Aluminum Performance Pans Set of 2 9-Inch Round Cake Set, 9
Anchor Hocking Monaco Trifle Bowl
Barski European Beautiful Hand Made Glass Large Trifle Bowl, 9.5
Clear Plastic Elegant Pedestal Trifle Bowl 120 Oz
Artland Simplicity Cylinder Salad Bowl, null
MINI WONDERS CLEAR PLASTIC DESSERT CUPS For Wedding – Hard Clear Disposable Parfait Cups Tall – Footed Small Appetizer Cups With Stem – Miniature Pedestal Plastic Trifle Tumbler – 5 Oz. 48 Ct.
KitchenAid KHM7210ER 7-Speed Digital Hand Mixer with Turbo Beater II Accessories and Pro Whisk – Empire Red
KitchenAid KSM150PSER Artisan Tilt-Head Stand Mixer with Pouring Shield, 5-Quart, Empire Red